---
Woes with the Ashcroft Hi-Ratio Transfer Case!
---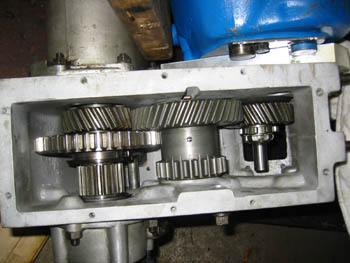 In order to upgrade the Rover, and allow for some highway cruising, I splurged and went with the Ashcroft Hi-Ratio kit, and now it came time to assemble. Everything went very smoothly until it came time to install the last part - the intermediate gear cluster. It would not fit. And I tried everything - heat, snake oil, foul language, you name it.
---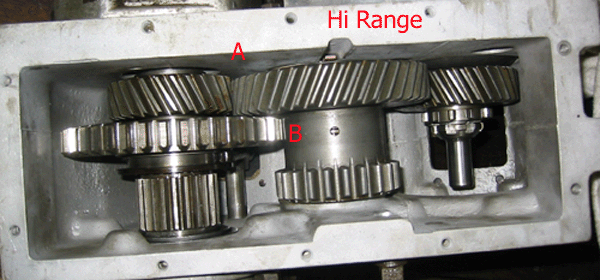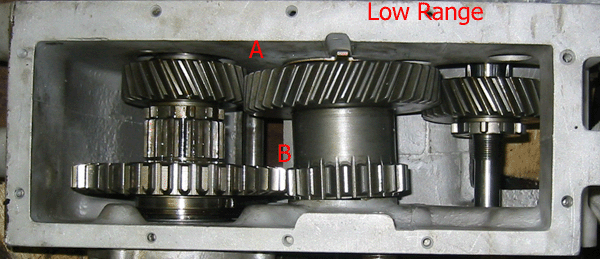 In these pictures, you can see that the intermediate gear cluster is actually making contact in two places, one good and one bad. It contacts the high gear wheel at the point labeled "A", and that is correct. But it also hits the low gear wheel at point "B", and that is bad. It almost seems like the intermediate gear cluster is too thick. Or, it might have a tolerance that is really close, and they won't hit once the intermediate gets lined up.
Once I shifted the box into Low, it became apparent that the low-ratio gear is really pushing the whole intermediate gear out of alignment, and something is out of whack!
---
Here were my theories on what might be wrong...
1) I am missing a trick in the assembly (good chance of that)
2) Ashcroft sent me the wrong parts (slim chance of that)
3) Somehow, I got the high gear wheel on the output shaft confused with the gear wheel that is supposed to go on the main shaft. That is making everything off center (low chance of that, but you never know...)


Alas, Dave at Ashcroft comes through with the answer!!!
---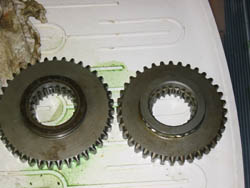 After selling over 800 units over the course of 10 years, Dave and the gang at Ashcroft had never run into this problem... It seems that the Suffix-B transmission in my 1962 Series IIA has a slightly different low-ratio gear. My gear (pictured above, on the left) has 39 teeth on it, and was approximately 5 15/16" across in diameter. The Suffix-C low ratio gear (pictured above and right) has 36 teeth, and is 5 7/8" across. Aaaagh!
After identifying the problem, Ashcroft decided the best way to rectify the problem was to change their webpage, and send me the correct gear free of charge!!!
---
Next up -- done with the transmission!
created and maintained by Matt Atkins
---
Check out my Home Page if you like...