The Aussie Battler's
NSW Lawyers Suck
Evidence and Case Studies



Firstly note this Citizen Investigative Report was put together back in '06. Anyone may copy it help us get Affordable Fair Dinkum Lawyers in NSW - as in Fair Dinkum "NWNF" (forget the FFC bullshit). Indeed maybe we need a "Judge Judy". Otherwise us Aussie Battlers are going to have to somehow learn to SRL -to be Self Representing Litigants.
Coming forward to '09 we are now having another go at pressuring the government to force the NSW Law Fraternity to get fair dinkum.

Onto the '06 Investigation:

Our webpage was bullied off its original public location (see here) to this private directory for the time being. If this page gets closed down too, email me at: [email protected] or Google: Peter Hogan

Sydney lawyers obviously don't like being exposed, they're making too much money, especially when there is so much unequivocal evidence to support what we all know to be true - the Aussie Battler cannot find affordable fair dinkum lawyers in Sydney New South Wales.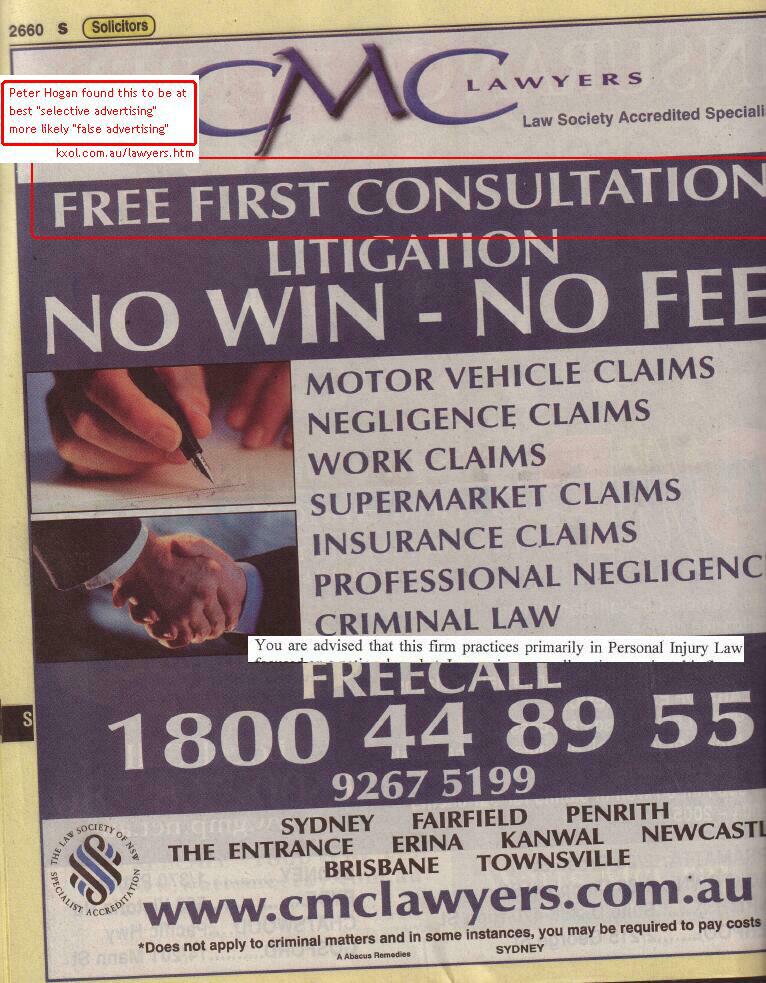 Click to enlarge



I now have the ridiculous situation where one of the law firms we have been exposing, CMC Lawyers (they bullied the ISP that hosts the whole kxol website to force a move from the original public location 17/11/06) is playing the victim and using every lawyer trick in the book to make me the bad guy. This law firm takes the cake.
First take a look at their Yellow Pages ad here.
Then take a look at their bizarre 'Einfeldesque' threatening 28/8/06 letter (see here) in which they don't realize they are actually admitting they are guilty of false Yellow Pages advertising when they hold themselves out to be the Aussie Battler's No. 1 saviour. On the contrary their letter states they really only do "Personal Injury" (and obviouly only if it's an easy case!).
They also indicate they never received the approach for "Free First Consultation", but it wasn't just a phone call, it was sent by Registered Post - RD25191224 on 6 Jan '06 Attention: Mark Capolupo



(click to enlarge)


- And email ([email protected] 8/11/06 ). And they got a 3rd notification when cc'd on a followup email on 7/2/06 to Law Society of NSW, President, June McPhie - see below. All 3 lost, huh?!
If they lose mail and write flawed threatening letters they should be debarred - what are they going to say, "someone else placed the ad in the Yellow Pages, someone else must have received the Registered Post letter..."
Further, their letter dated 28 August also set a deadline of 48 hours for me to carry out their demands otherwise they would take legal action against me for defamation. Nothing happened, months have passed, if their statements were true, why didn't they proceed?!

The previous threat came from these guys: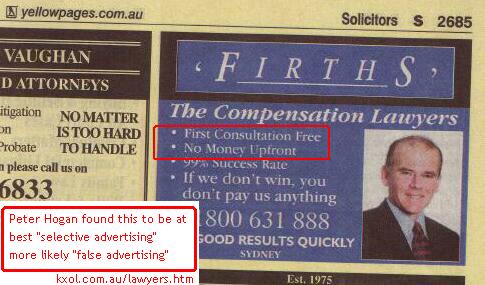 "Firths - The Compensation Lawyers" - Yellow Pages p 2685
Does this look like an advertisement that clearly holds themselves out to the Aussie Battler to handle just about everything for anyone seeking compensation. And highlighting that they have a "99% Success Rate" also adds weight that this is the law firm to approach, for they also highlight "First Consultation Free" and "If we don't win you don't pay us anything". The consumer is very much thinking this is the law firm I'm looking for.

Well Pete approached them with a 'big one' - seeking compensation for compensation in several areas of law, including, violations of the Trade Practices Act - ripping of Australian consumers, unfair dismissal, employer negligence, workplace injury, subsequent medical professional negligence, etc.
And guess what? Firths take one glance at it - see that they would be up against one of the Establishment's heavyweights - Australia Post's Managing Director, Graeme John, and come back with: "we don't handle Comcare cases". (See Firths correspondence below.)
Do you know what comcare is? Pete doesn't. Guess us plebes are just too stupid. Maybe that's why the word comcare is used in the first place, to baffle you and get rid of you.
So no "First Consultation Free". Nothing.

Pete's Kings Cross Online - exposed Firths false advertising. Of course, the idea of the little people fighting back with the Internet is just not on, the hide of these plebes, who do they think they are, we'll fix this little shit.
So now this big law firm, Firths Lawyers, with lots of money and 'connections' are going to sue us little people for defamation. (See details below.) - for having the audacity to expose them. They say there's nothing false about their Yellow Pages ad.
Now, you guessed it, it hits you in the face - we come to what epitomises this whole scandalous problem in our society:
Where are we going to find a fair dinkum lawyer that will represent us against one of their own, another lawyer - in a case about rampant lawyer malpractice starting with misleading Yellow Pages advertising?! That's why lawyers are literally above the law. Even if they are the guilty ones, they can just turn it round and say 'black is white' and you lose.

What do you think? Have a browse through the Yellow Pages yourself at these tacky law firm misleading ads. Let us know your opinion. Do you think Firths Lawyers are the ultimate candidates for "Worse Law Firm in Sydney"?

If the Aussie Battler really had a level playing field we would already have been putting together a "class action" with others that have been screwed by lawyers - fobbed off, no free consultation, over-charging, etc. and be suing law firms like Firths for false advertising and professional negligence in the first place.
Firths are demanding that we withraw what they consider an invalid listing of their firm on our webpage. On the contrary, it's Firths that should be withdrawing their Yellow Pages ad.

We need your help. For starters we need to build up a much more comprehensive database of people who have been screwed by law firms, especially those that got fobbed off and didn't even get their free first consultation. If we can get more of the right support may be we can get the attention of these other victims by getting the issue raied in other media, newspapers, TV and radio.
May be we could get a hold of court records and contact all the people that have used lawyers in Sydney in say the last 10 years, whether they won or lost their cases - and do the ultimate survey on what they thought of the law firms performance, especially on over-charging, and did they come to the proverbial conclusion the hard way: LAWYERS SUCK

And from that survey and other research may be we can come up with a way to reduce the reliance on lawyers. Some suggestions that have been coming are mentioned below - thanks to all of our supporters already for these suggestion, and keep them coming in.

Our efforts may well only be guerilla warfare tactics (or do they call it asymmetrical warfare these days) being as how it's the Aussie Battler against the rich and powerful, but do what you can to help us expose these deadbeats on TV, on Today Tonight, A Current Affair, 7:30 Report, 4 Corners; newspapers like the Sydney Morning Herald, The Daily Telegraph. Write to your local member of Parliament. Spread the word around the Internet, on blogs, exchange links. Let's show them that with the Internet and Google and Blogs, the little people have power, that even if Firths have Pete and kxol "dealt with", this exposé is like a Dawkin meme - it will replicate all round the Web.

Introduction
It all started out like this. In view of rampant big company bullying with Prime Minister John Howard's new workplace laws (aka screw-the-worker laws), 'privatization by stealth' programs, and various other bloodsuckers (big and small) and parasites that are deadweights on our society - it put us on a highly ambitious quest to try to find a true blue Australian law firm in Sydney - lawyers that have proven to us that they will go into bat for the rights of the Aussie Battler. And on a fair dinkum "Free First Consultation" and "No Win - No Fee" basis, i.e. no fine print in the 'agreement' you signed with them, no discrimination - no picking only the cases that they can bloodsuck lots of money - no ignoring email and correspondence from prospective new clients / victims, no "we don't really handle that kind of case" when clearly their tacky Yellow Pages ad infers that they do.

But, alas, we all know good lawyers are as hard to find as hen's teeth. Not surprisingly they're in a class with politicians, as many of them have the same background.
The law profession badly needs a shake up. It needs accountability - a legislated independent outside body that forces the law profession into modernity, removes the advantages afforded to powerful and rich and 'connected' parties, the discrimination of low income Australians, and the bona fide abililty to for an average consumer to sue a lawyer!

Do we really need lawyers anymore?
It's no secret, the perception of the general public is pretty well known: LAWYERS SUCK
If the Sydney legal profession refuses to do anything about improving the situation, then we have to ask the quintessential question:
How much can we do ourselves?
"The first thing we do, let's kill all the lawyers." William Shakespeare (aka Edward de Vere, Earl of Oxford), Henry VI, Part 2, Act IV, Scene ii.
Apparently Victoria has developed a very encouraging "Tribunal" system that's way ahead of NSW - the Victorian Civil and Administrative Tribunal (VCAT) homepage even specifically adds a section for consumer disputes about "legal profession services"; in times gone by and still in some cultures, even for the late Kerry Packer - the handshake was good enough, maybe that could be strengthened with the Memorandum of Understanding tool; head of a community / godfather input; DIY kits, e.g. conveyancing kits re sale of property, Wills - you can use the Public Trustee NSW for free, we pay for it in our taxes anyway, why pay triple for a lawyer who doesn't offer near as much as the Public Trustee, the PT has been going for over 90 years, they also do Trusts... ; Family Relationship Centres (and Relationships Australia) - coincidentally these centres for couples experiencing the tragedy of marriage / relationship breakdown, especially the effect on children, were recently (August '06) launched by the Federal Government - purely and simply as a way for couples to avoid having to resort to looking for a lawyer - because the public perception is that when lawyers get involved things get a whole lot worse, because lawyers go for the money, win or lose, lawyers don't care about the damage of the petrol they throw on the fire; etc, etc.
Do we really have to keep copping these bills for $500 per hour that include research of case law precedents and acts of parliament when law firms no longer have to send off the office boy to some law library to sift through mountains of law books - now they, and we the client, can just look up Internet Law Databases; shame the bastards - publicly listing crap lawyers, and the other deadweights on society that have screwed you, on the Internet, e.g. see what happens now we have this webpage when you Google CMC Lawyers; etc., etc...

We have been calling for support in the media, and though it may be Jungian Synchronicity, ABC's highly respected Phillip Adams Late Night Live (Radio National 576 Mon-Thur 10pm repeated 4pm the following day) ran this piece on his program on 31 August '06:

The Immoral Court: What's wrong with the legal system
No profession inspires more jokes than law. The stereotypical lawyer's mendacity, greed, and flippancy with the truth provides an inexhaustible source of bitter mirth. Indeed, the range and the virulence of lawyer jokes suggests that many of us would agree with Dick the Butcher in King Henry VI Part II: "The first thing we do" - he advised - "let's kill all the lawyers" .

But do the jokes we make about the legal fraternity and the contempt in which the profession is widely held, mask a tragedy? Has the law has lost its covenant with morality?

Guest: Thane Rosenbaum
Novelist, essayist and Law Professor at Fordham Law School. Author of The Myth of Moral Justice - Why Our Legal System Fails to Do What's Right

Click here to go to the story at LNL webpage archive and listen or download the podcast. (It's part of the Writers Festival program, the law piece starts 13 minutes in.)

Tell us what you think about all this, about your experience with individual solicitors, barristers, lawyers and law firms. And about the high cost of lawyers - do you need a lawyer and can't afford one; did it cost a lot more than you were lead to believe... etc.
Is it an uneven playing field that big companies can play on / exploit - especially with Howard's bias towards big biz, e.g. new workplace legislation, that he forgot to mention during the last election campaign - gets advertised on TV with a booklet that implies your rights are "protected by law". But when you get screwed, who can afford to pay the lawyers - upfront costs, a case that drags out for years - the big company can afford better lawyers - they find a loophole in the law - you lose (even if you win) - you mortgaged your house - maxxed out your credit cards - got intimidated, bullied, blacklisted, career ruined, divorce, family destroyed, nervous breakdown...

Remember the fundamental problem with dealing with lawyers: every other profession or trade - if you end up getting shoddy work - you have some redress, some chance of righting the wrong. But if a lawyer rips you off - what are you going to do - it's a brotherhood, they won't sue / eat their own species - lawyers know that they are literally above law - how many times have you heard of a law firm being sued for malpractice, compared with say a doctor or surgeon getting sued, or the ACCC (Australian Competition and Consumer Commission) catching a law firm out for price gouging / manipulation, like the ACCC / Department of Fair Trading NSW does to to a seller of consumer goods or services.
The lawyer system for us little people is a fiasco and it's getting worse. We all know that lawyers win either way, even if they lose the case, even if it's supposed to be "No Win No Fee", there's the fine print in the 'agreement' you didn't know you signed - they always make a shitload of money - that letter in the mailbox - that classic 'breakdown' of a law firms 'expenses' (including your contribution to golf club membership fees) - did this and that - so many hours - @ $500 per hour - "Wam bam thank you Mam." - the sleight of hand - that feeling you have lost your wallet.

We have to get together and pool our knowledge. If there is a decent law firm out there, let's find out who they are and get the word out - because you sure as shit can't tell by looking at their Yellow Pages ads or websites - which often don't line up, especially on "Free First Consultation" and "No Win - No Fee" offers. If we can't find one that lives up to their own hype, let's do something about shaming the law profession into pulling there pants up.
(See our contact details below).

The bottomline about all this is - we are all supposed to be Australian, at grassroots, a decent, ethical, egalitarian society. Where are the true blue Billjims in the legal land, that give a hand to a mate.

KXOL's Peter Hogan was going through the whole merry-go-round personally (see full details here), to help find the Aussie Battler's law firm. Turned out even more pathetic than expected. The case involves the bullying by Australia Post, as orchestrated by their Managing Director Graeme John - this guy has been a model for years for Howards's Industrial Relations Workplace No Choices Laws (90% of our countries Postal system is now subcontracted, including the "Animal" Resources Department, and what employees remain are part-timers). It involves various aspects of law, including, Trade Practices Act violations - generally ripping off the Australian consumer, workplace injury, abuse, negligence, unfair dismissal, subsequent medical professional negligence, etc.
Australia Post is essentially a monopoly or colludes where there is a farce of competition (think of Optus advertising Foxtel Digital TV).
It's a David vs. Goliath motif - Australia Post / Graeme John has billions of dollars to spend on lawyers and whatever other 'means' may be required to squash employees / plebeians like us that dare to dissent. So of course that becomes the main reason why gutless un-Australian law firms / fraternity won't go near Pete's case.
Even the ACCC - infamous for an underlying bias towards big business, awkwardly tried to brush it off - interestingly, their response was immediate - strange in view of the large number of complaints they receive. In case I get bumped off, the phone converation details with ACCC are: Tuesday, February 7 '06 - ACCC Officer, "Naomi" - official ACCC Ref No 472185 - phone conversation duration 11:20am to 11.34am. It becomes even more interesting because Naomi had been instructed to fob me off - take my case to the 'general' Commonwealth "Ombudsman", she suggested - obviously I would think that was a bit suspiciously weak.
Then following more manoeuvring on Pete's part, suddenly on July 10 '06 "the Office of the Postal Ombudsman" (though according to their new website "The office of Postal Industry Ombudsman is held by the same person who holds the office of Commonwealth Ombudsman" - go figure) is announced by The Minister for Communications, Helen Coonan - with the fascade of being setup to give the consumer a way to complain about Graeme John's 'methods'.
You might think how can a fellow plebe like you be deluded enough to entertain a connection, that would have to involve John Howard's plumbers. Well without checking out the extensive details of the case here - think about Pete's connection to John Howard through the Murdochs - click here - not too mention the added Jungian sychronicity dimension that both Johnnie and Petey (and Jungie) share the July 26 birthday - scary karma...
Anyways more to come later, for now I give you:

The current 9 worst law firms in Sydney
After careful research (if you're wondering about Peter Hogan's ability to do that check out his oeuvre), including the Yellow Pages and the Internet, he came up with a list of 9 law firms to approach (see summary here). All of them failed his criteria for what's expected of a fair dinkum Australian law firm. So far these are the firms that Pete considers unAustralian and / or downright disreputable.
Bottomline - Pete's research indicates that these law firms, to use an apt and common technical term, "suck", and should be avoided:

Nine Sydney Law Firms to be avoided:


Firths Lawyers


CMC Lawyers


Maurice Blackburn Cashman Lawyers


Teakle Ormsby Conn Lawyers


Gerard Malouf & Partners Lawyers


LAC Lawyers


Carroll & O'Dea Lawyers


Turner Freeman Lawyers


Slater & Gordon Lawyers
Those are the Nine Sydney Law Firms that suck.
Take a look at some of their really tacky Yellow Pages advertising - particularly regarding "Free First Consultation" bullshit, remembering lawyers are not supposed to sink to used-car saleman style advertising - especially on TV - because of the law profession's code of ethics re tacky promotion. (Though it's interesting to note that since this exposé began Slater & Gordon began a TV ad campaign clearly designed to pretend they had always gone into bat for every Aussie Battler.) Then contrast the homepage of their websites where Free First Consultation strangely is not a selling point (at least when Pete last checked in mid '06 - may be they will be shamed into sticking it in somewhere when they hear about this exposé). Could it really be because they think Internet users are a more affluent upmarket demographic than Yellow Pages Aussie Battlers. But even if we do, in a recent survey it was found that law firms are notorious for not replying to email queries - wouldn't be surprising if they are discrimiating here too.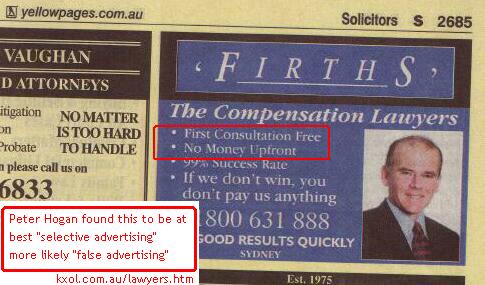 Click to enlarge
Firths Lawyers Yellow Pages p 2685
then contrast their website homepage here
And see their threats for trying to
expose their false advertisng below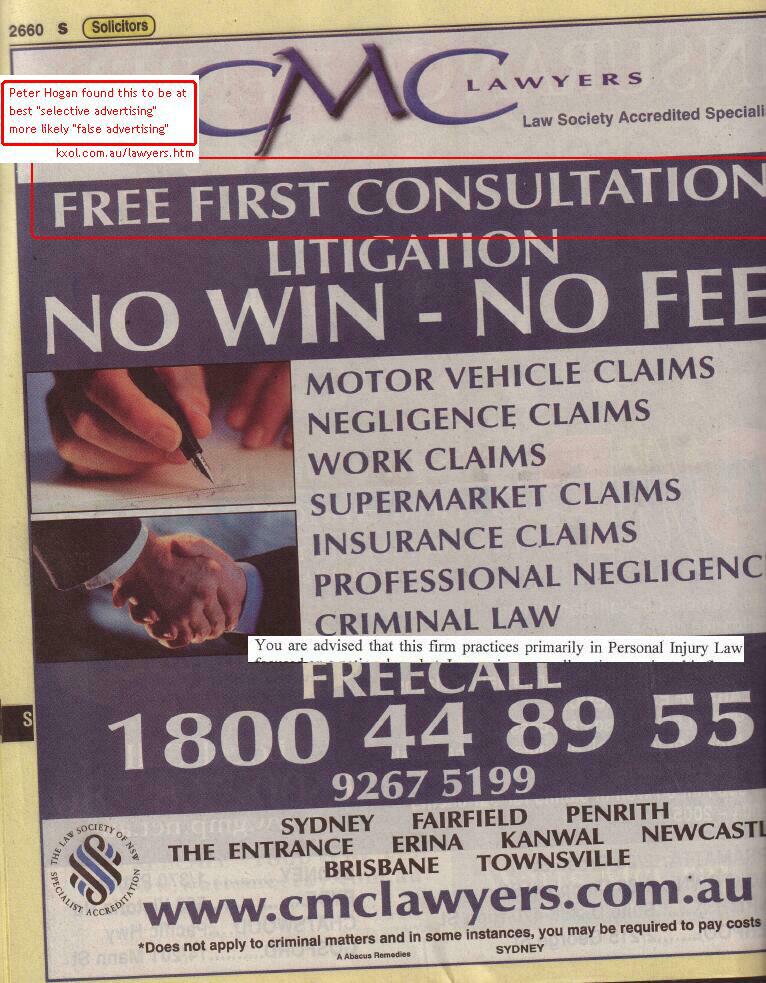 Click to enlarge
CMC lawyers Yellow Pages p 2660
then contrast their website homepage here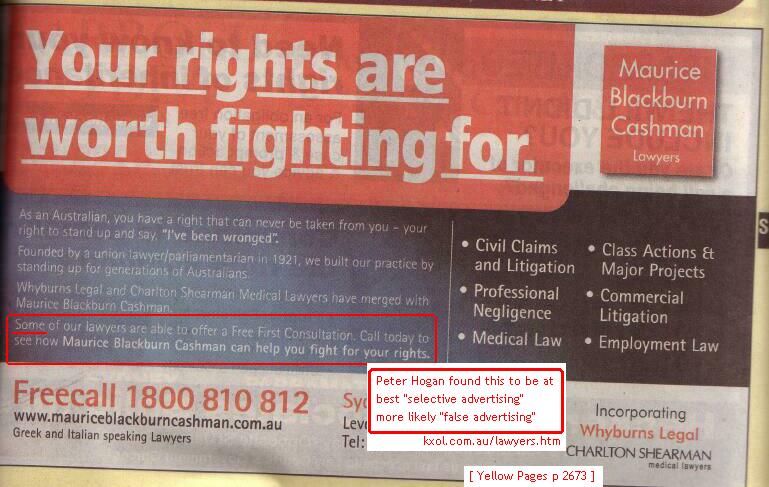 Click to enlarge
Maurice Blackburn Cashman Lawyers Yellow Pages p 2673
then contrast their website homepage here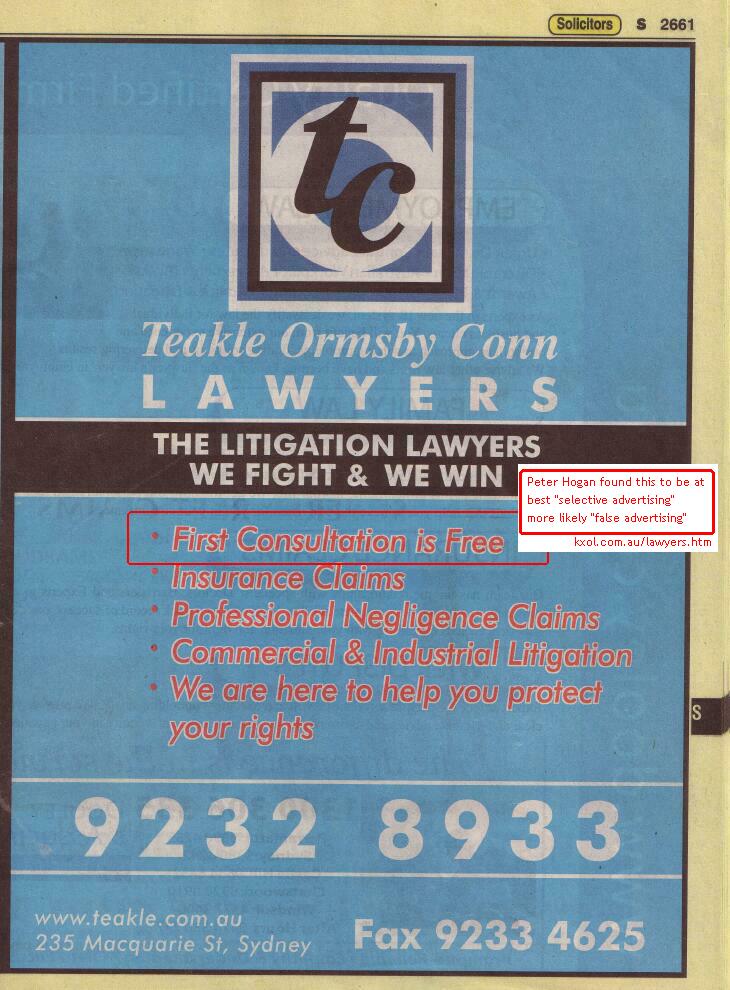 Click to enlarge
Teakle Ormsby Conn Lawyers Yellow Pages p 2661
check their website homepage here
unlike the others Teakle do offer FFC on their
homepage, but obviously still selectively.



A complaint about these 9 law firms to the president of the Law Society of NSW, June McPhie, President and Bob Campbell, Managing Editor of the Law Society Journal was ignored:

Pete's email to the Law Society of NSW President, June McPhie - including copies of the 3 rejections:


Date: Tue, 7 Feb 2006 22:51:56 +1100
From: Peter Hogan [email protected]
To: [email protected]
Cc: [email protected], [email protected], [email protected], [email protected], [email protected], [email protected], [email protected], [email protected], [email protected], [email protected]
Subject: ACCC and First Consultation Free scam

Attn: June McPhie, President of the Law Society of NSW

Dear Ms McPhie

I refer to previous correspondence about Australia Post negligence and the difficulty of finding a fair dinkum lawyer in NSW.

I know this correspondence is going into the Law Society ether - it seems the one year Presidency is ceremonial, but alas, it forms an important part of the paper trail of culpability for later players, and of course, future historians.

I have contacted 9 lawyers so far, several advertise "Free First Consultation" - not one law firm in NSW will even live up to their advertising. For example: CMC Lawyers have a full page Yellow Pages ad on page 2660, which highlight - "Free First Consultation" but this is not mentioned on the homepages of their website http://www.cmclawyers.com.au ; whereas, Teakle Ormsby Conn even have "Free First Consultation" on both their Yellow Pages ad and website homepage.
In any event, all false advertising.

Only 2 of the 9 firms bothered to even glance at my notes. Only 3 bothered to go to the trouble of formally rejecting my case (using email).

The other 6, plus yourself, couldn't be bothered ['bother' is the operative word isn't it] even pressing a button for a standard computer generated reply.

Here are the 3 replies received:

1 of 3 replies:

Subject: RE: Austalia Post...
From: Bryony Feltham [email protected]
Date: Mon, 9 Jan 2006 17:21:44 +1100
To: 'Peter Hogan' [email protected]

Dear Mr Hogan, Thankyou for your correspondence.
I have spoken to my Partner at Turner Freeman about your matter and unfortunately we are not able to take on your matter at this time.
Reagrds [sic],
Bryony Feltham
...
[I love the use of the words "your matter" twice in their single sentence, entire reply - it tells the consumer a lot about Turner Freeman's... how should one put it... the words "guts" is in there - too scared to say anything; not too mention Ms Feltham being too busy, or lacking the common courtesy to be sincere re the misspelling of "Regards".]
...
2 of 3 replies:

Subject: RE: Austalia Post...
From: "Firths Info"
Date: Wed, 11 Jan 2006 19:25:34 +1100
To: "Peter Hogan" [email protected]

Dear Peter,

We have your email dated 8 January 2006.

Unfortunately we regret that we are unable to assist you with this matter as we do not handle Comcare cases.

We do however thank you for your enquiry and wish you all the best in finding suitable representation.

Yours faithfully
Stephen P Firth

[This is a killer, Firths seems to be one of the 2 out of 10 of you that had a look at my notes which clearly refer to a various areas of law where we are seeking compensation, yet he bundles them all into something called "Comcare". For a start, use of that jargon in this short shrift reply to an average consumer is condescending. Whatever happens, I would really appreciate it if, before I die (" '1956 - '2006 Here lies Peter Hogan, died from Comcare complications."), someone would kindly enlighten me on just what Comcare means - it would save me trying to find it mentioned in the Yellow Pages, and then having to pay a Comcare lawyer $400 to find out, seems to be the going rate according to these guys following:]
..
[And surprise, surprise, after being exposed by us comes a followup email from Firths Lawyers, 7 months later:]

Subject: "Worst Lawyers in Sydney Australia"
From: "Firths Info" [email protected]
Date: Thu, 17 Aug 2006 14:16:43 +1000
To: [email protected]

Dear Sir,

It has come to my attention that you have published the name of my firm on your website which is headed "Worst Lawyers in Sydney Australia".
As we have never acted for you and have only ever received one letter from you to which we gave a short and courteous reply that your enquiry was outside our field of speciality, we can't understand why you would make such a statement against this firm. In any event the statement is clearly defamatory and actionable as such.
The purpose of this letter is to inform you that unless it is immediately withdrawn and an apology published we will forthwith take proceedings against you.
Yours faithfully,
FIRTHS - THE COMPENSATION LAWYERS

Per
Stephen P Firth
..
[Now take a look at the Firths tacky Yellow Pages ad with the big header "Firths - The Compensation Lawyers" (they even use it in their email). Firths clearly holds themselves out to the general public to handle just about everything for anyone seeking compensation. And highlighting that they have a "99% Success Rate" also adds weight that this is the law firm to approach, for they also highlight "First Consultation Free" and "If we don't win you don't pay us anything". The consumer is very much thinking this is the law firm I'm looking for.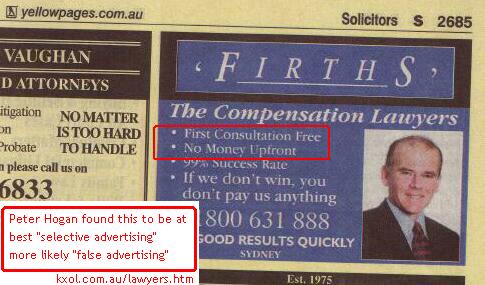 Firths Lawyers Yellow Pages p 2685


But clearly it is all false advertising, Firths in fact only handle a narrow field of "Compensation Cases". Who knows what that is, but their Yellow Pages ad should instead have an honest slogan in the format "We specialize in Motor Vehicle Accident Compensation Cases" or whatever.
Also the "99% Success Rate" now becomes rather suspicious - if it's true (and how can the consumer verify that) then to be so high they must be very selective in which cases they take on. Indeed a lot of people must get fobbed off very early in their enquiry with some lame excuse, probably theirinfamous, baffle the stupid conumer with, "Oh we don't handle 'Comcare cases. Have nice day. Bye."

You can see for yourself, if anything should be "immediately withdrawn and an apology published" it is Firths' Yellow Pages ad.
But they won't. Lawyers know that they are literally above law. Firths are part of, and connected to the Establishment (even Prime Minister John Howard was a lawyer as are many politicians, and so is his daughter - a miraculous career rise). Firths can bring to bear all kinds of "heavy-handed" tactics on plebes like us if we dare to attempt to expose Firths false advertising.
And the last cold hard fact: even if Pete won the lottery and had the money to pay their huge fees, what lawyer is going to represent us against Firths - when the case is all about exposing lawyer negligence and malpractice being perpetrated by one of their own, another law firm, Firths Lawyers - such a defending law firm would become pariahs, ostracized in the legal profession.
This is a travesty of justice. So we need your help, anything you can do.
Think about it, browse the Yellow Pages, Firths Lawyers have got to be prime candidates for the ultimate gong: "The Worst Law Firm in Sydney goes to Firths Lawyers". Help us expose these deadbeats on TV, on Today Tonight, newspapers like the Sydney Morning Herald. Write to your local member of Parliament. Spread the word around the Internet, on blogs, exchange links. Let's show them that with the Internet and Google, the little people have power, that even if Firths have Pete "dealt with", the exposé will still spread.

...
3 of 3 replies:

Subject: Re: Austalia Post...
From: "LAC Corporate" [email protected]
Date: Mon, 9 Jan 2006 11:38:49 +1100
To: "Peter Hogan" [email protected]

Dear Peter,

Thank you for your enquiry, however we do not take on No Win No Fee work. Our fees vary from $300 to $400 per hour plus GST commencing with the first consultation. If you require our services we would be happy to act on your behalf provided we have money in trust and payment of our fees occurs.

Yours faithfully
LAC Lawyers Pty Ltd

[Wonderful, really picked up on the Aussie spirit.]
...
The other firms that can't be bothered replying are:
- Carrol & O'Dea - "Protecting our [affluentt] clients rights for over 100 years" [found not to be the case] ;
- Slater and Gordon, they even have a registtered trademarker on "No Win No Fee" [tm] [but obviously depends on the affluence of the client];
- Maurice, Blackburn, Cashman - "Some [how ddo you find which ones!!!] of our lawyers are able to offer free first consultation"

...
Since there is clearly a case to be made here and given the problem of finding a lawyer before I started, the chances of finding a lawyer to bring an action against another lawyer for false advertising don't look real good, do they. So I guess the next step is the ACCC, then onto the only court the Aussie battler really has going for them - the 'court of public opinion', aka, "Today Tonight"; and perhaps it's time to make it an election issue. The plebs really need someone like that woman who heads up that cancer maplractice association - they have compiled a directory which ranks cancer specialists. Maybe one day when a desperate consumer turns open the Yellow Pages sees a full page ad from a law firm, they can then Google them and see that they have only half a star from user rankings.

Regards
Peter Hogan
Simply, what Pete found is that if you are not a clear winnable case or don't have lots of money to pay their inflated costs if you lose, they are not interested.
Basically there is no fair dinkum "Free First Consultation" or "No Win No Fee", it's a farce, just misleading and false advertising. A bunch of rip-off merchants.

We need to pressure NSW government and politicians - make it a major election issue to legislate and enact a new Tribunal like they have in Victoria (Victorian Civil and Administrative Tribunal - even their website leaves the cumbersome NSW counterpart for dead) to heavily fine these lawyers for blatant false advertising and professional negligence. And it's time to regulate their billing methods, e.g. conduct spot audits of law firm accounting systems - specifically the time-sheets used to determine the number of hours they bill clients @ $500+ an hour.
The current NSW government Department of Fair Trading is clearly ineffective. Lawyers in NSW are above the law.

If we can some how bring about the legislation to eventually heavily fine these law firms the money will go to the new Pelvic Floor Care Foundation

Well, we are really starting to step up a gear now and are incorporating a lot of our supporters suggestions. Thanks for all your critically important contributions and support, keep them coming in.

If our webpage disappears, you will know they got to Pete. Then just rely on Google and the Blogs - thank the gods for them, someone else will take the lead in coordinating the project. Any of our supporters is hereby given permission to reproduce, mirror, translate and evolve this webpage.

Power to the little people.

Peter Hogan