Appendix B
Many families with the Fox coat of arms proper and diverse (Mzura either Orzy or Strzempacz) lived in Belorussia (the Grand duchy of Lithuania) as early as XV cent. (Fox arms in Poland, 1058); below the first full list:
1. Korzeniewski 1410; they derived from Korzeniowski family with Fox arms (Kosciesza arms according to Piekosinski) from the Brest province; the house distinguished in the Vicebsk province, the Polack province and Livonia since the beginning of the 18th cent.; the Korzeniewski house possessed village Usa (Usza or Staraja Usha) near by Kaluzyn, and also in the Minsk government they possessed: Piorunov(y) Most together with Nieciejewski family, Krasny Brzeg and Hajdukowa Sloboda; Korzeniewski Jerzy + Konstancja nee Jablonski from the Mscislau province were owners of Jurkowszczyzna farm in 1766; they verified themselves in Hrodna in 1835
2. Suwigajlo 1410
3. nobilis Sungail (= Sangaylo or Sanigaylo and Sungaylo) 1413; Jan Sunigajla from Belorussia in 1434; Songajlo lived out in the Pruzany area since 1840
4. Swirski (Swierski 1283 at Lithuania - related to Siesiski family) or Siewierski; Roman Swirski 1431 the Fox coat of arms (with own variety of coat armour Fox also in 1433); Kryk or Eryk Swirski from Belorussia in 1434; they were from ancestry Sunigajla; Swirski and Wankowicz had identical coat armour
5. Iwan Siemionowicz from Belorussia in 1431
6. Semen Sopiha lived in 1440 but the Fox coat of arms for the family Sapieha A.D. 1512 (province of Smolensk - here Bohdan Sapieha A.D. 1506/1511); the Sapieha ancestry in Belorussia and Lithuania c. 1300; they came from Narymund who was duke of Pinsk and Mazyr, after Punigajlo Sophia and Siemion Sunigajlo son of Bunigajlo Narymundowicz in Trakai; related to Giedymin and Rozynski families; some branch has name Kszczonowski and other one Rozynski; since 1575 count title and 1775 duke title; among others the Sapieha family owned an estate of Druja in 1798 and they were kinsmen of the Fedorowicz house
7. Szokolowicz, Butwidowicz, Talmontowicz derived from the Swirski ancestry
8. Zawadzki 1420 (come from Swiatopelk); related to Bolestraszycki
9. Swiatopelk
10. Wereszczak 1465
11. Wankowicz 1499 (from Wanka related to Kiejstut), the Wankowicz house related to Swirski, Soroko and Kleczkowski families
12. Naczowicz or Nacowicz (Nacovicius) in the Wilkmerge district 1500
13. Onacewicz or Nacewicz (Onacevicius) from Lida and Kaunas regions, they verified arms in Vilnius 1800, 1832 and 1858
14. Getardowicz or Gatardowicz (Gatardavicius) with Fox arms only, in Lithuania as early as 15th century
15. Roszczyc 1500 or Roscicas in the Kobryn area and Upita; Roscisz 1584 or Ruszczyc 1650 (either Ruzczycz A.D. 1659 or Ruscicas, Ruzczycz, they owned Perkowszczyzna and Bogdanowo estates in the Asmjany area and Jodziszki in the Vilna area A.D. 1847; also Trakai region; among others a certain Ruzczycz commanded the Roumanians messaged from Lithuania to Ukraine during war in 1658); Michno Roszczyc owned the Mokrany estate in Palesse A.D. 1564 and information of 1578; in a region of Slonim after 1651; related to Kozlowski house. The family Zbirogowski - Ruszczyc (or Zbiragauskas - Ruscicas in the Asmjany, Vilna and Kobryn areas) derive from the Ruszczyc family.
16. Korsak or Krsak, among others the Fox arms in Navahrudak area, derived from the Trakai and Lida districts 1500, like us. Jozef Korsak, officer in the Mscislau province in 1611 (lived in Hlybokae area, too), the others in the province after 1667; possessed Holubicze in the Polack province and an estate in the Merkine parish - the Trakai district; in the Vicebsk government related to Lissowski house, those near and dear in 1816: Chorosciey, Jaworowski, Gielwanowski and Derwyanski. The Korsak family had got by-name Sowa or Sowicz.
17. Jerzy Koscienowicz 1501
18. Letecki 1508 or Latecki from village Letce or Ledczany in the Vicebsk province since 1508; they verified in Vicebsk at the end of the 18th cent. and came from Teodor Iwanowicz Szwogier and his son Bohdan who received Ledczany and Budowiescie; in Vicebsk A.D. 1539, Chelm in 1573, relative with Olechnowicz family 1627 and Kisiel 1641
19. Ilinski 1528
20. Marcin Konstantynowicz Czyz from Nieciecza 1534 (Boniecki 1901; Niesiecki 1839) or Czyz of Fox arms from Nieczyca (Belorussia); either Czyzewicz or Cizevicius since 1415, e.g. Juszko Czyz in 1454, Senko Czyzewicz in 1485, Bazyli Czyz officer in Krycau in 1522, Andrzej Czyzewicz or Czyzewski owner of the Czyzewszczyzna farm in the Trakai province; related to Kurylowicz house or Kurilavicius with the arms of Korczak in the Dzisna district; among others they possessed Roh Wielki farm in the Homel district, 103 ha., in the 19th cent.
21. Nieczycki either Nieczyski or Nietecki; related to Czyz family
22. Konstantynowicz, Константинович, Костентинович, Костентинавич, either Konstantinowicz or Konstantynowic and Pohozy - Konstantynowicz, too; 1536/1537 about Kostientinawicz and for the first time information on Michal Konstantinowicz in Lithuania and Belorussia of 1552 (I don't know surely where did Michno = Michal come from [Miknos Konstantinoviciaus - nobleman from Zaleskovscizna = Zaleskowszczyzna - was founder of Catholic church in settlement Krikstonys in Lithuania now, subdistrict Norageliai, municipality Lazdijai = Lozdzee = Lozdzieje, in county of Alytus = OLITA, circa 1562; Miknos Konstantinovicius = Michno Konstantinoviciaus in Lithuania = Michal Konstantynowicz / Константинович, Костентинович, Костентинавич]? I don't know doubtless if exactly Michno was stripped of the assets by his sister in 1547. The Konstantynowicz ancestry with the Fox coat of arms proper lived only in the Trakai district i.e. district of Troki and in the Samaites territory since c. 1550, and also in the Minsk province since c. 1570 [by c. 1600]; next in the Slonim area after c. 1600; also in Vilna = Wilno since c. 1640 as good as proves it all armorials. One of string evidences say us for example that the record of common noble movement A.D. 1528 doesn't point to persons with the Konstantynowicz / Константинович, Костентинович, Костентинавич surname in any districts of Lithuania according to all historical sources), 1554 and 1578
23. Piaseczynski 1550
24. Michalowicz or Makalovicius 1580; call Zdan; near to Hrodna and Vilna
25. Bucela or Buccella 1589
26. Nacewicz or Nacevicius in the Hrodna region (Belorussia) - related to the Onacewicz family
27. Saulukowicz 1596
28. Kosicki 1597, nickname Niestojkowicz either Katski or Kasicki and Kacki / K¹cki
29. Antoginski (or Antoginskas in the Lida district)
30. Bartlomiejewicz (or Bartlomijevicius in the Samaites territory)
31. Benetowt (or Benetautas in Vilkmerge area)
32. Chometowski (or Chomentowski / Chomêtowski, Chomentauskas, Chomutowski among others Fox arms)
33. Czarnocki (only Fox arms in the Lida territory, Vilkmerge, Svencionys, Asmjany and Braslau areas in the 19th cent.; verified in Kaunas 1843, 1849 and in Vilna 1850 as inhabitants of the Lida district; derived from a territory of Bielsk in the 16th cent.)
34. Dobkiewicz (or Dabkevicius, among others the Fox armorial bearings; lived in the Trakai, Vilna and Raseiniai districts)
35. Gawianowski or Gavinauskas with the Fox coat of arms only, in Talkuny (the Vilnius area)
36. Gieniusz (Geniusis) Fox arms only, as early as the 16th century
37. Glinski verified the Fox arms in Vilna 1819; they lived in Jaskuldy since 1631 - the Vaukavysk region (with others coat of arms: in the Smolensk province at the end of the 15th cent., in Poland since 1512 and Mejszagola near to Vilna 1528)
38. Goluchowski or Goluchovskis in Belorussia, the Mscislau province of 1669
39. Gregorowicz or Gregoravicius in the Vilna province, with the Fox coat of arms only
40. Hanuszewicz or Ganusevicius in the Kaunas area
41. Hrehorowicz or Hryhorowicz, Gregorowicz or Gregorovicius according to Dworzecki as early as 16th cent.
42. Janczewski among others with Fox arms; Jerzy, Matyasz and Teodor with their sons verified in Kiev on 08.02.1817
43. Jodko or Jotko, Jotkas 1700 and 1733; related to Narbut, and Stanislaw son of Jerzy Jodko was related to Mortus family in 1471; Jodko son of Sawicz near by Vaukavysk, Jan Jodko in 1548, Andrzej son of Michal in the Lida area (Girki estate, they verified in Vilna 1845) A.D. 1601, Jodko family in Livonia as early as 1750; Jerzy Antoni Jodko in Dzisna area 1757, also in Asmjany area and in Smolensk 1778
44. Jurjewicz or Jurjevicius among others Fox arms, duke Janusz Jurjewicz exercised duties of an officer in Hrodna and the Trakai province c. 1550
45. Juszkiewicz or Jurauskas among others Fox arms in the Dzisna district before 1796, related to Malkiewicz, Stacewicz and Swirski
46. Karnicki or Karnickas among others Fox arms, lived in Samaites, Livonia and Asmjany area, the Minsk province in 1732 and Mohilow i.e. Mahileu; related to Lisowski house; verified in Vilna in 1836
47. Kirkill or Kirkila, among others Fox arms, in Samaites since 16th cent.
48. Kiszkiel or Kiskelis only with Fox arms since 16th cent. in the Vilkmerge territory
49. Kolesinski near by Lida in 1669 - according to my correspondent of 2004 - i.e. Konstanty Dymitrowicz from Kolesiszcze and Konstanty Pawlowicz from Ostrowla and after 1674
50. Komorowski or Komorovskis among others Fox arms
51. Komunski before 1648
52. Konopka or Kanopkas among others Fox arms, in the Panevezys territory, Samaites and also in the Vicebsk province
53. Talmontowicz
54. Kosinski or Kasinskas, among others Fox arms, in the Polack district
55. Kosman or Kosmanas with only the Fox arms; owned Borki in the Asmjany district and verified in Vilna A.D. 1819
56. Kozakowski (or Kozakovskis, among others the Fox armorial bearings, too; possessed Krupow in the Lida area and lived in Samaites; byname Puczyna)
57. Kozlowski (either Kazlauskas or Ozkinas; among others the Fox armorial bearings, too; Jan Kozlowski landowner in the provinces of Mscislau and Smolensk + wife Justyna nee Krzywonos - their estates were burned in 1654 according to information of 1665)
58. Kulczycki or Kulcickis, among others with Fox arms; maybe in the Slonim area
59. Kutylowski or Kutilauskas with Fox arms only; landowners from Ptaszovka in the Kaunas district and verified in Vilna in 1820
60. Kwietka or Kwietko, Kvetka in the Kaunas district, with Fox arms only - according to Jan Ciechanowicz
61. Lebiedziejewski or Lebedijauskas in Pinsk and Asmjany districts
62. Lipicki or Lipickas in Lithuania since 1572
63. Lis (Lapis)
64. Lisanski (Lisianski or Lisanskas) in Belorussia since 1730
65. Lisiecki in a region of Drahicyn
66. Lisowski (Lisauskas) in the province of Polack 1633, related to Korkuc or Korkutis house and Bukowski family in Vilna
67. Lokis (in the district of Polack)
68. Lukaszewic (or Lukasevicius known since 1528, in the Orsa area 1567, Trakai region 1577, Mahileu 1578)
69. Mackiewicz - about Mackevicius family hear as early as 1541 and 1572
70. Michniewicz or Miknevicius before 1648 in the province of Vilna and others; named Lisowczyk Michniewicz
71. Modestowicz (Modestavicius) in the Panevezys region
72. Mukiewicz or Mukevicius in the Asmjany district (Belorussia)
73. Mytko or Mitkus
74. Narbut or Narbutas 1650, related to Jodko
75. Naborowski or Nabarauskas in Olkuny, district of Vilna 1635
76. Olszewski
77. Oltarzewski or Olatazevskis at the moment
78. Ossendowski = Osendowski (Osendovskis) verified arms in Vicebsk 1844 - writer Ferdynand A. Ossendowski was born in Vicebsk 1878, he stayed in Omsk 1918 and in Urga in May 1921, died in Warsaw 1945 - the Osendowski family lived in Livonia since 1774
79. Parczewski or Parciauskas in the Smolensk province before 1648 and Russia
80. Piotrowski or Petrauskas; in the Mscislau province in 1697, Minsk area c. 1750; they verified in Minsk 1829
81. Postrumienski 1700
82. Pryncewicz (or Princevicius in the Vilna area)
83. Radziminski or Radziminskij in Belorussia before 1648 (Radiminskas in the Vilna and Hrodna areas)
84. Rosiel (or Raselis in the Dzisna area and the Samaites territory)
85. Rozlowowicz (or Rozlovavicius in the Kaunas area)
86. Rupejko (or Rupeikys, Rupeika in the Vilna area)
87. Russel (or Ruselys in the "Polish Livland")
88. Rymgajlo (or Rimgailas in the Raseiniai district)
89. Sikorski (among others Fox arms with nickname Dumicz but mainly in Galicia; they were related to the Hurko noble family in Livonia, the Rezekne district; the Sikorski noble family possessed Laskowka, Kniahinicze, Olesin and Mikulitschi estates in the Minsk government in 1899; Mikulicze estate i.e. Mikulitschi was situated 14 km West of Beresino = Berezyna; orthodox families verified themselves in Minsk A.D. 1820 and 1837)
90. Spirydonowicz (i.e. Spiridanavicius only with Fox arms in Lithuania since the 17th cent.)
91. Stanislawowicz (i.e. Stanislavovicius or Stanislavaitys owned Fox arms and derived from the Asmjany district, here possessed some little villages in the 19th cent.)
92. Starzenski (Fox arms according to a research from Buenos Aires of 1974 and related to Siemaszko family arms Swan)
93. Uszacki (or Usackas verified Fox coat of arms in Vilna (Wilno) A.D. 1905)
94. Wilkanowski c. 1630
95. Andrzej Wolan 1550 or 1566/1572; the Wolan family or Volanas was in Vilna region, districts of Minsk (Andrzej Wolan was a clerk in an estate of Usa, the Minsk province in 1582) and Asmjany
96. Wolski (or Volskis)
97. Wolocki (or Volockas)
98. Wolosewicz (or Wolosowicz, Valasevicius in the Pinsk region A.D. 1524 - they verified Fox arms in Vilna 1819 and 1832, owned Rekoszajcie or Rakotajcie at the Samaites territory in the 17th - 19th century)
99. Wolotkowicz or Valatkevicius (the surname since 15th cent.)
100. Woroszyllo (or Vorosilas in the Kobryn area, the Polack province, and besides Kiev A.D. 1648)
101. Worotnicki (Vorotnickas in the Trakai district and Asmjany)
102. Worowski (Vorovskis from region of Chelm)
103. Wroblewski (Vrubliauskas in Latgales aug(u)stiene 1778, Vicebsk and the Polack province 1668, besides Podolia)
104. Zabielo (or Zabiello and Zabiê³a according to Dunin Borkowski of 1909, they came from Podlasie to Samaites territory; in the Minsk government owned places: Olsa, Jozefin and Ignacewka in the 19th cent., count title)
105. Zajac (or Kiskis family)
106. Zaleski (or Zaleskis came from the Kaunas province according to Niesiecki)
107. Zapasnik (Zapasnikas came from the Vilna province, after in the Lida and Navahrudak districts)
et al.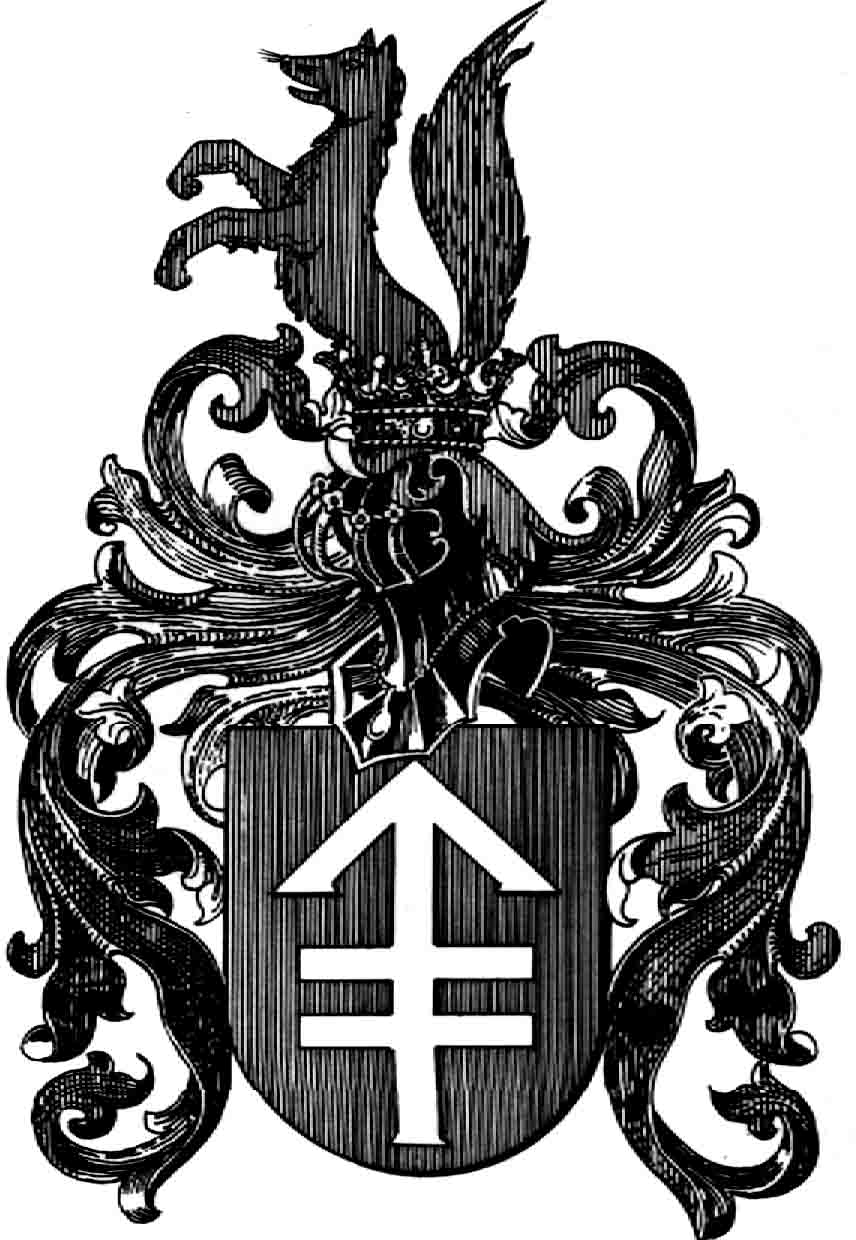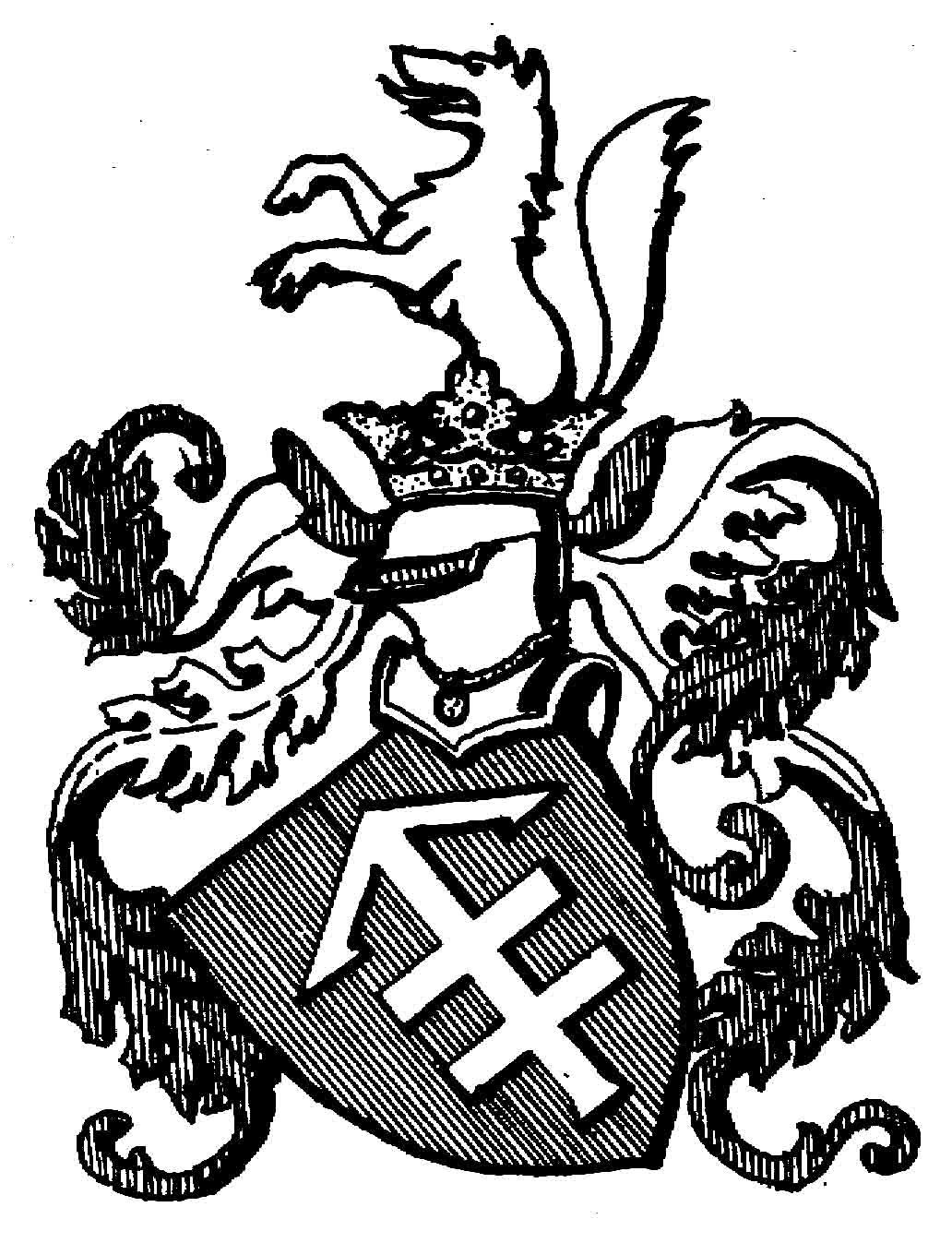 above:
two versions of the Fox armorial bearings proper in Belorussia
108. Rymwid 1504 (or Rimvidas at the Samaites territory, the Vilna area, region of Hrodna, Minsk and Lida A.D. 1669); a name of one branch is Mickiewicz (1550); the Mickiewicz family (= Myckiewicz) with Fox arms, too - named Rymwid either Rynwid in Belorussia or Rymwid - Mickiewicz and Rimvidas - Mickeviicius in the Asmjany, Lida and Minsk areas (the families: Rymwid, Myckiewicz, Sipowicz, Tyminski, Bohufal, Doroszkiewicz and Talatowicz had identical coat armour); related to Korkuc or Korkutis house
109. Makarowicz 1400 (they came from family Wasienczowicz or from Doroszkiewicz called Bouffall in Belorussia); after as Makara - Makarowicz or Makarewicz of 1514 = Makarevicius in the Barysau region and area of Vilna since 1560 (Ponary in the 18th cent.); they lived in the Minsk province in 1620 and in the Hrodna district in 1765, possessed the Jatoltowicze estate in the district of Asmjany, next in the Lida district c. 1723 and 1761 (here the Niewisza and Romanowicze estates), they verified the arms in Vilna A.D. 1819, were in Vilna in 1820, too; Wasienczowicz and Makara - Makarowicz (= Makaro Makarowicz) had identical coat armour
110. Wasiencowicz after 1509 (according to Tomasz Swiecki) either also Iwasiencowicz or Vasencavicius A.D. 1590, after as Makarowicz or as Makarowicz Wasiencowicz; derived from Makar Makarowicz Waszencowicz; Wasiencowicz were in the Minsk province and Kiev area according to Niesiecki; as also Wasienczowicz according to Stupnicki; as Wasniecow in Russia
111. Doroszkiewicz or Doroskevicius, among others Fox arms with nickname Bouffall 1481 (a certain Bohuchwal Doroszkiewicz was owner of a land by the Neman river in the Hrodna district 1560) or 1482; they lived in the Hrodna, Minsk 1585, Orsa and Recyca (the Rezekne district) areas; the Fox coat of arms since 1540 alongside Rymwid family
112. Talatowicz before 1540 (related to Bouffall); lived in Eynerance in the Trakai province in 1786, neighbours: Minkowski, Jurgielewicz and Korolewicz families
113. Sipowicz (related to Bouffall in Belorussia) 1640; kinsmen of the Jankowski arms Powala house in Samaites and the Dobuzynski family; they possessed here estates: Dolgi, Poniewicze near by Kaunas and Iuskucie in the district of RASEINIAI
114. Tyminski (inf. of 1700; the family was related to Bohowityn house or Bagavitynas in 1591)
115. Kozmowski 1648 or early
116. Woronowicz or Woronowicki in Belorussia 1650 or 1648 (Varanavicius) according to Niesiecki; owned Brzostowica (Berastavica now) in the 18th cent., lived in the Vilna province (Porokiecie village) in 1542, Leluny in Dzisna area in the 18th cent.; verified 1819
117. Sapucho - Samsonowicz before 1648; also as Samsonowicz
118. Kesztort 1580 or Kiesztort (Kiejsztort, Kestort related to Kamienski family)
119. Proszczewicz or Proszczowicz 1550; Medeksza derive from them and had identical coat armour
120. Medeksza 1560 (they came from the family Proszcze or Proszczewicze / Proszczewicz)
121. Bouffall since 07 March 1516, 1565 according to the Luc'k archives or 1540 (related to Mickiewicz family); either Boufalas, Boufal, Bohuchwal, Boguchwal or Bohufal, with Fox arms or Kosciesza; the house derived from the Vilna area; for the first time Boguchwal son of Dmitryj in 1516; by-names: Doroszkiewicz (derived from Doroszko = Janusz; the Doroszkiewicz house since 1482) or Kmiticz - Woronowiecki, according to Boniecki
122. Makowski or Makauskas in the Mscislau province, Belorussia.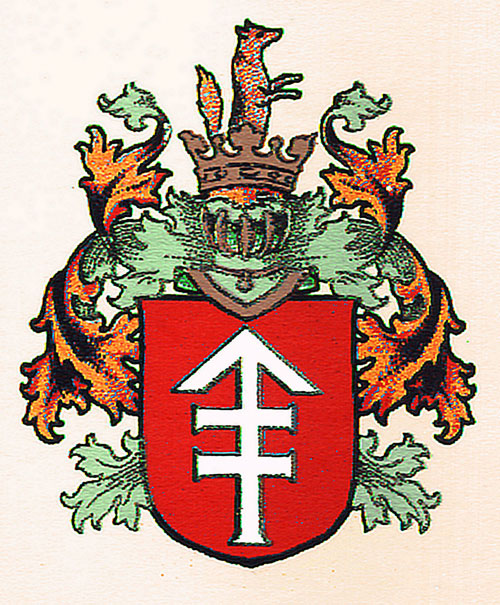 diverse Fox
© Appendix B: August 15th, 2008. All rights reserved. No part of all this work covered by copyright hereon may be translated and/or reproduced in any form or by any means - graphic, electronic, or mechanical - including photocopying, recording, taping, or storage in an information retrieval system, without the prior written permission of the copyright owner - Bogdan Konstantynowicz from Lodz.
See references:
http://us.geocities.com/bog4konsta/index.html
---
The tangled lot
of the noble family
KONSTANTYNOWICZ
from
Belorussia
© Author Bogdan Konstantynowicz from Lodz
I concluded in my genealogical search that among families of Konstantynowicz who live in Poland are three separate groups:
Ancestry of the family Konstantynowicz who derived from present BUKOVINA (1775 to Austrian Empire) at the border Ukraine on Roumania; they were (in XIX century) the Greek church perhaps and after 1945 they regarded as (in part, by authorities) Ukrainians and were displaced (partially) to the Mazury (East Prussia). Most of them live today in south - easterly Poland. They had own coat of arms GRECUL (GREKUL) in time of the Austria - Hungarys' Galicia at the beginning of XIX cent. (Bazyli and Michal Konstantynowicz 1803). I take note of them in ODESSA and Tschernowzy (= Chernovits) 1939 - 1940 and KIEV (data from Internet) after the second World War.
---
SEARCH http://de.yahoo.com
http://directory.google.com/Top/Society/Genealogy/Personal_Pages/K/
http://www.myfamily.com/ http://www.ancestry.com http://www.genealogy.com/
http://www.lobak.com/Society/Genealogy/Personal_Pages/K
I am looking for all persons with KONSTANTYNOWICZ surname whose ancestors (as a whole XIX century and at the beginning of XX cent.) are from:
1. BELARUS': Governments of Minsk, Vicebsk (Vitebsk) and Mahileu (Mogilev by the river Dniepr = Dnjapro)
2. RUSSIA: Government of Smolensk
3. LATVIA (Livland): Governments of Vicebsk and Riga
Appendix A
http://us.geocities.com/konstantynowiczkonstantynowicz
Here you can to read about noble ancestries deriving from former Mscislau province, mainly there are Polish and Byelorussian families, e.g. about Holynski, Wollowicz, Puszkin, Brujewicz, Polubinski, Hurko and others. An information on Polish exiles in Siberia are at the website, too. Also about Polish rebellion near by the Lake Baikal in 1866. Here is description of the January Insurrection 1863 in the Ihumen (Cerven) district and also in the Mahileu government; and theory about the Fox and Pielesz coats of arms in the Grand duchy of Lithuania.
http://us.geocities.com/bogdanbogdan2003d/index.html
Here you can to acquaint with information about former Ihumen district and with data on the Polish in the parish of Berezino. Here there are details with Brzezinski family from Livland. It's a large part devoted to Polish senior officers in Tsarist Army and that next served for the 1st Polish Corps in Belarus in 1917 - 1918.
http://siekierski50zbigniew.w.interia.pl
http://republika.pl/bkonstantynowicz
---
® HISTORY OF THE POLISH SEPTEMBER 1939 IN THE VILNO PROVINCE
Author Bogdan Konstantynowicz from Lodz. Appendix C on 09th April 2008; text - Polish language, formerly on the website: http://us.geocities.com/bogdanbogdan2003d
from now on at the address: http://strony.wp.pl/wp/berezynabogdan http://berezynabogdan.webpark.pl/
---
http://www.sciencedaily.com/directory/Society/Genealogy/Personal_Pages/K
http://www.kristin.com/category.asp_Q_/Society/Genealogy/Personal_Pages/K/
http://www.peoplearchive.org/sitemap-websites/index-151.html
http://www.xasa.es/directorio/dmoz/Top/Society/Genealogy/Personal_Pages/K/
http://www.messagetalk.com/directory/index.php/Society/Genealogy/Personal_Pages/K/
http://www.firstdirectory.org/Top/Society/Genealogy/Personal_Pages/K/
http://search-info.com/search/engine/index/Society/Genealogy/Personal_Pages/K/
http://www2.turkishpress.com/directory/apexec.pl?etype=odp&passurl=/Society/Genealogy/Personal_Pages/K
http://www.lukol.com/Top/Society/Genealogy/Personal_Pages/K
http://www.sserv.com/internet-search/Society/Genealogy/Personal_Pages/K
http://www.puredirectory.com/Society/Genealogy/Personal-Pages/K/
http://www.knowledge.com/Top/Society/Genealogy/Personal_Pages/K/
http://www.lineages.co.uk/dwodp/index.php/Society/Genealogy/Personal_Pages/K/
http://www.multimeta.com/prog/multicrawlg.cgi?suchbegriff=govorski
http://www.directorymarket.com/dir/Society/Genealogy/Personal_Pages/K/
www.genealogy-site.com/lithuaniangenealogy/
http://www.family-genealogy-history.com/resources/126/Kohn-family-history.html
www.wordiq.com/web/Navahrudak.html
www.applelinks.com/cgi-app/directory/apexec.pl?etype=odp&passurl=/Society/Genealogy/Personal_Pages/K/
www.surnameweb.org/registry/s/z/o/szostak.shtml
http://www.szlachta.org Confederation of the Polish Nobility
http://www.genealogia.ru/ru/add
I inform my respectable readers about statistic at my main website 16620 times on September 30th, 2008 (my four "geocities" 36774 times) and this page was made on March 9th, 2003. Thank you and I invite you again. It will be myriad information about persons in the named Belorussian villages and estates at the end of the year 2004.
---
Author Bogdan Konstantynowicz from Lodz
® History of the noble
KONSTANTYNOWICZ family
FROM THE GRAND DUCHY OF LITHUANIA
http://us.geocities.com/bog4konsta/index.html
Here you will read about different lines and branches of the Konstantynowiczs from Lithuania, Belarus, Latvia, Russia, Ukraine, Romania and now from Poland; and about emigrants in America and at others continents. This is my main website. Why not read that site? There are very interesting data about DEKA air company from St Petersburg, about the Boncz Brujewicz family and on my grandfather - Tsarist and Polish soldier in 1912/1916 - 1947. At every websites you will find out information about Szostak, Zbieranowski and Malkiewicz families, and also interesting links to genealogical sites and into historical pages.
---
http://romingerlegal.com/ http://Genealogy.ru
http://boards.historychannel.com/account.jsp
www.familysearch.com www.digiserve.com/heraldry
http://www.nobility.by/forum/read.php http://www.nobility.by/
http://www.findthewebsiteyouneed.com/personallinks.asp
http://www.CyndisList.com/whatsnew.htm
http://polishroots.netfirms.com/
http://jurfak.spb.ru/ www.guestbook.ru/book.cgi
Probably our ancestry with the name of Konstantynowicz derive from belorussian family (Senko Czyzewicz and his son Konstanty Czyz) Czyz; Polish as early as the 16th century and professing catholicism, owned arms of FOX proper since
1534
id est Marcin Konstantynowicz Czyz from Nieciecza
either Marcin Czyz Konstantynowicz from Nieczyca
or Marcin Czyz Nieczycki (or Nietecki) who was born c. 1495.
Konstantynowicz Czyz unknown of name (or Konstantinowicz who was born c. 1530 or Michno Konstantynowicz ?) was withdrawn in the last will and testament of his father of
1547
and destitute of a legacy which daughter Margaret inherited; she had got some brothers.
Part of these Czyz from neighbourhood of LIDA (either Nieciecz or Nieczyca 9 km from Lida)
c. 1550
have accepted the surname Konstantynowicz (from Christian name of father according to Leszczyc 1908/13) adopting the armorial bearings of FOX proper and moved out to the Trakai district and thence to the MINSK province
c. 1570.
A famous
Michno Konstantynowicz
received the big estate, an arable ground and forested land from the king Sigismund Augustus on
04 January 1554
i.e. the farmland
Merecz Michnowski
and the same Michno possessed a landed property
Zaleskowszczyzna
49 km N-W-N of Lida in the Troki district, too (close by a south - easterly border of the former Trakai district) as early as
1552
and it seems he owned a farmland Merkine in addition id est
Merecz Michnowo
by initial course of Merkys river in the Turgeliai parish, 38 km S-E-S of Vilnius.
This fact noted down in armorials of the Grand duchy of Lithuania:
1578 Konstantinowicz who was born c. 1530
1584 Michal Konstantynowic
1648 Konstantinowicz or Konstantynowicz
The family Konstantynowicz used the call POCHOWICZ (or the Pohozy, Pohosha, Pohowicz, Rohoz, Rokoz and Pokoz nicknames, information of 1937) at first in the Minsk province, Belorussia since A.D.
1600
---
Mikolay Pohosha Konstantynowicz has got a privilege in the Minsk province handed over to him by the king Vladislav IV Vasa on
07 March 1643
---
Just after
1661
they partly moved house to the East Belorussia in the MSCISLAU province near to:
KRYCAU = Kritschew or Kritchev, MSCISLAU = Mstislavl (next of kins the Golynskij or Holynski family; kin to family Hurko; neighbourhood: families Hryniewicz or Gryniewicz = Grinevicius, Hrynkiewicz or Grinkevicius in Iwanowszczyzna, Halko (Galkus), Goluchowski or Goluchovskis in the Mscislau province of 1669, Myszkowski or Miskauskas arms Jastrzebiec, Petryzycki or Pietrazycki, Oleszkowski, Olesza, Skorupa, Dudka, Oziemblowski, Woroniec, Kisiel, Romanowski, Pleskaczewski, Ostrowski, Mezynski, Gorski or Horski of 1654/1663 and Madalinski) and in the region northwards of MSCISLAU (the villages Samava = Chamovo at the map of 1834, Kopceuka, Niesterevo – the Berezetnia estate), where Swedes looted them estates during campaign of Charles XII in summer A.D.
1708.
The family Konstantynowicz from eastern Belorussia (near to Krycau – Antoni 2nd Konstantynowicz was born c. 1833, Mscislau, Samava) is my ancestors.
1772
this territory was already in Russia, as the Government of Mahileu after the 1st Partition of POLAND, I am afraid.
They partly have moved out to the easternmost parts of the MINSK government to the Berezino parish after
c. 1840
id est in the villages BOROVINA and MIEZONKA (the village is situated 28 kilometres south - east of Berazino = Beresino either Byerazino or Berezina).
Below East of Berezino (the © German map of 1943)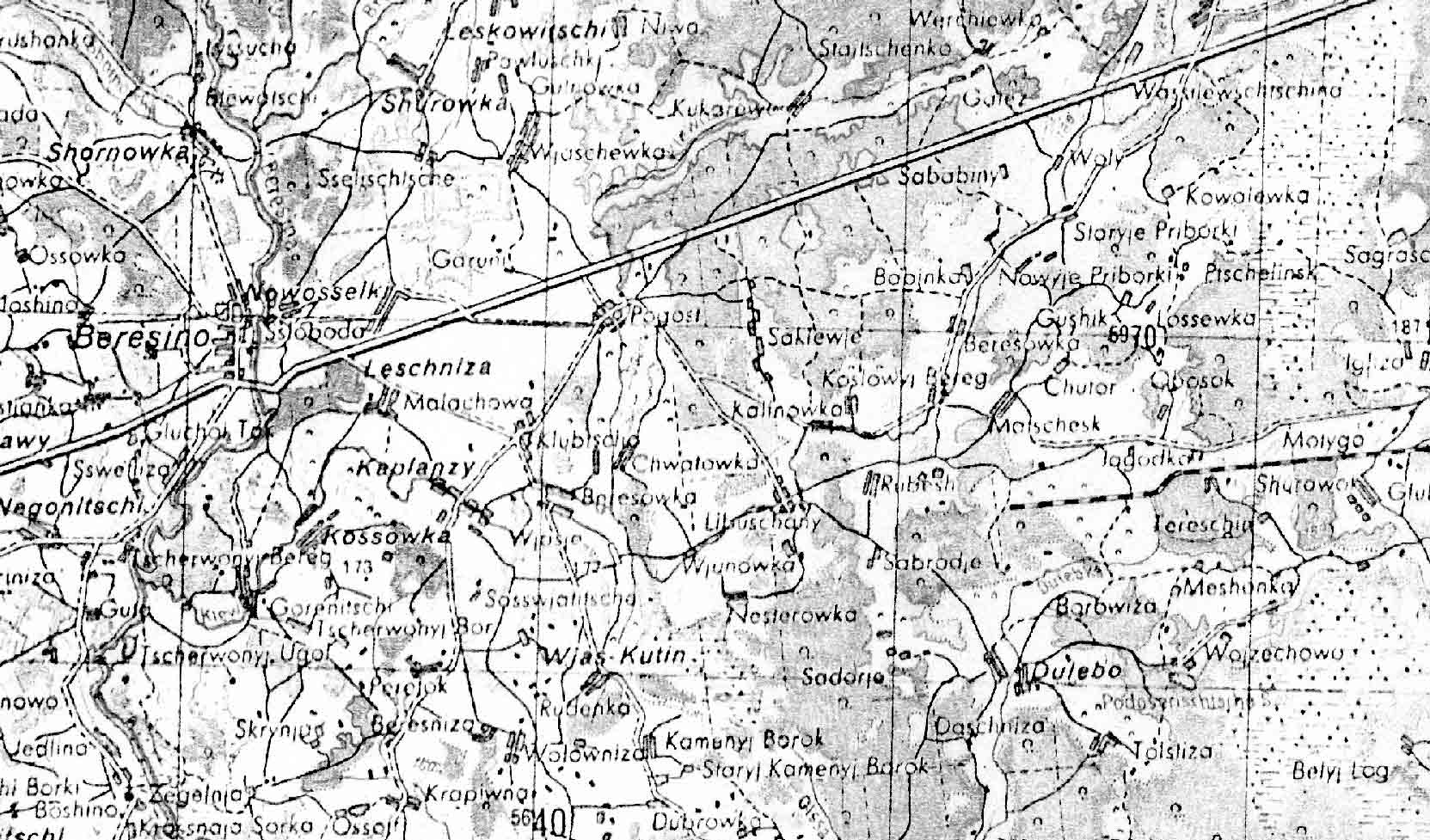 Below map of the Berezino parish
(surprise – enlargement needs to be done;
take advantage of free files jpg containing the maps enclosed with this website)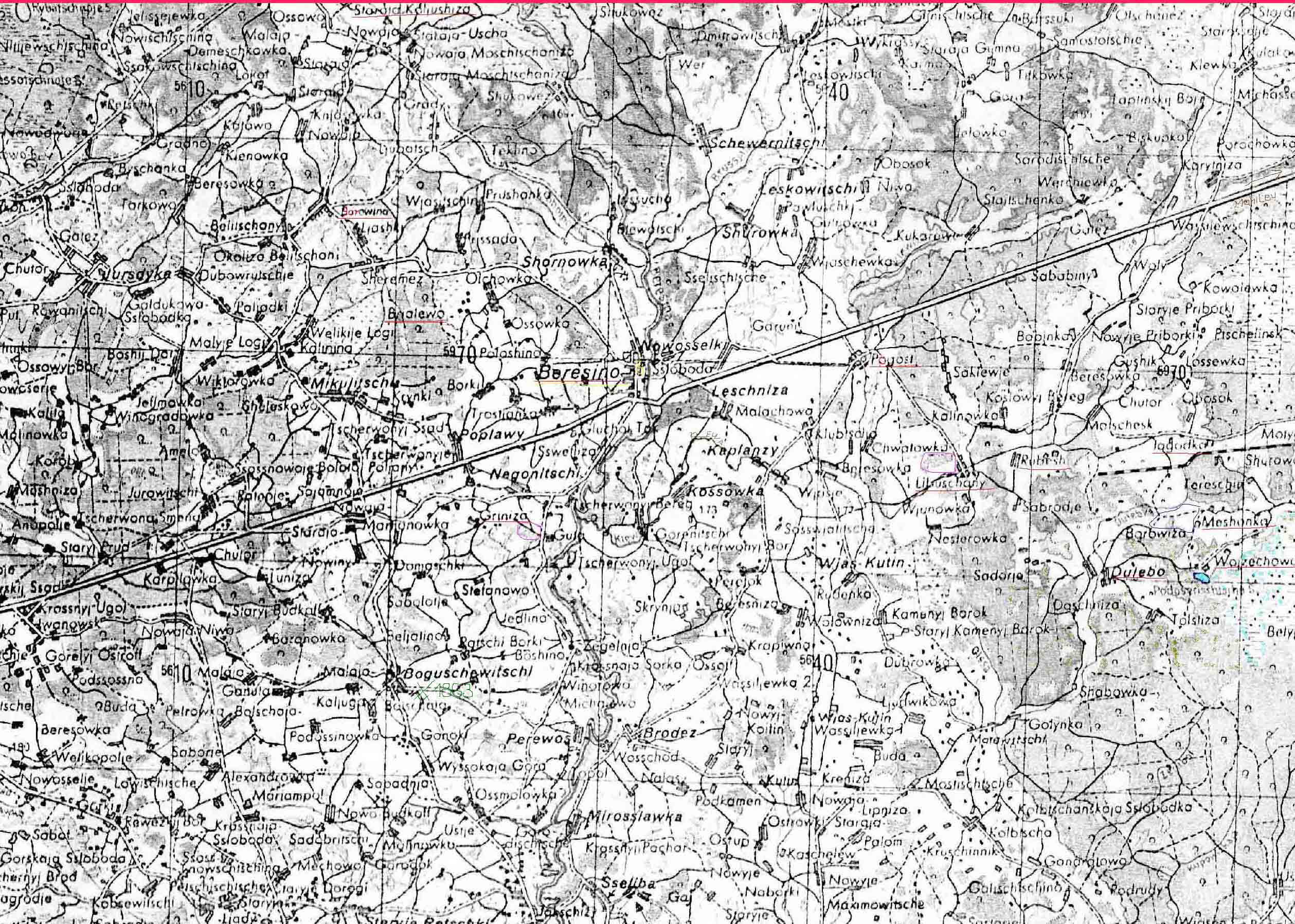 MIEZONKA
was situated in the Ihumen district i.e. in the GOVERNMENT OF MINSK, the parish of BERAZINO or BERESINO, the POHOST or Pogost region = Pogostskaya "volost" that is similar to county; PRECINCT BERAZINO = Uchastok No 2: Uyrevichskaya, Pogostskaya and the Belichanskaya volost; near to villages DULEBO (= Duleby, Duleba) and DRUCZANY; here Stanislaw Konstantynowicz born c. 1855 + Anna Malkiewicz daughter of Konstancja Brzezinski from the "Polish Livland" = Livonia (more information: http://us.geocities.com/bogdanbogdan2003d).
I search for all information about the village MIEZONKA where my grandfather was born on 23 April 1898 or 23 April 1900 (as a matter of fact my grandfather's name was Jerzy Konstantynowicz, he had pseudonym A. either Antoni or Antoni Stanislaw Stankiewicz born 15.05.1900, son of Konstantynowicz who lived in Petersburg since c. 1911 / 1912); at present Belorussia (Belarus'), the Bjalynicy (= Belynichi) region in the Mahileu (= the Mogilev province) "oblast"; the village is situated among grand forest and southwards was big marsh - Miezonka was at a territory of enormous estates the Radzivilles before A.D. 1842.
More information and most beautifuly pictures of Miezonka on a page in Webnet:
http://www.berezino.net/Miezonka.html
.
We were in St Petersburg (more information: http://us.geocities.com/konstantynowiczkonstantynowicz ) after
c. 1907
and lived in Vilna in the early 20th century (Piotr Konstantynowicz son of Gustaw - Piotr was married to Maria W.);
in Pinsk (Konstantynowicz Konstantyn),
Grodno (Hrodna),
near to Dzjatlava = Zdzieciol (the village Gronsk)
and west of LIDA (the places Maluki, Zabalac = Zabalac' either Zabolot or Zablot', Przevoza, Volejsze, Kascjaneva) at the beginning of the 20th cent.;
in Minsk (Konstantynowicz Andrzej; brothers Jakov and Semen; Semen II (or Szymon) son of Jerzy II; Konstantynowicz Antoni IV; Adolf son of Wilhelm; Mikolaj son of Pavel) at the beginning of the 20th cent.
and Daugavpils (or Dunaburg = Dvinsk);
in the government of Smolensk (district = ujezd of Dorohobuz in 1913)
and Vicebsk = Vitebsk (Jozef Konstantynowicz in September 1918) by their own account, too;
Jan Konstantynowicz had died in the Karpaty mount as senior officer being in the Russian army in winter 1914/1915.
The family Konstantynowicz lived in Vilnius, Vaukavysk, Ivacevicy and Lida in the thirties and the forties of the 20th cent. by all accounts.
The family Konstantynowicz moved on to the new Polish west territory after 1945. I can't give many more information about this period after 1940 for the sake of secret data.
---
Many of the Konstantynowiczs / Константинович / Костентинович / Костентинавич stayed in BELARUS

Belorussian peacekeeping veteran Konstantine Konstantynowicz / Константинович inf. 11 April, 2003; Andrzej Konstantynowicz in Mahileu by the river Dnjapro according to Sergiusz Marszalkowski of 2004; in villages Toloczki and Zabalac; and a first deputy chairman (the vice-president in 2003) of the Belarusian Union of Architects, Anatoliy (i.e. Anatol) M. Konstantynowicz in Minsk; A. A. Konstantynowicz acted in Acad. Agric. Sci. of Belarus in 1992; Sh. V. Konstantynowicz from Belarus at SECOND INTERNATIONAL SCIENTIFIC - TECHNICAL CONGRESS "MECHANICAL ENGINEERING TECHNOLOGIES ".

Now in Lida: G. F. Konstantynowicz tel. 53109 Tuchachevski Str. and

now in Minsk: Who tel. Str. No Apt. Konstantynowicz A. A. 2267105 Tanka Str. 30/2 Apt. 53, Konstantynowicz A. M. 2344451 Chorushej Str. 19 134, Konstantynowicz A. M. 2625139 Kolcova Str. 23 66, Konstantynowicz A. N. 2302864 Vaniejeva Str. 8 72, Konstantynowicz G. A. 2733456 Altajskaja Str. 64/5 68, Konstantynowicz G. V. 2445007 Shabany Str. 13 56, Konstantynowicz E. T. 2432695 Gierasimienko Str. 29 74, Konstantynowicz Sh. D. 2955986 Zilunovicha Str. 27 23, Konstantynowicz I. E. 2429894 Niesterova Str. 4 153, Konstantynowicz I. M. 2165503 Jesenina Str., No 19 Apt. 166, Konstantynowicz K. F. 2382929 Ilimskaja Str., 29 226, Konstantynowicz L. G. 2810745 P/O Stiepianka Korwata Str. 34 Apt. 33, Konstantynowicz L. K. 2356986 2 Bagrationa Court (Pier.) No 19 Apt. 789, Konstantynowicz M. A. 2738872 Angarskaja Str. 20/2 44, Konstantynowicz M. S. 2495360 Pliechanowa 56/3 166, Konstantynowicz N. I. 2475314 Jakubova 30 5, Konstantynowicz N. N. 2499679 Pliechanova 52/1 9, Konstantynowicz N. P. 2502878 Orlovskaja 86/3 14, Konstantynowicz O. V. 2268756 Tanka Str., 30/2 Apt. 71, Konstantynowicz O. F. 2997217 Shossejnaja 9 17, Konstantynowicz T. I. 2968379 Bajkalskaja 45 28, Konstantynowicz T. I. 2998379 Bajkalskaja Str. No 45 Apt. 28, Konstantynowicz F. I. 2431028 Angarskaja 13/2 6, according to: http://www.nomer.org/minsk/

settled themselves in Russia

Krasnojarsk in the sixties of the 20th cent. and the Krasnojarsk area after 2nd world war, Archangelsk = Arkhangelsk: Yury Константинович / Konstantynowicz now, Moscow: Aleksandr Konstantynowicz and Oleg Konstantynowicz now, Dmitrij Konstantynowicz in Togliatti near to Samara;

in 1918 Abram Ioffe [b. 1880, son of Fedor; completion of the St. Petersburg Technological Institute in 1902] became a head of Physics and Technology division in State Institute of Roentgenology and Radiologythe i.e. Physico - Technical Institute where a group of young physicists worked: B. P. Konstantynowicz / Константинович, I. V. Kurczatow = Kurchatov, Lev Landau [son of David, born 1908 in Baku; his father was an engineer who worked in the Baku oil industry; since 1927 he continued research at the Leningrad Physico - Technical Institute], P. L. Kapitsa [Piotr = Pyotr Kapica was born July 08/June 26, 1894 in Kronstadt; he was son of Leon or Leonid Kapica - a military engineer, lieutenant general in the Russian engineers corps, Pole with the Kapica i.e. Jastrzebiec diverse coat of arms, see: http://http://www.jurzak.pl/gendyna.pl?kd=1&hb=0504 - and Olga Stebnicki who was daughter of Hieronim Stebnicki, Pole with the Przestrzal coat of arms, see: http://www.przodkowie.com/niesiecki/s/stebnicki/5915.php?lit=s; grandson of Piotr Kapica senior; received his preparatory education in Kronstadt and next educated at the Petrograd Polytechnical Institute, "he graduated in 1918 with a degree in electrical engineering" (or 1919) on Electromechanics Department; he remained there as a lecturer until 1921; he went to England and there he worked with Ernest Rutherford; in 1934, Kapica went to Soviet Union] and others [quantum electronics, electromagnetic waves] - see http://depts.washington.edu/hssexec/newsletter/1997/graham.html ;

my family in Omsk after 1929: Viktoria born 1870/71 - daughter of Antoni Konstantynowicz, and also Konstantynowicz Walery (i.e. Valerij) son of Zygmunt (i.e. Sigizmund); Orenburg: Vasilij Konstantynowicz - Deputy Head on Agricultural Administration in Orenburg; and also somebody exiled at Solowezki Islands in the White Sea after 1923, but we lost touch with them.

In St Petersburg / Peterburg now Pavel Konstantynowicz, tel. 8-911-295-70-06 and others: Константинович / Костентинович / Костентинавич / Konstantynowicz Valerij son of Valentin / Walenty, phone 2517524, 13-ja Krasnoarmejskaja Rd. No 13 / 4, born 21. 09. 1937; Konstantynowicz Jekaterina daughter of Valerij, tel. 2517524, 13-ja Krasnoarmejskaja Rd. 13 /4, b. 14. 02. 1981; Konstantynowicz Ivan son of Nikolaj, born 09. 01. 1978, tel. 2605004, Slavy Rd. No 20 Apt. 53; Konstantynowicz Igor son of Konstantin, b. 15.12. 1955, Prosveshcenija Rd. 69 / Apt. 352; Konstantynowicz Konstantin son of Igor, Prosveshcenija Rd. 69 / 352, b. 21. 04. 1985; Konstantynowicz Ludmila d. of Sergiej, born 09. 03. 1921, Piskarevskij Prospiekt No 40 / Apt. 279; Konstantynowicz Nikolaj son of Boris, tel. 2605004, Slavy Prospiekt Rd. 20 / 53, born 01. 04. 1949; Konstantinowicz Olga daughter of Aleksandr, Lunaczarskogo Prospekt 76 / 84, born 10. 01. 1958; Konstantynowicz Olga daughter of Konstantin, Serdobolskaja Rd. No 37 / 20, born 05. 08. 1961; Konstantynowicz Olga d. of Sergiej, Prosveshcenija Rd. 69 / 352, b. 16. 04. 1953 - according to: http://www.nomer.org/minsk/ .

In Moscow for the present:

Konstantynowicz Boris son of Ivan, tel. 9080498 Altufievskoje shosse No 100 Apt. 312, born 23. 02. 1942; Konstantynowicz Galina daughter of Michail, 9300585, Leninskij prospekt 72, 473 - born 29. 10. 1933; Konstantynowicz Elena - 4324419 Novatorov Str. No 14 / 2, Apt. 191 - born 21. 05. 1939; Konstantynowicz Jekaterina 1841744 Anadyrskij Prospekt 3, 48 - born 02. 04. 1965; Konstantynowicz Pietr, son of Gavril, 3260037, Birjulevskaja 12 / 2, 198 - born 16. 06. 1935; Konstantynowicz Lidija - tel. 4745859, Tajninskaja 16 / 2, Apt. 131 - born 11. 03. 1920; Konstantynowicz Jurij son of Pietr, tel. 3260037, Birjulevskaja Str. 12 / 2, 198 - born 06. 01. 1968; Konstantynowicz Olga daughter of Siergiej, tel. 3260037, Birjulevskaja 12 / 2, 198 - born 14. 06. 1968; Konstantynowicz G. V. 3227945 Proletarskij Prospekt No 35 apt. 21; Konstantynowicz L. L. tel. 3260306 Birjulevskaja Str. 12 / 2, 177; Konstantynowicz K. M. tel. 9300585 Leninskij Prospekt 72, 473; Konstantynowicz Aleksander 1241454 born 09. 09. 1948; Konstantynowicz Andrej son of Stanislav 1115257 Starokashirskoje shosse No 4 / 2 Apt. 120; Konstantynowicz Elena daughter of Michail, 4324419, Novatorov Str. 14 / 2 Apt. 191; Konstantynowicz Vladimir son of Aleksandr tel. 5233572, Valashiha G. Kalinina No 2, 106 - born 13. 10. 1949; according to: http://www.nomer.org/minsk/

Ukraine

A. V. Konstantinowicz and I. A. Konstantinowicz - experts of ionization energies in Ukraine, unknown ancestry

settled themselves in CANADA

Vancouver - Karen Konstantynowicz; College of Medicine in Regina - B. Konstantynowicz

in Denmark

at the beginning of the 20th cent.; Maria H. and T. Konstantynowicz now

USA

OHIO and Ellis Island in the beginning of the 20th cent.: Peter (or Piotr the 2nd probably) Konstantynowicz who was married to Mary G.; Olga I. Konstantynowicz who was born 1860 in Kiev - after 1880 in Paris - daughter of Alexander Konstantynowicz; Bronislaw Konstantynowicz in Philadelphia, PA (1915 - 1918) and his wife Stella nee Marcinkiewicz; Mary (i.e. Maria born 1863) Konstantynowicz died in Princeton, NJ on July 26th, 1916; in the thirties of the 20th cent.: Konstantynowicz Michael (= Michal), Konstantynowicz Jacob (Jakov = Jakub) and Casmir (Kazimierz), Konstantynowicz Boleslauf and Eugene (Eugeniusz in the Detroit area - WJLB radio) H. Konstantynowicz and also Anthony; now in USA: KONSTANTINOWICZ MATTHEUS from RUSSIA according to US District Court in BOSTON, MA; MARY P. born c. 1934, Brandon Konstantynowicz, REGINA born c. 1925, EDWARD born c. 1924, Steven Konstantynowicz; DIANE S. born c. 1942 http://www.pmi-chicagoland.org/membership/; WALTER born c. 1968 (inf. 01 APR 2001 - 15 FEB 2004 from FORT BRAGG); K. Konstantynowicz born c. 1955; Konstantynowicz Aleksei - an unknown line - in "Military Review" and "Current Digest of the Post-Soviet Press"; MARGARET; ROBERT and Leon Konstantynowicz who was born in Baldwinville on April 28th, 1911 and resided in Baldwinville, MA; Andrew Konstantynowicz located in St. Petersburg - Florida; Casey Konstantynowicz in the Franklin Park School; JOHN W.; TED P. Konstantynowicz born c. 1921; Chief Operations Officer in Philadelphia or Newton's Vice President of Finance and Operations (Newton Resource Group, a digital media company based in Pennington, NJ) Tom Konstantynowicz; T. Konstantinowicz in Columbia, Aliso Viejo, CA; FRANK; BECKY; Josephine Konstantynowicz of Youngstown; EDWARD M.; EDYTHE M.; D. Konstantynowicz and WENDY born c. 1969; Lee Michaels born Nov. 2nd, 1942, in Chicago, and died on March 2nd, 2003 in Maywood, son of Margaret and Vincent Konstantynowicz, lived in Palatine (his sisters, Bernice Harker and Mary Lund; brother, Edward Konstantynowicz); Chris Konstantynowicz acted as CFO; according to "Social Security Death Index Search Results" RUTH KONSTANTOWIC or probably Konstantynowicz b. Jun. 1919 and d. 1994 in New Castle, Pennsylvania and JOHN KONSTANTOWIC b. Oct. 1923, d. 1988; you see more details:

England

Alice Konstantinowicz, chiropractor

Australia

Konstantynowicz Michal, departure port: Genoa, Italy on 27 Apr. 1949 - arrival port: Sydney - Australia on 27 May 1949, details are lacking. According to "Database = Australian Records" KONSTANTYNOWICZ Martha Emma d. Jan. 02nd, 1992 in Minto

ARGENTINA

Argentine Republic

Norway

Marek Konstantynowicz - "The Source and Different Cikadas", viola

The others in the world at present:

I had been told about (details are lacking) Pyotr and Helena Konstantinowicz - unknown ancestry and also KONSTANTYNOWICZ Cyryl who wrote "W obronie slowa"; dr. Feliks (Felix) Konstantynowicz / Константинович, Костентинович, Костентинавич - Soviet expert of Chernobyl explosion; in Barnaul (that is near to Nowosibirsk = Nowonikolajewsk in the middle of the 20th cent.) where Basil Konstantinowicz - rather ancestry of the Konstantynowiczes who derived from present BUKOVINA or from Volhynia - and his wife Olga.
© COPYRIGHT BY BOGDAN KONSTANTYNOWICZ
U.K on 07th August 2009
This all paper is sold subject to the condition that it shall not, by way of trade or otherwise, be lent, re-sold, hired out, or otherwise circulated without the publisher's prior consent in any form of binding or cover other than that in which it is published and without a similar condition including this condition being imposed on the subsequent purchaser.
© All rights reserved. No part of all this work covered by copyright hereon may be translated or/and reproduced in any form or by any means - graphic, electronic, or mechanical - including photocopying, recording, downloading, uploading, taping, or storage in an information retrieval system, without the prior written permission of the copyright owner - Bogdan Konstantynowicz from Lodz.
---