Kokoro wo tsunai de
(Nakoruru&Rimururu's song)
Composer : Shinsekai Gakkyoku Zatsugidan
Singers : Ikoma Harumi&Kamitani Keiko
Collected from Samurai Spirits The Best and
Yomigaerishi Soukou no Yaiba (SS Warrior Rage2) OST album
Itsumo futari de iru to ne
(Nee sama to iru to...)
Sora ga yasashikute...
(Atatakakute...)
Sora ni hoshi wo sagashite wa
(Too san hoshi hora...)
Kono michi kaetta
(Te wo tsunai de)
Yukure made hashai da tanpopo saku oka
Kami ni sashite kureta hidamari no iro
Kokoro no naka de te wo tsunageba ano hi to onaji nukumori da ne
Itsu ka futari de kiita ne
(Kaa sama ga utau)
Tooi komoriuta
(Yasashii uta)
Fui ni sabishii yoru ni wa
(Kaa sama mitai ni)
Utatte kureta ne
(Kami wo nade te)
Mori no naka mayotte namida koraeta hi
Tonbo oi kakete wa koronda kawara
Kokoro no naka wo daki shimetara taisetsu na mono sugu wakaru no
Itsu demo futari kokoro wo tsunai de
(Kokoro wo tsunai de)
Ai wo todoke ni yukou
(Ai ni yukou)
Haruka daichi no ha-te dare ka ga matteru
(Aa daichi no ha-te dare ka ga matteru)
Itsumo futari de iru to ne
(Nee sama to iru to ne)
Sora ga yasashikute...
(Atatakakute...)
Itsumo futari de iru to...
(Atatakakute...)

---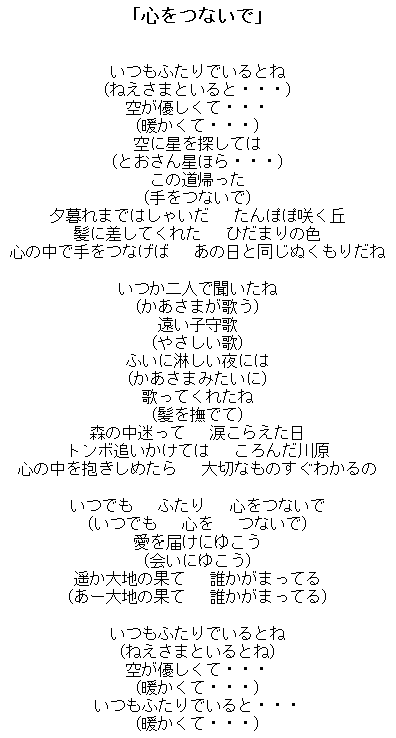 ---
Music Comment :
This one is a very sweet song sung by the most popular SS characters : "Ruru Sister", Nakoruru and Rimururu. The musical tone is mixed up with Nakoruru's and Rimururu's main background music of SS64 series and arranged into cheerful theme. The music was included in SS The Best CD and later, it was rearranged and used as ending theme for new SS on PS, "Yomigaerishi Soukou no Yaiba" or SSWarrior Rage2. Both song has the same lyrics, but the ending theme one is 'Strings Version'. For the fan of Ruru Sister, don't miss this song.
Place to download :
You can download the song with both version (original and string version) from Nelson Yim's SS page. (Original one is in "SS The Best Album" and String Version one is in "SSWarrior Rage2" Album)
---
[Return to SS Lyrics Page]
---

If you surf to this page directly,
click HERE to go to index page (frame).