It was time of Imperial glory. The British wore their crown with pride. Calcutta was the capital of India. Trams were in vogue.

Tram lends Kolkata an old world charm and add to the romantic element of the city. This slow moving, electrical transport in narrow and crowded streets, completes the ultimate attraction of the city. Having glided down the rails as a historian witness, tram has itself been turned into an immemorial heritage, of which all Kolkatans are proud of.

Talking about trams – they are part of Kolkata's age-old tradition. Going back to a little bit of history, a horse tram system opened in the city in January 1881 between Dharamtolla and Barrackpur, after a premature experiment in February 24, 1873 which was started between Sealdah station and Armenian Ghat on the banks of the Ganges. It took more than four hours to reach Barrackpur from Dharamtolla. A steam tramway line was laid way back in 1882. The first Electric tram pulled out on to the tracks between Esplanade and Kidderpore on March 27, 1902. By 1921 there were 56 km of track and 512 cars in service. With a track length of 68 km, tramlines today form the lifeline of Kolkata. It's impossible to think of a Kolkata without trams. The city certainly would be incomplete without these two-carriage wonders – a pie from the glorious past.

Kolkatan tram has entered into its 3rd century, and it has been able to maintain its much touted hype and sheer. It still attracts people to have a smooth ride on it's carriages. Tramcars evoke poetry which often remains incomprehensible in words. Tied with an ecofriendly tag, tram has never seemed shabby and sluggish meandering smoothly through the lush greens, madding crowds and jammed traffics. Kolkata's public trams inject character to the city.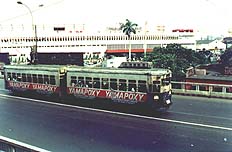 In the early eighties tram services used to carry 0.75 million passengers per day with 275 cars on road. It now carries roughly 0.16 million passengers per day with 170 cars. There are 68 kms double track of standard gauge in operation of which only 25 kms are in reserved right-of-way. CTC has a fleet of 319 trams, 239 of which are operational. Presently an average of 170 trams run on road. All are standard gauge, single articulated cars with two passengers compartments and an operator cab. They are 2.1 metre wide and 17.5 metres long, weighing 20/22 tons empty. Each compartment has wide passenger entrance with seat capacity of 62 and full-load capacity 200 passengers. The power of 550 Volts D.C. is supplied to the vehicles.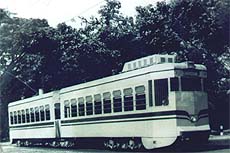 Tram services in Kolkata is the only one of its kind in the country. Tram services are provided by the Calcutta Tramways Corporation. CTC runs its tram services from 7 depots and 11 terminii located in North, Central and South Kolkata. There are 29 tram routes based on a schedule of 170/180 trams in 2 shifts starting from 4.15 a.m. in the morning to 11.40 p.m. in the evening. Fares are lowest amongst all modes ranging from Rs.1.50 to Rs.2.00. Each car having a capacity of 2500 carries 900 passengers daily showing an utilisation of less than 50% capacity. Kolkata has grown into a major metropolis of 12 million with a hinterland of 250 million people but with a road space of only 6% of the build-up area. This extremely low road space has created endemic transportation problems, traffic bottleneck and slow speed solution to which seems far-off.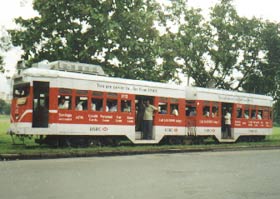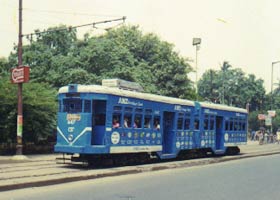 Tram services in Kolkata must not be scrapped despite criticism of the slow-moving transport system which often lead to traffic snarls. For the past few years, authorities have been trying to abolish the tramcar for its "unsuitability to urban roads".

Non-existence of dedicated tram tracks gives rise to traffic bottlenecks, Buses, cars and trams has to jostle for space in the same area. In the event of breakdown of trams, it becomes a nightmare for drivers to navigate a road. High maintenance costs of the tram tracks and tram cars (each tram car costs five times more than a luxury bus) is a perennially high cost area. Every turns has to be manned to change the tracks of the trams. Al these problems have forced the government to think of phasing out trams. Already trams have been taken off several routes in the city.

But environmentalists and lovers of this pollution-free mode of transport are now waging a battle against the decision. Trams are one of Kolkata's most unique and historical feature – an integral part of Kolkata's heritage. And Kolkatans are proud of it.

Down the memory lane, when the tram made its maiden journey from Sealdah to Armenian ghat, it left everyone spell bounded. In course of time, the trams has gone through vast modernisations, but still it has rolled down the tracks like the tickings of Bigben. Having witnessed our glorious past in the rails, this tireless heritage has itself unfurled another golden chapter in our history. No doubt Kolkatan tram can be designated as a priceless pride having served as a rail witness from the era of Governor generals and maharajas to our present Kolkata, without which the Kolkatan history would remain incomplete. Kolkata Tramways – "wheels that writes and sights our glorious past, present and our future too".