Adda

a quintessential aspect of Bengali character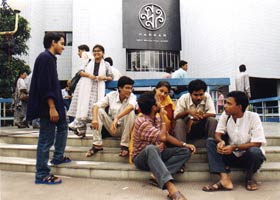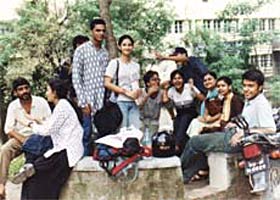 Adda – The raison d'etre for living in Kolkata (Calcutta), the City of Joy. Adda is and has been an integral part of the Bengali culture. Adda is the life-blood of the Bengali community. It is a quintessential aspect of Bengali culture. Bengalis are known for their uncanny propensity of spending endless hours in adda sessions. Bengalis are characterised by adda and they enjoy it with equal joie-de-vivre. Whenever two or more Bengalis meet anywhere, they become engaged in adda. No matter whether they are known to each other, even no matter where the place is. Bengalis are fanatically fond of adda. Be it in the bus or inside a corporate office, if anyone ever tells the latest performance of Sourav Ganguly or Sachin Tendulkar, the whole group will instantly stop their work and join. Wherever there are Bengalis, there's adda. So what's adda? It's so much a part of the life of Bengalis that it wouldn't be wrong to say that a Bengali can hardly stay alive without it. In other way, it can be said that wherever you find an adda in progress, you can be rest assured that they essentially are Bengalis.

Listen to the song 'Coffee House-er sei adda ta'
( Singer: Manna Dey, Lyrics: Gauriprasanna Majumder, Music: Suparnakanti Ghosh )

The closest English word that can describe the essence of adda is chat or gossip. It's a friendly, casual conversation at an informal gathering of like-minded people, who want to talk their hearts out as a means of relaxation during leisure hours. The word adda exists in other Indian languages, but without its unique Bengali connotations. It is a long talking session, commonly of a recurrent sort among friends or co-activists. It is not simply conversation, or discussion, or debate, or gossip; and yet it is all these. The members of an adda session can be students, office goers, intellectuals, traders - persons belonging to a wide spectrum of the Bengali society. Adda does not ever demand that the joining persons should be of the same age. Old ones may very well be enchanted in adda with the young ones. However, there are age specific addas also, also topic specific addas.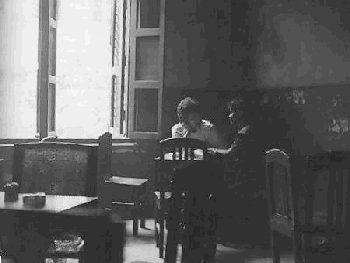 College Street "Coffee House" of Kolkata
…famous for "Adda"
The topics discussed in an adda is not just what happened at home, office or college, or who's going around with whom these days, but also very serious and far fetched affairs ranging from the country's economic and political scenario to bilateral relations, from the latest in technology to the latest in football and cricket, from magic realism, ancient literature and little magazine to modern poetry, fusion music and jibonmukhi gaan… and so on. It ranges over a variety of subjects; war theatre, or Hindu philosophy, or why Bengali Brahmins eat fish. It could range anywhere from brand names to Bunuel, Satyajit Ray to 'Phuchka, Muri, AloorChop' to Sunil Ganguly.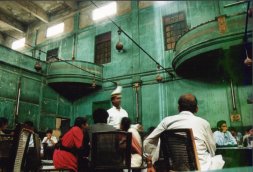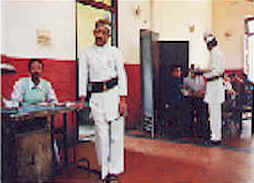 'Coffee House' of Kolkata
15, Bankim Chatterjee street,
Kolkata 700 073
Ph: 22414869
However busy a true Bengali is, he/she got to extract some time from their precious schedule for an adda session. An easy way to spot your Bengali friend is to find out his addakhana or thhek, i.e., the place of adda. Adda may be initiated in tram, bus, office, paan shop, or tea stall. It may be a street-side tea stall, it may be the football club or the local club of the para (neighbourhood), it may be under the tree, the parar rock, or just about anywhere - from your drawing room to the famous Coffee House of Calcutta. But there are certain places in Calcutta famous for adda itself. 15, Bankim Chatterjee Street is a famous place of adda and the birthplace of many famous plots in Bangali literature. Another place is Mitra Café at Shovabazar Metro Station… a meeting place of many film artists. So is Bonophool… besides Purna Cinema. Basanta Cabin is however famous for intellectual literal adda. Take the Coffee House for instance. Hardly any Calcuttan can be found who has not visited the Coffee House at least once in his/her lifetime. The regulars of Coffee House have developed a personal rapport with most of the bearers. It is the favourite haunt intellectuals and till date, there is high probability of finding a celebrity film director or an established painter or a budding musician shaking shoulders with the who's who, and sipping infusion at Coffee House. This is the spirit of Coffee House. The popularity of Coffee House as a favourite thhek for adda has withstood the test of time and one hopes that it shall remain so for years to come.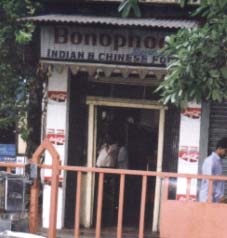 Bonophool… besides Purna Cinema
…another favourite haunt for 'Adda'
Where there's adda, there's something to eat and drink and smoke, with occasional breaks to give you enough energy to engage in a lot of verbal duel, and to prolong the never-ending sessions. Fast and light snacks, such as shingara, kachuri, nimki, muri, chanachur and machh bhaja (fried fish) are the most delicious things that come with adda. But it's all incomplete without a cup of cha (tea). And cha in a bhanr or khuri (earthen pot) is a must if the adda session is being held on the street side.
The adda is not a club. We claim addas existed before the British invented the club. Unlike the latter, the adda survives because it is disorganized and has no rules. It has no office bearers, no dress regulations, no agenda and no fees. The origin of the adda seems to lie in the village gathering at day's end at the chandimandap, the venue of rustic meetings and festivals. Here under the sway of the village elders, problems were discussed, sometime solved and more often aggravated. The principal motive at this stage does appear to have been gossip.
The faster pace of life has robbed the ordinary bheto bangali, off it's time for adda. One hopes that this tradition remains alive in spite of all odds. The same tradition is going on. On Sunday morning from 10 to 2 o'clock there's a mini gathering in each and every locality. Hot discussion - from politics to hindi cinema. From each home smell of meat curry is on the air. In the evenings local club culture is very much alive. For younger generation Victoria Memorial is no more in fashion now. Rabindra Sadan and Nandan Complex is the hot favourite. In Victoria you get only jhal muri and china badam, but in Nandan Complex you get what not: from Coke to ice cream, from chicken cutlet to fish fry, etc, etc. Kopot-Kopoties are making their future plans, as usual only Kopoti is chatting and Kopot is only listening. In near by stage in a cultural evening may be at that very moment someone is busy in reading out 'Keu Katha Rakheni…' of Sunil Gangopadhyay…
60's revolutionary youth of Calcutta is Gone With the Wind forever. Now a day's rarely anybody talks about politics. But although there is a transition in places and topics, for Bengalis, adda's going nowhere. It's here to stay!

Rock-er Adda
The rock sometimes referred to, as rock is a flat pedestal usually on two sides of a staircase leading into a house off the street. Most old houses in Kolkata have these. In their absence, the steps itself served the purpose. What happens is that every evening, the same set of people from the para (locality) meet there to sit and adda. In South Kolkata's Gariahat, a famous rock was the steps of UCO Bank. People who met everyday at UCO Bank today constitute an 'Old Boy Network'. Since there were new members added every year, the members were from different age groups. But the ties and bonds they shared were strong.