Lincoln School Class Photos
Willoughby, Lake Co., Ohio

The following photos were contributed by Frances Gallagher Morgan. She is my sister's mother-in-law. A wonderful woman. One day we talked about our family history (both research genealogy) and discovered that she went to school with the Beckwith children. The Beckwith line married into my Stewart line. The Gallagher's rented a home to the Beckwith's years ago. Frances Morgan currently resides in Madison, Ohio. Thank you Frances!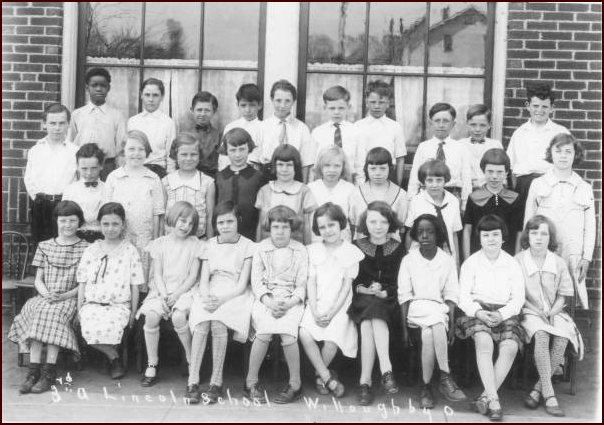 3rd Grade Class - 1931
| | |
| --- | --- |
| Top Row L/R (standing in back) | Barbee Walker, Renee VanLake, Philip Frazza, Mike Marino, Frank Beckwith, Walther Sigsby, Merle Eggleston, Henry Leonello, G. Hawthorn, Betty Nellies |
| Row 2 | Robert Shaner, David Nellies, Helen Lenning, Marian Schultz, Virginia Perrin, Margaret Phillips, Ina Grus, Eradels, Vickeroy, Frances Beckwith, Doris Bock, MacEchert |
| Row 3 (sitting) | Thelma Vickeroy, Angie Reugnetta, Pearl -- , Betty Nieber, Betty Webster, Angie Iandrea, Nettee Currie, Thelma Gremont, Frances Gallagher, Lovella Thornton |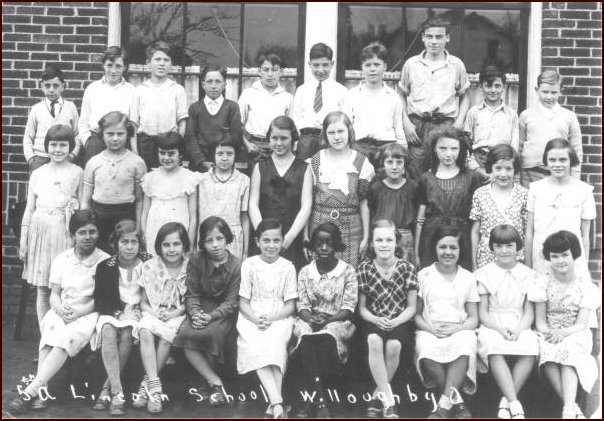 5th Grade Class - 1933
| | |
| --- | --- |
| Top Row L/R (standing in back) | Anthony Solomone, Frank Beckwith, Merle Eggleston, Henry Leonello, Richard Schrock, Mike Marino, --, Robert Shaner, Alfred Suisdt, Richard Johnson |
| Row 2 | Margaret Phillips, Marisa Schultz, Quata Burke, Thelma Vickeroy, Virginia Perron, Betty Webster, Frances Beckwith, Nettie Currie, Ella Jean Peterson, Betty Niebes. |
| Row 3 (sitting) | Rose Stillisano, Doris Edwards, Angie Ianndrea, Betty Lett, Angie Reugnetta, Thelma Gremont, Lovella Thornton, Mildred Blahemore, Patty Pettee, Frances Gallagher |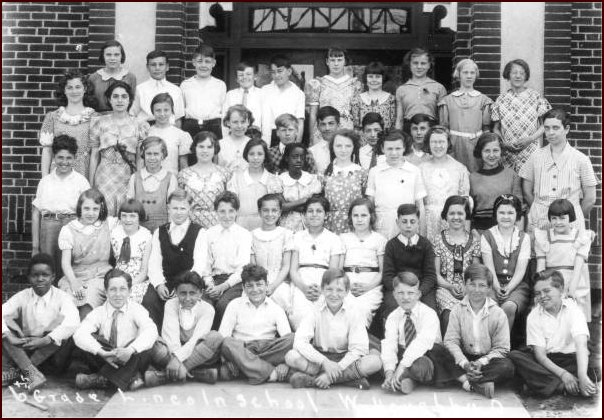 6th Grade Class - 1934
| | |
| --- | --- |
| Top Row L/R (standing in back) | Betty Niebes, Richard Haupthorn, Jack Pardee, ---, Richard Schrock, Virginia Perrin, Margaret Phillips, Marion Schultz, Evelyn Enters, Frances Beckwith |
| Row 2 | Mac Eckert, Connie Fatica, Irene Lett, Helen Lanning, Arnold Southall, Domonic May, Mike Marino, Rene VanLake |
| Row 3 | Frank Trepepe, Jane Jacoy, Delores Johnson, Betty Lett, Thelma Grimmet, Nettie Currie, Ina Parker, Betty Webster, Evelyn Hager and Mrs. Cottrell |
| Row 4 (sitting) | Margaret Bryan, Patty Pettie, Richard Johnson, Frank Beckwith, Angie Reignetta, Rose Stillisano, --, Anthony Solomon, Mildred Blahemore, Frances Gallagher, Quata Burke |
| Row 5 (front & sitting) | Barbie Walker, Henry Leonello, Ted Carosello, Mike Borrelli, --, Carlton Burkholder, Phillip Frazza, Jay Reeves |
**Please note - Names may be incorrect and misspelled. Please send me an email if you have further information and I will correct this.

{Home} {Immigration} {Photo Album} {Cemetery} {Links}