KATHY AT HOME



Hi! I'm Kathy...C'mon in! You will have to excuse the way I'm dressed. I LOVE to wear as little as possible when I'm home and, when I go out too! I am a married mother of two and love anything and everything that's SEXY.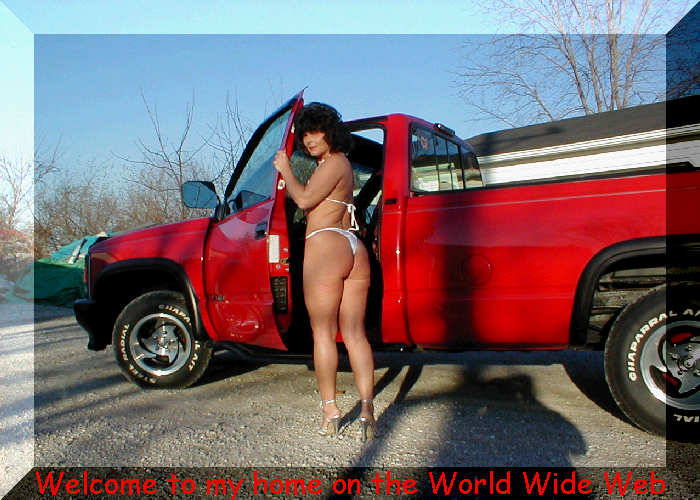 My Personal Information:

Age 43
Height 5'2"

Measurements:

Bust 34B
Waist 25
Hips 34


I live in a rural area of Indiana and have sooo much fun raising the eyebrows of the "locals"!! I can't wait for the weather to get warm again so I can dress up in a HOT outfit and go to town hehe.

When I'm not working my business, I try to make time to pose for my husband and "surf" the web for the clothes and costumes that I wear and use for my website.
I like to keep up with NASCAR. I love racing and go to as many races as I can. Lucky for me I'm not too far from Indianapolis so I get to see the BEST!


MY HOBBIES: Besides collecting "Outfits", my house is full of "Noah's Arks" of every description...I think they are so cute!


FAVORITE THINGS:
My Truck! (I love my truck - it's beautiful).
Posing for this site.
Hearing from you!

On my site, you will find Galleries of:
Double Take Micro Wear is a new Bikini and Shorts Design and Manufacturing Company. Their Products are so Hot and Sexy and of the highest quality. If you have a design you would like created, they will create it for you at no extra cost, they are awesome.

The owner of Double Take Micro Wear saw me on the Wicked-Weasel site and invited me to be a model for a line of bikini and shorts. I was so flattered!!! I took his offer and here I am! Paul is a great guy and we have become good friends. My gallery is on the Double Take Micro Wear site if you want to see me and the other girls, click on the link below, you won't be disappointed.
If you would like to see me in any of Double Take Micro Wear's Designs or have them design something special for me, you will be entitled to huge discounts. Just tell them the designs are for me.
---

A good friend introduced me to these suits from Australia. Now I have three of them! That's all I wore around the house this summer...they are so comfortable!

---
I just found this company a while ago. Mostly dance wear but they have a lot of things that I like. I'm driving my husband crazy buying all of these outfits! That's OK...he loves it when I pose in them, :o)

http://www.laprofashions.com/swim1.htm
http://sexymart.com

---
I don't have too much from ROMA, they're too BARE to wear around here! I might try them if I can find a desolate beach...well maybe not too desolate! hehe

---
I don't have much of Frederick's designs, but I like them. They are sexy.
---
Pictures of me at Home and around Indiana:
I like to get dressed in sexy clothes and have my husband take pictures of me at home and around Indiana. I live in the country and have lots of room to walk around and pose in sexy outfits.
---
I do special shoots like Valentines, St. Patties, Christmas,.... all in sexy outfits. I have a lot of fun doing these shoots. I hope you have as much fun viewing them.
---
Contact Me:
I love to hear from you, so please take a minute and send me a note, I promise to answer it personally. I hope you love my site already, but feel free to tell your ideas to to make it better.
Click on this link [email protected] and your email client should open with an addressed message.