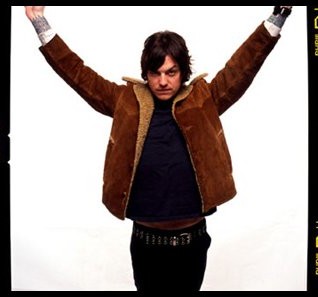 Name: Mikey Welsh. Born Michael Welsh but uses the lovely name Mikey because "it just caught on, its catchy." Mikey is also known to others as Mike, Mickey and Mikey or Mickey Mouse - and probably a few other choice names too, I'm sure! More often than not, from now on, he'll be "that guy who used to be in Weezer!" I just like to call him Mikey!
Born: Syracuse, New York on April 20th 1971. Later relocated to Brookline, Massachusetts. Mikey is now living in Boston. The awesome Mr Welsh is a Taurus, which apparently makes him a bull; however the following is a more appropriate description that befits him more wisely; "Taureans are the zodiac's sensualists. They revel in tastes, textures, colors, aromas, sounds. They love good food, comfortable living, aesthetic pleasures. All beauty delights in them. But, in a deeper sense, their sensuality brings them close into attunement with nature itself. They appreciate its loveliness; they are the wise stewards of its maternal beneficence. Astrologers believe Taureans were born to value, learn from, and care for the physical world - that they are materialists in the best sense of the word." Now THAT sounds a lot more like the Mikey we all know and love! On the Chinese horoscope calendar Mikey would be a pig - which isn't as bad as it sounds, honestly; "Contrary to its rather negative reputation in the West, the Pig of Chinese Astrology may be the most generous and honorable Sign of the Zodiac. Pigs are nice to a fault and possess impeccable manners and taste. They have so much of the perfectionist in them that others may be inclined to perceive them as snobs, but this is a misconception. Pigs are simply possessed of a truly luxurious nature, one that delights in finery and riches (in surroundings, food, lovemaking and otherwise). This Sign believes in the best qualities of mankind and certainly doesn't consider itself to be superior. Pigs also care a great deal about friends and family and work hard to keep everyone in their life happy. Helping others is a true pleasure for the Pig, who feels best when everyone else is smiling." See what I mean?
Mikey's musical history: part 1.
"I started playing guitar when I was 13 but I was never really serious about it and then I got a bass when I was 17 and I started playing like 12 hours a day and got really into it. I started and made my first record and did my first tour when I was still in High School, so I've been doing this for like years now. I started doing this when I was like 16, 17. Uh, well when I was young I grew up listening to you know, like The Who and The Doors and all that shit. I still listen to it cuz there's so much bullshit in music now that I just for relief I go back and put on. Like Brian, Pat and I are all into Black Sabbath, like very heavily right now. Cuz it's like, you know 10 years ago there were so many great bands coming out that were like our peers, like The Pixies and Nirvana and all those bands and now it's like gone full circle and it's just all bullshit. Like fuckin' Korn and The Backstreet Boys it's like the same bullshit to me so. I go back...and I mean I grew up in Boston where The Pixies are from and I put fuckin' "Doolittle" on every day and turn it all the way up. I have to remind myself why I play music. I can't like listen to Limp Bizkit and go 'You know it's great to be a Rock Star cause these guys are great!" it's like they suck! I think everyone knows it. I listen to you know uh...I listen to college radio in LA all the time cuz I like finding new bands cuz you know, the more disgusting commercial music becomes, the healthier underground music becomes. That's why Nirvana came out because it's the same thing. It was like 10 years ago it wasn't called The Backstreet Boys, it was The New Kids On The Block which is the same bullshit. So there's… you know what, there's all these great bands all over the place you know. I love, I listen to everything from you know The Beatles to you know The Cows to Slint to whatever."
Left Nut.
The amazingly funny Left Nut were Norman Jabar (Steamy Latrine): vocals. Gary Gardiner: drums, vocals. Barry Edwards: vocals, guitar. Mike Welsh: bass guitar, vocals. Don Gardiner: vocals, guitar. I don't know if they were trying to be as funny as they were but everytime I listen to their CDs I don't get offended by their so NOT PC attitude at all, I just laugh and smile at the simplicity of their work and know how much fun they must have been having whilst recording. "Left Nut took Boston by storm in 1988 and made it on the WBCN Rock & Roll Rumble Semi-Finals in 1990. Left Nut always gave the audience their money's worth with hard driving duel guitars and a no wimps blend of Punk rock and Beer Drinking Southern Slam" - according to the back of their CD "Bad Attitude, No Apologies" which featured such classics as "Hard Drugs", "Torch This Place" and "Long Time To Cum". Welcome to Boston's music underground of the early 90's...
Heretix.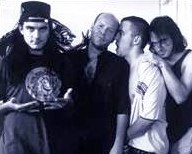 Mikey went onto join Heretix in 1993, to record what was to be their last record "The Adventures of Super Devil" which is still available for your listening pleasure - seriously, you should really go out and buy it, you might be pleasantly surprised! When Mikey joined Heretix they got much louder and even nastier, ditching the acoustic guitars and the sensitivity and refusing to play any of their oldies. Some fans were put off by the new direction, but new ones came along and the band won over some local critics for the first time.
Here's a bit on Heretix and Mikey. The excerpts of this interview were after Heretix had broken up and they were about to do a reunion show. "When Heretix hit the Middle East next Thursday for their first show in two and a half years, it's likely to be that rare event: a friendly and civilized reunion show. They've got no lingering axes to bury and no lost ground to recover; they don't even care about staying together long enough to record again. They just want to play one hot show, have some fun and go home. "Reunions in general are pretty fuckin' cheesy," concurs bassist Mike Welsh, lately in Juliana Hatfield's band. "Except for the Bags reunion (two years ago); that one blew my head off. And this is a reunion, there's no way of getting around that word - but at least we're doing one big one instead of dragging it out. A lot of people think reunions are stupid, but who gives a shit. The fans and people who like our music can have a good time. People who think they're stupid can stay home."
That's surprisingly grown-up talk for Heretix, who had a bad-ass image during their heyday. It didn't start off that way: the original Heretix were a big-haired, well-behaved outfit with a melodic, quasi-English sound and a preference for weighty lyrics. This was their major-label period, when they released the AD EP and the Gods & Gangsters album (both on Island and out of the catalogue) and represented the more commercial face of local rock. But things changed around the time WELSH JOINED AS BASSIST, IN 1993. The third and last album, The Adventures of Super Devil (on CherryDisc), was their best by a long shot - opening with the minor classic "Liquid California" which wished death-by-flooding on the entire state. But though the band floundered a bit in their last months, they played their final show, in June 1995, before they'd lost their audience or fallen out with one another.
The group's members eased right into grown-up life afterward. Only WELSH, who was just 21 when he joined the band, stayed rowdy and rocking: before joining Hatfield he formed the glam-metal outfit Jocobono with Seka's Billy O'Malley and Orangutang's Todd Perlmutter and their big sisters' wardrobes. Which leads us very nicely into...
Jocobono.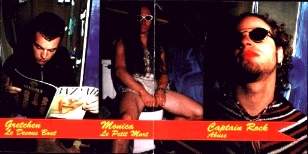 Ask a member of Jocobono what kind of music they play and you don't have to worry about not getting a straight answer. "Cock rock. That's what we're good at" responds bassist Mike Welsh. "It's pretty testosterone-driven music, but we don't mind that. We like to drink and have fun and write fun songs; that's the whole idea of what we do. We've all been through so much bullshit trying to write certain kinds of songs. Now we do what we want to do."
Jocobono sprang up to local headline status in a hurry, but it's not as if they came from nowhere. All three of the members - ex-Heretix bassist Welsh, ex-Orangutang drummer Todd Perlmutter, and ex-Seka (nobody inside or outside the band seems to use their label-dictated alias, Strip Mind anymore) singer/guitarist Billy O'Malley - had played in headlining bands who happened to be falling apart at roughly the same time. Welsh hints that all three of the band's members were tired of fitting into their bands' chosen formats, and that was certainly his case with Heretix. "For me Heretix was a chance to get into a band that was doing well. It kind of legitimized them because it wasn't all the same members; they'd gotten this punk kid in the band. Part of me liked playing the big shows, but part of me wanted to revolt and do raunchier, nastier stuff. Even when Ray (Heretix singer Ray Lemieux) was on the cover of the Phoenix, I was still wishing I could be in Slughog."
Jocobono wound up getting a weekend-headliner slot at the Middle East for their very first gig and signing to CherryDisc before getting even that far. Much of the Jocobono comes from the group's first demo sessions. Which meant that a few sideways glances were cast in their direction for not paying any collective dues.

"Oh, you mean jealousy?", Welsh shoots back. "Blah blah blah, I can't really see it. We may all be pretty young (Welsh first joined Left Nut as a teenager) but we're not spring chickens; we've all been hacking around here for a while. So the first thing (about Jocobono's success) is that I think we deserve it. But the other thing is that we didn't call (CherryDisc owner) John Horton; he called us. And we didn't call clubs who wanted us to headline, that was their trip. We want to be lowbrow and go out and open for all our friends' bands, but if clubs want to pay us money, we're not going to argue with them."
There's a lot of loud music on Jocobono, though it was recorded before the band had settled on a particular sound. So some of it's more-or-less alternative (the opening "Goddess" has a Nirvana-ish hook; a cover of the Laughing Hyenas' "Wild Heart" has a doctored vocal à la NIN). There's some serious bluster metal at one extreme, garagy dumb-fun metal at the other. (There's also a 33-minute bonus track that repeats the entire album - a trick Welsh readily admits he stole from the Supersuckers.) I'll go with the dumb fun myself, which means skipping past the locker-room outbursts of "Leave" and "Ripped Off" and instead heading for "Last Call at Foley's," an instant anthem that celebrates that local ritual and ends with a sincere plea for a six-pack to go.
Welsh suggests that the band are going in that direction, and recent shows have borne him out. "We'll do anything that entertains people. We'll dress up like chicks - I've been doing that forever. I work at Jerel Roberts's hair salon, so I dressed like a girl when I was in the Heretix."
Hold on a second - Jocobono are cock rock, but they play shows in drag?
"Sure. We smash up our instruments, too. You get so tired of going to clubs and seeing bands who look bummed out. It's this PC college-radio crap, this whiny little attitude. Who wants to see that? You should be going out to see a freakshow. People around here think it's cool not to smile, and they need to be loosened up."
Those are just a few of the more notable bands who Mikey graced with his presence, he has at one time or another played with many awesome bands including one of my personal favourites The Special Goodness (with the highly underated Patrick Wilson of Weezer - GO Patrick, you rock!) theres also Verbena, Juliana Hatfield's band, Slower and Chevy Heston amongst others...In the Summer of 1998 Mikey was asked about playing with Juliana, Mikey had this to say; "I'm obviously much happier being in Weezer which is a real band, but as far as playing with Juliana I did my own thing anyway and wasn't self concious about anything." Yep, that does sound very much like our Mikey!
...and then of course, theres the inevitable Weezer Story;