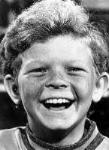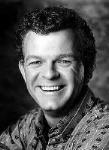 Johnny...then and now!
Johnny Whitaker was born John O. Whitaker, Jr. December 13, 1959 in Van Nuys, California at 12:14 AM PST. He was the 5th of 8 children born to Thelma and John O. Whitaker, Sr.
Johnny began his acting career at the tender age of three. He was discovered while singing in the church's children's program where he broke up the entire congregation after he'd forgotten the words to the song and started to improvise with his own. He went on to do his first on-air performance in a commercial for OK Used Cars. Johnny, peddled up on a beat up old pedal car and had to negotiate with the salesman for a newer model.
In 1965, Johnny was featured on the soap opera, "General Hospital". His character was the original Scotty Baldwin.
Johnny's first major role was in the made for TV movie, "The Russians Are Coming, The Russians Are Coming" which starred Brian Keith. Brian Keith was so impressed with the little moppet that he encouraged him to test out for a part on his up coming series, "Family Affair".
Johnny was the only 6 year-old who screen tested for the role of Jody Davis, which originally was supposed to be for a 10 year old boy, but when the producers saw the chemistry between Johnny and Anissa Jones (Buffy), they promptly rewrote the parts for 6 year old twins...and a television legend was born!
In the year 1969, Johnny was to make a "Hallmark Hall Of Fame" Made-for-TV Movie of "The Littlest Angel" which starred such talents as E.G. Marshall, Fred Gwynn, Connie Stevens and Cab Callaway. In this film, Johnny starred as Michael, an 8 year old shepherd boy who dies and goes to heaven. It was a heart-wrenching tale, and marked one of the first times Johnny would sing in a film.
While still starring as Jody in "Family Affair", during the hiatus of filming one of CBS' top-rated weekly series, Johnny continued to do many extra-curricular guest-starring projects. Johnny guest-starred on such series as "Lancer", "Bonanza", "The Virginian" three episodes of "Gunsmoke" including a two-parter 'Waste'. Johnny always played the orphan or cowboy waif and had to cry. Other guest-starring dramatic roles include "Marcus Welby, M.D.", and "Adam-12."
Johnny also got to flex his comedic muscle guest starring in such comedy series as Bewitched, where he portrayed Jack and the Beanstalk and two episodes of Green Acres.
Johnny's next project, a thriller, "Something Evil", a Made-for-TV Movie with the then unknown Stephen Spielburg. Also starring in were Sandy Dennis and Darrin McGavin. Johnny portrayed Stevie, the young son that becomes possessed by the spirit that inhabits the house the family lives in. It was a very different role than the public was used to seeing Johnny in, and it was well received.
1972 saw alot of Johnny Whitaker as he took to the silver screen in two Disney movies! "The Buscuit Eater" and "Snowball Express" with Dean Jones. Johnny also made "Napoleon And Samantha" with Jodie Foster and "The Mystery In Dracula's Castle" with Scott Kolden. These last two movies would be the start of two partnerships that would take Johnny into his next two projects.
After ten years in Show Business, Johnny won the role of a lifetime starring as Tom Sawyer in the United Artist's release of "The Adventures of Tom Sawyer" released in 1973 to raves. Johnny loved playing the role of Tom Sawyer and Jeff East (another young teen heartthrob) portrayed Huck Finn. Johnny reunited with his "Napoleon And Samantha" co-star, Jodie Foster who was cast to play Becky Thatcher. Johnny got to give this future double Academy Award-Winner her first on-screen kiss. One of the shining features of this film was the soundtrack with words, music and the script written by the award-winning musical team The Sherman Brothers. They of course are famous for "Chitty Chitty Bang Bang" and "Mary Poppins" to name only a few. Johnny also was able to show his own musical prowess as he got to do his own singing throughout the film. Although there have been many adaptations to this Mark Twain classic, this was the first musical adaptation of Tom Sawyer, and it remains the best.
Johnny Whitaker returned to the small screens in our living rooms in the fall of 1973 in Sid & Marty Krofft's Sigmund And The Sea Monsters starring and singing (in the first season) as Johnny Stuart. This wonderful show about two brothers (Johnny Whitaker and co-star from "The Mystery In Dracula's Castle", Scott Kolden) who meet and adopt a funny little seamonster, took the Saturday morning ratings by storm. The show ran for 29 episodes and is still enjoyed by children and adults to this day. The Sigmund phenomenon, along with others of the Krofft's super shows continues to have a faithful following.
John graduated from Sylmar High School in Southern California. He then spent two years in Portugal as part of his mission for the Mormon Church. Upon his return from his mission, he attended Brigham Young University where he received a degree in communications in 1986. John started work as a computer consultant with his own company and later decided to join his sister's LA talent agency, Whitaker Entertainment.
John speaks several languages fluently. Among them are, Portuguese, Spanish, French and American Sign Language.
Currently, Johnny has teamed up with his friend and psychiatrist, Dr. Ron Zodkevitch, to produce their own radio talk show, "The Dr. Zod & Johnny Show". On May 4th the Museum of Radio and Television broadcast the premier show over Cable Radio Network. Archives of the show can be heard by following the link for The Dr. Zod & Johnny Show.