WASSER AKTUELL
75 -    08.07.2005
<![if !supportEmptyParas]> <![endif]>
<![if !supportEmptyParas]> <![endif]>
<![if !supportEmptyParas]> <![endif]>
<![if !supportEmptyParas]> <![endif]>
International Conference on
Urban River Rehabilitation and Riverfront Development
21-23 September 2005  Dresden / Germany
http://www.unesco.org/water/water_events/Detailed/959.shtml
http://rcswww.urz.tu-dresden.de/~urb/Conference2005/index.html
Industrial Water 2006
European Conference on Efficient Use of Water Resources in Industry
"Will Industry meet European Water Standards and Strategies by 2015?"
6-8 February 2006  Frankfurt am Main / Germany
http://events.dechema.de/wa_e_-design-.html
Call for Papers: http://events.dechema.de/img/tagungen_/Strauss/wasser06/CFP.pdf
In eigener Sache: Die Führungsakademie der Bundeswehr ist ab heute bis zum 15. August in ihrer vorlesungsfreien Zeit. So in der Regel auch ihre Dozenten. Ich bin zwar zwischendurch mal im Büro, gedenke dort aber nicht "richtig" zu arbeiten, sondern nur mal die Post nachzuschauen. Also: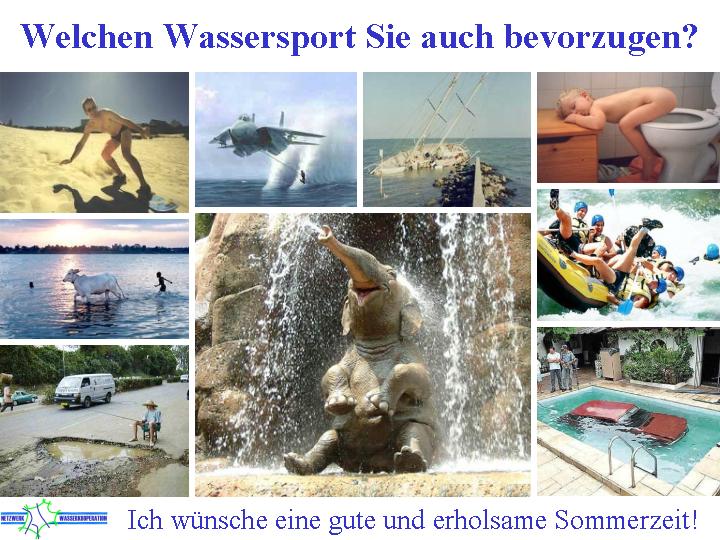 -------------------------------------------------------------------------
u  NACHRICHTEN
<![if !supportEmptyParas]> <![endif]>
Down To Earth magazine, Jul 15, 2005 - Editor's Page
Water-waste economy
Delhi has been waiting. For its neighbour, Uttar Pradesh (UP), to release water to its swank Sonia Vihar water treatment plant. The prime minister himself intervenes in the matter. He persuades up to release water. Only to be rebuffed by up political leaders, who say their farmers and cities need water first. Delhi is already water-spoilt, they say. Elsewhere, farmers in Tonk district of Rajasthan protest against a dam whose water, they say, is 'reserved' for neighbouring cities. They want that water. They take to the highway. Police open fire and farmers die. Our leaders are usually myopic about most matters. They also work with a time-tested 'manual of operations'. In this case, I can assure you their bureaucrats have already convinced them that a) the problem is temporary: it will be sorted out as soon as it rains; b) the problem is political: the opponent party is fomenting trouble; and c) the problem is merely local ... Such incidents arise out of anger and stress. The worrying bit is that this stress has become more or less permanent now. So it is that we need to take stock of our water needs and -- urgently – devise strategies built on the realisation that water, however plentiful in places and at times, is scarce. It is time we learnt. It is time the plan changed … But all this require a major change in mindset. The saddest fact is that we see frugality as an admission of our poverty. Any politician who asks for conservation becomes a herald of 'rationing' and scarcity. Therefore, they play bold and pitch for the pipeline: it is, they say, what the country wants. It is macho politics, played to dry death.
http://www.downtoearth.org.in/editor.asp?foldername=20050715&filename=Editor&sec_id=2&sid=1
<![if !supportEmptyParas]> <![endif]>
Yammine announces resumption of Kesrouan dam project
July 08, 2005  In an effort to increase Lebanon's power and water supply, the Ministry of Energy and Industry has resumed construction of the dam in Shabrouh, Kesrouan ... said the electricity and water crisis can only be resolved by building several dams in different areas. He identified the Shabrouh dam as a "vital project" … http://www.dailystar.com.lb/article.asp?article_ID=16585&categ_ID=2&edition_id=1
HINTERGRUND: ... Water resources that now go untapped, mainly into the Mediterranean … Kesrouan Mountains, significant coastal aquifer northeast of Beirut …  Shabrouh Dam, 40 kilometres northeast of Beirut, will feed areas in the central Kesrouan and Metn provinces …
Irrigation Planning in Lebanon: Challenges and Opportunities  http://web.idrc.ca/es/ev-42835-201-1-DO_TOPIC.html
<![if !supportEmptyParas]> <![endif]>
Funds for water: Govt put on the mat
July 7, 2005 … The Congress-led coalition government on Tuesday was put to considerable embarrassment in the Legislative Assembly, when its own members charged the Government with 'failure' to release funds for drinking water schemes in many districts. The Task Force on Drinking water headed by legislators has taken up several programmes to redress the drinking water problem, but the Government has not taken steps to release funds for the completed drinking water projects …
http://www.deccanherald.com/deccanherald/jul72005/state19413200576.asp
<![if !supportEmptyParas]> <![endif]>
No water rate increase for one year
2005/07/06 Premier Frank Hsieh said … that he expects no increase in water rates for at least another year. The premier made the statement less than one week after he promised residents of Taiwan that their water bills would not go up in the near future … study showed that water consumption in most local households falls below the volume set out at the minimum payment level …
http://www.etaiwannews.com/Taiwan/Society/2005/07/06/1120612557.htm
<![if !supportEmptyParas]> <![endif]>
Engineer wins fellowship for water supply studies
July 6, 2005 A Bunbury-based engineer has been awarded a Churchill Fellowship to investigate alternative water sources in the hope of helping to solve Western Australia's supply problems ... the scholarship will allow her to research the latest technology in Singapore, India and China where sustainable water solutions have been a priority for decades ...
http://www.abc.net.au/news/newsitems/200507/s1408089.htm
<![if !supportEmptyParas]> <![endif]>
Water restrictions loom closer as aquifer tapped
July 5, 2005  Water use restrictions for London and the south-east for the short and long term loomed closer yesterday as the industry said only long-term steady rain could avert shortages. Thames Water opened up emergency aquifers under north London to provide the capital with 10% of its water needs and so avoid immediate bans on the use of hosepipes, but warned the situation was under review. In the water-starved south-east the Folkestone and Dover Water Company is about to become the first water supply company in the country to apply to the Department for Environment to be declared a water scarcity area …
http://politics.guardian.co.uk/homeaffairs/story/0,11026,1521578,00.html
<![if !supportEmptyParas]> <![endif]>
Water saving 'threat to wildlife'
5 July, 2005 A plan to halve water flow from a reservoir to a river is being looked at by the government on Tuesday, after the Environment Agency opposed the move. Southern Water wants to cut water flow from the Weir Wood reservoir, Sussex, to the Medway from 5.4 megalitres a day to 2.5, to keep supplies for customers. The Environment Agency said it would put unacceptable pressure on wildlife. The agency said the move could have "such a significant impact" that the government should make the decision …
http://news.bbc.co.uk/2/hi/uk_news/england/southern_counties/4650487.stm
<![if !supportEmptyParas]> <![endif]>
OSCE Centre in Dushanbe opens Aarhus Centre in Khujand
5 July 2005 - Helping the public participate in decision-making and offering access to information on environmental matters are the aims of an Aarhus Centre that opened today in Khujand in the Sughd region of Tajikistan. The Centre has been established by the OSCE Field Office in Khujand and the United Nations Development Programme (UNDP), as well as by central and local environmental authorities, under a project financed by the United Nations Environment Programme, UNDP and the OSCE Environment and Security Initiative ...
http://www.osce.org/item/15548.html
OSCE Centre in Dushanbe - Environmental activities   http://www.osce.org/tajikistan/13491.html
Siehe auch: Wasser Aktuell 53 - OSZE - developing better public access to ecological information  http://de.geocities.com/joergbarandat/wassernetz/wa53.htm
<![if !supportEmptyParas]> <![endif]>
Krieg ums Wasser mit Spionageflugzeugen
05. Juli 2005 .... Spanien leidet nach wie vor unter der extremen Dürre. Zwischen den Regionen Murcia und Kastilien-La Mancha herrscht ein Kampf ums Wasser. Besonderen Unmut erregt die Bewässerung von Golfplätzen, um zahlungskräftige Touristen ins Land zu locken ... Murcia benötigt Wasser nicht nur für Golfplätze, sondern auch für Orangen-, Pfirsich- und Marillenplantagen. Da der Fluss Segura in der Region nicht genügend hergibt, wird seit 30 Jahren Wasser aus dem Tajo in Mittelspanien in den Segura umgeleitet. Wegen der Dürre weigert sich nun die mittelspanische Region Kastilien-La Mancha, aus "ihrem" Tajo etwas abzugeben. Der Krieg ums Wasser ging so weit, dass Kastilien-La Mancha ein "Spionageflugzeug" einsetzte. Damit fand man heraus, dass Murcia und das angrenzende Alicante über 14.000 "geheime" Wasserspeicher verfügen, von denen man dem übrigen Spanien nichts gesagt hatte. "Wir liefern an Murcia nur noch Wasser, damit die Leute zu trinken haben, aber nicht für die Bewässerung der Felder", erklärte José María Barreda, Ministerpräsident von Kastilien-La Mancha ...
http://derstandard.at/?url=/?id=2099533
<![if !supportEmptyParas]> <![endif]>
Justice: Court needs expert on West's water law
07/02/2005   Justice Sandra Day O'Connor once suggested a qualification for her replacement that had nothing to do with gender or political philosophy: expertise in Western water law. "We have to find someone to put on the court who understands Western water, especially after I leave," O'Connor said, according to U.S. Sen. Wayne Allard, R-Colo. …"The West's reliance on federal land and prior appropriation law is complex and often confusing," Allard wrote. "Of the many legal talents that are required of a nominee, I hope the next nominee will possess an expertise in the area of Western resource and water law"…
http://www.denverpost.com/news/ci_2836359
<![if !supportEmptyParas]> <![endif]>
Baghdad citizens suffer water cut
7/2/2005   In a development increasing the volume of the sufferings of the daily life of the Iraqis, a large fire erupted in a hydro-thermal electricity station that feeds a main water distribution station near Baghdad on Friday morning. This resulted in cutting the water provided for millions of inhabitants in the Iraqi capital Baghdad … the fire was a result of a destruction operation by explosives carried out by gunmen, noting that water will continue to be cut off several areas in the capital untill the damages are repaired, and this will take at least three days …
http://www.arabicnews.com/ansub/Daily/Day/050702/2005070204.html
Siehe auch:  01.07.05   Millionen Menschen in Bagdad ohne Wasser ...
http://www.rp-online.de/public/article/nachrichten/politik/ausland/96447
<![if !supportEmptyParas]> <![endif]>
Minister of Defence inaugurates water project
2 July 2005 … Minister of Defence and Member of Parliament (MP) … inaugurated a 2.576 billion-cedi water system for Buokrom in the Kumasi metropolis. The inauguration of the water system, which was the first phase of the Buokrom water project started about three years ago …Speaking at the function, Dr Addo Kufuor described as untrue the claim by a group calling itself Patriotic Citizens in Kumasi that the Kumasi metropolis and for that matter Ashanti which was the bedrock of the NPP had been neglected by the government in terms of development. He enumerated a number of projects, including schools, water and health, sanitation, streetlights which had been provided in Kumasi between 2001 and 2003 …
http://www.ghanaweb.com/GhanaHomePage/NewsArchive/artikel.php?ID=84952
<![if !supportEmptyParas]> <![endif]>
City Drinking Water Safe, Officials Say After Tests
July 2, 2005  A day after warning that people with weak immune systems should not drink New York City tap water unless it is boiled, city officials said yesterday that the levels of microbes in the water were normal and that it was safe for everyone to drink.
http://www.nytimes.com/2005/07/02/nyregion/02water.html
<![if !supportEmptyParas]> <![endif]>
Minister clinches deal on water project
June 01, 2005 … Energy and Water Minister Bassam Yammine finalized Tuesday an agreement for a cooperation project with Notre Dame University in Louaizeh to improve the capacities of directing irrigation water in Lebanon ... highlighted the importance of partnership between the private and public sectors … The project will be executed within 18 months by the ministry's general directory of hydraulics through Notre Dame's Water, Energy and Environment Research Center ...
http://www.dailystar.com.lb/article.asp?edition_id=1&categ_id=1&article_id=15541#
<![if !supportEmptyParas]> <![endif]>
Israel can defend itself if Golan Heights are returned
June 01, 2005  Israel would be able to defend itself should it return the strategic Golan Heights plateau to Syria in any peace accord with Damascus … created shock waves last August when he became the first top Israeli officer to raise the possibility of a withdrawal from the strategic plateau. "From the point of view of military requirements we could reach an agreement with Syria by giving up the Golan," he told the Yediot Ahronot daily at the time, although the government made it clear Yaalon was talking out of turn …
http://www.dailystar.com.lb/article.asp?edition_id=10&categ_id=2&article_id=15535#
["...From the point of view of military requirements…" richtig interessant würde es aber erst … from the viewpoint of water requirements! J.B.]
<![if !supportEmptyParas]> <![endif]>
-------------------------------------------------------------------------
u  DOKUMENTE / VERÖFFENTLICHUNGEN
<![if !supportEmptyParas]> <![endif]>
Europäisches Wasserrecht - Eine Einführung ...
http://www.hydro.tuwien.ac.at/lehre/wasserrecht/EU-Wasserrecht-Einfuehrung.pdf
Hinweis der Kollegen von Wasser-Wissen, UNI Bremen: Die 112 Seiten umfassenden Unterlagen zur Vorlesung "Europäisches Wasserrecht - Eine Einführung" der TU Wien wurden in die Linkliste http://www.wasser-wissen.de/linklisten/vorlesungen.htm unter dem Stichwort "Recht" aufgenommen.
<![if !supportEmptyParas]> <![endif]>
<![if !supportEmptyParas]> <![endif]>
<![if !supportEmptyParas]> <![endif]>
<![if !supportEmptyParas]> <![endif]>
Herzliche Grüße von der Elbe
Jörg Barandat
http://de.geocities.com/joergbarandat/wassernetz.html
<![if !supportEmptyParas]> <![endif]>