Anthony Joesph Zerilli
Underboss
1979-Present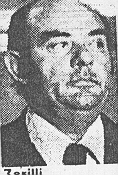 Tony Z
The Early Years
Anthony Joseph Zerilli was born October 24, 1927 to Joseph and Josephine "Finazzo" Zerilli. Young Tony was one of eight children "4 of which died in infancy or childhood," born of this union and the only surviving boy. At the time of his birth, Tony's father Joseph was an up and coming member of the Eastside Mob under the direction of Angelo Meli and his cousin and brother-in-law Vito William Tocco amoung others. Zerilli from an early age displayed the traits of a future racketeer inheriting the quick temper and violent nature often displayed by his uncle Black Bill. Tony spent his teenage years working along side various friends, relatives and employees of the popular Zerilli owned Detroit Italian Americain Bakery in Roseville Michigan. Zerilli like his cousin Jack Tocco would obtain a college education graduating from the University of Detroit class of 1949. Tony reportedly earned entrance into the partnership in 1947 when he and Jack Tocco are alledged to have garroted Gust Andromalus in a Detroit basement.
The Prodigy establishes Hazel Park and the Spaghetti Palace
At the age of 21, Tony emerged as the President of Hazel Park Racing Association and Track in 1949. Tony purchased controlling interest in the operation for $50,000. When questioned about the source of this money, Tony anserwed that it was a loan from his father. Hazel Park would go on to be a financial boom for Zerilli and other partners over the next 23 years taking in an estimated $15,000,000 a year resulting in an annual profit of $1,200,000 for it's investors. Although listed as the number one man in the Hazel Park operation, Zerilli is thought to have deferred in business dealings to his older cousin Jack Tocco. Hazel Park was such a success that in August of 1970 Zerilli, Tocco and Dominic "Fats" Corrado invested $2,500,000 in 280 acres of land in Hollywood Florida for the construction of a second racing complex. The second project which was to open as Hazel Park South had to be shelved when Tony ran into legal problems in Las Vegas. Zerilli's legal difficulties not only caused the cancellation of the expansion project but also led to the lost of the partners control of the original Hazel Park Complex in 1972. Upon the sale of Hazel Park, Zerilli made $780,000 from his 92,634 shares. Zerilli's profits from Hazel Park allowed him to enter into several other businesses including establishing the Spaghetti Palace in 1968. The Spaghetti Palace located near the Macomb Mall in Roseville Michigan, became Zerilli's headquarters and a meeting place for his underworld associates. The reputed mob ties as well as an excellent selection of 22 pastas and 24 sauces made the Spaghetti palace a rousing success. The Spaghetti Palace remained a staple in Roseville under the direction of Joseph Zerilli "Tony's son," Rosalie Profaci/Zerilli and Jack Giannosa a cousin of Tony's for more than a decade before closing in the early '80s.
Trouble in Sin City
Tony began spending a good portion of his time in Las Vegas during the early '60s watching over the partners investments while seeking new chances to expand his families influence in the mob controlled paradise. Zerilli and Michael Polizzi approached connection man Johnny Roselli about obtaining a Vegas casino that would be exclusively Detroit's. Roselli then introduced the pair to Maurice Friedman, a Las Vegas land owner and developer and casino owner who had a string of arrests dating back to the early '50s. Friedman was in the process of developing the Frontier Hotel and Casino and through Roselli arranged to act as a front for Zerilli and Polizzi after they failed to obtain a casino license in 1964. Friedman and another legendary Las Vegas figure T. Warner Richardson also failed to obtain approval from the Nevada gaming commission shortly thereafter. The entrance of Zerilli into Las Vegas as a major operator came with the acceptance of former Hamtramck municipal judge Arthur Rooks and Toledo Hotel owner and gambler Irving (Slick) Shapiro as key operators in the Frontier. Friedman would later testify that he and Richardson were set up in the Frontier overseeing the developement and financing on orders from Zerilli and other unseen members from Detroit. Zerilli's Vegas excursion was ended when frontman Maurice Friedman agreed to provide testimony into the Frontier's shady dealings in exchange for a reduction of a sentence he received for cheating members of the Friars Club in Beverly Hills. As a result Zerilli, Polizzi, Detroit businessman Jack Shapiro and partnership lawyer Peter J. Bellanca would all be convicted for skimming approximately $250,000 a month for more than two years before Roselli arranged the sale of the Frontier to Howard Hughes for $25,000,000 in 1967. Shortly after the sale of the Frontier, Tony Zerilli was chosen to succeed his father at the helm of Detroit's partnership. His reign as the lead partner began in 1970 and lasted untill he reported to prison in the Frontier case in 1974. The loss of Zerilli and Polizzi on federal charges, forced Joseph Zerilli back into action where he would lead the family through some of the most turbulent times untill his death in October of 1977.

The New King
Tony Zerilli's rise to prominence began slowly but by 1964, Tony was openly recognized as the leader of his own unit. Young Zerilli was picked up on law enforcement bugs discussing plots which included kidnapping International Brotherhood of Teamsters chief Jimmy Hoffa, police payoff policies and the easing of a tenuous situation between two partnership powers. The tapes which were recorded in the offices of Anthony Giacalone between 1961 and 1964 clearly demonstrate Zerilli's exhaulted position within the outfit dispite being left off of the families charts during the Valachi Hearings. Giacalone is heard at one point complaining bitterly about Pete Licavoli's dominance of area gambling operations despite being out of the Detroit area for many years. Zerilli is heard placating Giacalone finally promising to have the matter heard before his father and Papa John Priziola the only two remaining senior members of the chair who could sit in judgement of Licavoli also a founding member of the partnership. Shortly after these tapes were recorded, Tony would succed his father as the boss of the Partnership an arrangement which would be short lived as Tony's Las Vegas fiasco cost him control of the outfit when he went off to prison in 1974.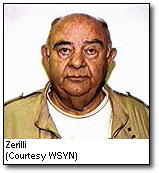 Boss 1970-1977