We are the Libertarians of the Jefferson County, Colorado Mountain Area
consisting of Evergreen, Morrison and the 285 Corridor .

Are you Libertarian at heart?  See if you agree with the following, Thomas Jefferson --
"That government is best which governs least" or
Lee Marvin's words in
Paint Your Wagon
, "Leave the poor bastard alone."   
Are YOU a Libertarian? take the
Worlds Smallest Political Quiz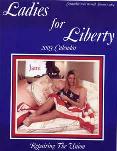 Candidate Links for Major Races:
Ralph Shnelvar for Governor
www shnelvar.com
Rick Stanley for U.S. Senate
www.stanley2002.org
  Adam Katz U.S. Rep. Dist. 6
www.katz4congress.com
Biff Baker for US Congress Dist 5
www.biff1.org
Contact us!
Rand Fanshier
(303)670-8563
.
Michael McKinzie
.
-or-
Join our Libertarian Action group
To join the Listserver for our Libertarian Action Group, send an email to:
[email protected]
After you get a subscription confirmation you can send/receive messages to/from the group:
[email protected]
or contact the webmaster:  
[email protected]
Click the picture below for a slideshow of recent events