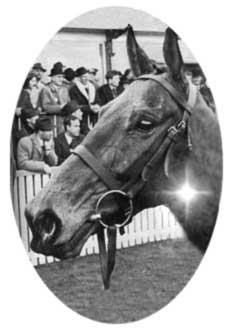 Arkle
Foaled: 3.30 AM April 19th 1957 at the Ballymacoll stud in Co. Meath. Eire

Breeder: Mary Baker

Owner: Anne Duchess of Westminster

Trainer: Tom Dreaper

Jockey: Pat Taaffe

Arkle's Lad: Johnny Lumley

Bay gelding by: Archive out of Bright Cherry

Tribute to Arkle..................The greatest steeplechaser of all time

Arkle was bred by Mrs Mary Baker, of Malahow House, near Naul, Co. Dublin. His sire, Archive, was a forty-eight guineas stallion who was unsuccessful on the racecourse, his dam,

Bright Cherry was a decent two mile race mare. On Thursday 4th of August 1960 Arkle was lot 148 at Goff's sales at Ballsbridge where he was bought for 1150 guineas as an untried three year old by Anne, Duchess of Westminster, on the advice of her trainer Tom Dreaper.
Arkle was named after a mountain facing the Duchess's house by Loch Stack in Sutherland, later in his great years the racing public would call him by the name Himself, the greatest compliment of all. For the next year Arkle was to spend his time at the Duchess's Cheshire home, Eaton Lodge, near Eccleston where he would be carefully broken in, nagged and advanced by Mr William Veal. In August 1961 Arkle arrived at the great Tom Dreapers stable in Co. Dublin, the comments made about him where less than complimentary. It was generally thought he was the worst looking of all the new arrivals, a beanpole. Pat Taaffe put it more strongly. He moves so terribly behind, you could drive a wheelbarrow between his hindlegs.

Arkle made his racecourse debut in a two mile bumper race, the Lough Ennel Maiden Plate worth £133 and run on Saturday, December 9th, 1961 at Mullinger. Starting at 5/1 and ridden by Mark Hely-Hutchinson he was outpaced early on but ran on strongly to finish third beaten 1 length 8 lengths by Lady Flame and Kilspindle. His next race another Bumper, was at Leopardstown on the outskirts of Dublin on December 26th, 1961. Boxing Day or as its known in Ireland St Stephen's day. Again ridden by Hutchinson and starting 5/1 he finished 4th beaten a total of 8.5 lengths to Artist's Treasure, Glynbourne was 2nd and Flying Wild third. Now his first year in training was over, the beanpole was still gawky and immature.

The next race Arkle was engaged was on January 20th 1962 at Navan in a three mile hurdle race for novices, his first over the distance and obstacles. Starting at 20/1 and ridden by Liam McLoughlin, he surprised everyone including Pat Taaffe, who was riding the favourite in the race. Lord Patrick riding Blunts Cross looked to have the race won until Arkle stormed through from nowhere to win easily.

Pat Taaffe had his first ride on Arkle in the two mile Rathconnell Handicap Hurdle at Naas Saturday March 10th. In Pats words, Arkle knew very little about racing and I really had to push him along turning into the straight. Two hurdles out he moved up a gear and strode on well through the soft ground to win 4 lengths and 6 lengths from Soltest and Gainstown. Two miles was too sharp for him, he was a stayer who didnít yet have the brilliant speed he would have when he matured. Five weeks later Arkle was in another two mile hurdle at Baldoyle, a sharp flat seaside track on Dublins north-east outskirts. The Balbriggan Handicap Hurdle worth a lofty £387 10s. The pace of the two mile hurdlers on good going was too much for him and he ran unplaced. The New Handicap Hurdle over two miles at the Fairyhouse meeting in April was Arkle's next race, he managed 4th place, Liam McLoughlin reported that two miles was again too sharp for Arkle, but if had been two and a half miles he would have won easily. Pace and acceleration were still not there. Arkle had ended his second season and Himself had not arrived, but next season would be a different story, he's coming.

Arkle had done well over the summer rest, he was entered not in a steeplechase but the two mile one furlong Wee County handicap hurdle Dundalk October 17th. Unfancied at 6/1 this was the race that really impressed Pat Taaffe, on a tight firm coarse at an inadequate distance Arkle produced a fantastic burst of acceleration to win by six lengths from Killykeen Star and Gosley giving away lumps of weight. The change in Arkle in those six months was staggering. Out again the following week Wednesday, October 25th, 1962 in the Presidents Handicap Hurdle over two miles at Gowran Park in Co. Kilkenny. Ridden by Paddy Woods, Arkle won pulling away by five lengths.

Arkles hurdling days were over, his schooling over fences was stepped up. So impressive was he at home when he arrived in England, Saturday, November 17th for the Honeybourne Chase over two and a half miles at Cheltenham he was backed down to 11/8 favourite. Arkle sauntered home by twenty lengths. Next came Leopardstown February 23rd, carrying 12st 11lb over an inadequate two miles Arkle won by eight lengths from Rubor. Now was the time for a true test, over to the Cheltenham festival for the Broadway Novices Chase (now Sun Alliance) over, yes, three miles. Starting at odds of 4/9 he made mincemeat of the opposition and won by twenty lengths. Himself had arrived.

Arkle was now a star and given rave reviews, surely he must win the Gold Cup the following year. Two days later his supporters were not half so confidant when the giant Mill House jumped superbly to win the 1963 Gold Cup by an easy twelve lengths. Mill House was the same age as Arkle, when would the great confrontation be? Arkle ran twice more that season winning the Power Gold Cup at Fairyhouse Easter Monday 12st 5lb at 2/7 and the Jameson Gold Cup at Punchestown 12st 4lb at 4/7 Wednesday May 1st. Seven out of seven. Mill House was established as champion, Arkle his closest challenger.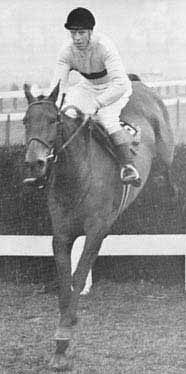 Arkles first race of the season came as a surprise, not a chase or hurdle, but a flat race over one mile six furlongs at Navan October 9th 1963 Ridden by T.P.Burns (steeplechasers never run in and win flat races), Arkle won in a canter by five lengths, this really got the tongues wagging. Next came Gowran Park on Thursday, October 24th for the Carey's Cottage Handicap chase over two and a half miles. Carrying 11st 13lb and starting at 4/7 Arkle won easily by 10 lengths. The stage was now set for the great showdown five weeks later.
The Hennessy Gold Cup Newbury 2 p.m. Saturday, November 30th 1963 was the venue, Arkle was set to receive 5lb from Mill House over 3 miles 2 furlongs and 82 yards. Mill House was being acclaimed as the next Golden Miller and would probably win the Gold Cup for the next five years. The stands were packed for this mouth watering clash, Mill House was 15/8 favourite, Arkle 5/2, Duke of York 8/1, Springbok 9/1, Happy Spring 100/9, Hamanet 100/7, Kings Nephew 100/7, Pappageno's Cottage 100/6, 50/1 bar. It was a very misty day, as they came out of the mist with two fences to jump it was Mill House a clear leader from Happy Spring and Arkle and that's how they finished.
In Betty Dreaper's words:- We came down from the stands thinking that Mill House must be a wonder horse, you have a horse you think is unbeatable, receiving 5lb and he is beaten easily, unbelievable. That was it, Mill House was crowned undisputed champion, or was it? Because of the mist, it could not be seen properly from the stands that Arkle, was moving up to challenge Mill House three out where he slipped very badly on landing in the very soft ground, nearly hitting the deck. With only two fences to go he didn't have time to recover. Pat Taaffe later had a bet with Mill House's jockey Willie Robinson, that Arkle would beat him in the Cheltenham Gold Cup.
Arkle ran again at Leopardstown on St Stephens Day, in the Christmas Handicap Chase, over 3 miles. Again carrying 12st he won by an easy two lengths from Loving Record. Out a month later at Gowran Park over 3 miles in the Thyestes Handicap Chase, Arkle again won easily from Loving Record who was in receipt of 35lb. Over in England, Mill House's path to the Gold Cup had been equally triumphant, he won the King George VI at Kempton and a conditions race at Sandown, both very easily. Arkle ran again at Leopardstown winning unchallenged by 12L and 20L from Greatrakes. The public immediately started backing himself for the Cheltenham Gold Cup at 2/1 but champion Mill House remained 1/2 favourite.
The three day Cheltenham National Hunt Festival,1964 began on a Thursday, instead of a Tuesday, so the Gold Cup was on the Saturday, March 17th, run over the new course of 3 miles two furlongs and 130 yds, could be seen by more of the general public. The race is off level weights as this is the Derby of steeplechasing. Mill House made the running until two fences from home where Arkle came smoothly through to take the lead and win by 5 lengths, to sustained deafening cheering. This had been the greatest Gold Cup of all time, the course record was broken by 4 seconds and it was now Arkle's turn to be crowned undisputed champion.
The Irish Grand National at Fairyhouse was next on March 30th. The Irish National Hunt Commitee had devised a new plan, the handicapper was instructed to draw up two two different handicaps, one if Arkle ran and another if he didn't. So one horse changed Irelands racing laws to allow for his uncontainable supremacy. Arkle won by only one and a quarter lengths from Height O' Fashion, received 30lb. Another season had come to a close.
The new season opened and as usual Arkle went for a stroll around Gowran Park in the Carey's Cottage handicap, carrying 12st, his opponents carried 9st 7lb. Greatrakes was again runner-up. When the weights for the Hennessy at Newbury were announced, Arkle had been allotted top weight of 12st 7lb instead of the 12st carried by Mill House the previous year. As one pundit said, giv'em enough weight and you'll stop a bus. Mill House was 8lb better off and fancied by by some to reverse the placings, he opened at 7/4 and shortened to 13/8, Arkle opened at evens and drifted to 5/4. The crowd was an all time record for Newbury, such was the popularity of these two great horses. As the race started the gigantic crowd gasped as it saw Arkle under a punative 12st 7lb charge into the lead at what was thought to be a suicidal speed, Mill House went with him. The two great horses head to head, fence after fence, rounds of applause could be heard from the stands as each fence was taken. As the race wore on it became apparent that Mill House was struggling to keep up with Arkle at such a breakneck pace. Arkle won by 10l and 12l from Ferryboat, received 35lb, and The Rip. Mill House finished exhausted in 4th.
After such a hard race it was incredible that Arkle should be asked to run the following week in the Massey-Ferguson at Cheltenham. Over the inadequate two and half miles, carrying the impossible weight of 12st 10lb, but run he did. The reason for running him remains a mystery, but it may have made the handicappers think, if only for a few months, they were being too harsh on him, for Arkle was beaten a short-head and a length by Flying Wild,received 32lb, and Buona Notte in a driving finish. It was nearly three months before Arkle ran again.
Arkles first race in 1965 was a 3 mile handicap chase at Leopardstown which he won last year carrying 12st, this year he was given 12st 7lb. He had to battle hard to beat Scottish Memories by a length. Back to Cheltenham for the Gold Cup, Thursday March 11th, again taken on by Mill House. Arkle led as he did last year closely pursued by Mill House, but Arkle began to pull away and won by 20l easing down. Pat Taaffe proclaimed, better than last year he's certainly improved.
No Massey-Ferguson this year or Irish Grand National, instead he waited for the Whitbread over 3 miles 5 furlongs 18yds at Sandown on Saturday, April 24th. He was set to carry 12st 7lb, the others 9st 7lb, a difference of 42 lbs. Arkle won by an easy 5l and 20l from Brasher and Willow King.
The season of 1965/66 began for Arkle, not at his usual Gowran Park, but at Sandown for the Gallagher Gold Cup over three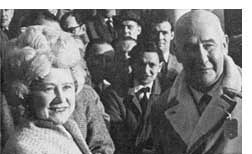 miles. Mill House was coming back for another crack at him. Arkle was set to carry 12st 7lb, and Mill House 11st 5lb. Others led the field until Arkle took over after a circuit. When they reached the railway fences Mill House jumped into the lead and went on by 4 lengths. David Nicholson, who was substituting for the injured Willie Robinson, recalls: I saw Arkle and thought-well old chap, we've got you today. The next moment himself was alongside with Pat not moving on him, and then he just changed gear. It broke Mill House's heart and all the fight went out of him. They never met again. Arkle won 20l 4l from Rondetto and Mill House, and beat Mill House's Sandown course record by seventeen seconds. Queen Elizabeth the Queen Mother presented the Gallaher trophy to T.W. Dreaper.
Three weeks later Arkle was back at Newbury for the Hennessy,where he was lumbered with 12st 7lb. All his seven opponents were to receive two and a half stone, yet he started 6/1 on. Never in the world's long history of racing under all rules had one animal so dominated all others that he seemed to be a different being. No real betting business was done on the race. The gigantic crowd packed in to watch not punt. Arkle and Brasher shared the lead for most of the race, at the 14th Arkle went on, Pat admits now that this is where he made a tactical error: If Arkle had been beaten that day it would have been entirely my fault. I was wrong to go pushing on after I'd passed Brasher. There wasn't any point, my horse was out on his own all that way in front, if anything I was setting the race up for Freddie! Horses tend to idle and lose concentration if left alone in the lead for too long. As it was Arkle won by a quickly diminishing 15l from the fast finishing Freddie, with Brasher a further 3l behind in third. Eight months earlier Freddie had carried top weight of 11st 10lb, and was short priced favourite, into second place in the Grand National behind Jay Trump. Theoretically this would have put Arkle in the National with 14st.
The King George VI steeplechase at Kempton, Boxing Day 27th December 1965 was his next race. This is a conditions race, not a handicap. Arkle had not run at Kempton before, it is a peculiar track, very flat, very fast and tight, and takes very little staying. But it's fences are the next stiffest to Aintree. Because the weight conditions of the race suited Arkle most of the opposition retreated, only three remained. Dunkirk a top class two mile chaser, Dormant, who had beaten Mill House for the race last year, and Arctic Queen. Because of Arkle's appearance thousands extra turned out, an hour's run took three and car parks jammed to bursting point were closed. Dunkirk set a scorching pace, and was so far clear entering the straight for the first time that the crowd wondered if Taaffe was not being over confident. By the time they passed the winning post for the first time Arkle, without appearing to surge forward had contracted the gap to twenty lengths, at the two mile marker, the limit of Dunkirk's stamina, Arkle was only three lengths behind. Pat seeing Dunkirk start to jump badly, and fearing he might fall and possibly bring Arkle down. Shot Arkle into the lead, as they jumped the next, Arkle rose but Dunkirk staggered as he reached it and crashed through the top of the fence where he choked and died. When Arkle passed the winning post Dormant was just jumping the last. A post mortem showed that Dunkirk's lungs were congested with blood from a haemorrhage and that he had probably been almost dead as he lurched into to the birch to fall and break his neck.
With Kempton secured Tom Dreaper decided that Arkle should run at Leopardstown before returning to England for his third Gold Cup. Scheduled for February 19th the Leopardstown meeting didn't take place until the Tuesday, March 1st, because of weeks of torrential rain. I didn't know Arkle was running that day until I was watching the BBC teatime news. Meetings in England get abandoned because of the weather in Ireland they get postponed until the coarse is fit to race. In the introduction to the news, the presenter said that: Arkle had caused a surprise in Ireland and the race would be shown later in the programme. The first thought was that he must have fallen and remounted and still won, such was the esteem in which we held Arkle. In fact he had scraped home by half a length conceding 3st to Height O'Fashion. Pat Taaffe said after the race: Arkle was terribly unfit. He hadn't been able to do any work at home for weeks because the gallops were waterlogged.
Sixteen days later Arkle was back at Cheltenham for his third Gold Cup on Thursday, March 17th, 1966. Arkle took the lead after six fences and won in an arrogant canter. The winning distance 30l from Dormant in second, his starting price 1/10. This was the longest winning distance and the shortest price in the history of the Gold Cup. He was entered to run at Sandown in the Whitbread. Friday's racing was canceled and Saturday's was in doubt and Arkle in the circumstances remained at home at Greenogue. Another season had ended.
The 1966/67 season was one we would rather forget. Defeat in the Hennessy was hard to take but a greater tragedy was waiting. Was it down to Taaffe caught napping or was it the brilliant riding of Stan Mellor's that caused the upset in the Hennessy? Arkle was in the lead jumping the second last and going well, in between the last two fences Taaffe looked round, but did not see Stalbridge Colonist directly on a line behind him. As he turned back to steer Arkle over the last Mellor drove the grey into the fence. Before Taaffe realized he was there it was too late, with all the weight, by the time Arkle responded the line had come too soon. Pat Taaffe had been kidded by a very astute jockey, but Arkle had been conceding 35lb to the winner and What a Myth in third. Stalbridge Colonist went on to run 2nd by three parts of a length in the following years Cheltenham Gold Cup and What a Myth went on to win it in 1969.
In his next race, the SGB chase Arkle coasted home, he was back on track. Two weeks later his fans were disappointed when the Kempton Boxing Day meeting was postponed because of frost, and even more disappointed when the racing was on the day after and himself was beaten. The King George VI Chase as I've said before is a conditions race so Arkle was not conceding lumps of weight. This made him an absolute racing certainty, barring accidents. When Arkle was beaten into second place by Dormant the fans were in shock. He had beaten Dormant by a fence in the race last year, and by 30 lengths in the Gold Cup pulling up, how could this happen? A veterinary examination revealed Arkle had broken a pedal bone during the race. The get well soon cards were sent in their thousands, some just addressed to Arkle, Ireland. Despite an operation he never recovered and on October 9th 1968 he was officially retired to the Duchess's farm at Bryanstown, Co. Kildare. The stiffness caused by his injury became gradually worse and in spite of his great courage he could hardly stand. The Duchess had to make the saddest decision of her life. On May 31st 1970, the vet James Kavanagh gave Arkle his final injection. Arkle lay down in his box and went to sleep forever.
No one who saw what he achieved -and how he achieved it- will ever forget him, the atmosphere when he stepped on a racecourse, the tingle down the spine when you saw him in the parade ring. He was Himself.






This site was constructed as part of a College coarse, if any of the content is deemed breach of
copyright it will be removed immediately.
If you have any photographs of Arkle or any other interesting material you would consent to being used on this site, please send them to me.
This site has had
visits since 1st April 2001.