Cypress College
Kung-Fu San Soo
the ancient chinese art of self-defense
Toi Li Ho Fut Hung
Kung -Fu San Soo is not a sport, but rather a highly scientific developed fighting system, with an over 4,000 year history, based on offensive techniuqes that use a combination of various punches, blocks, strikes, kicks, flips, throws, take downs, and the use of leverages, all done in perfect unison, directed to vital points of the body, and not following a set pattern. The proper use of breath control and body motion gives the trained San Soo fighter extreme power. Also, a strong emphasis is placed on respecting our fellow man and building up our character. Martial arts should never be used to perpetuate violence. We learn to have humility,confidence and to develop a more tolerant and accepting personality. If someone tries to rob you, you ask them what they want and give it to them,within reason. Your life and theirs is worth more than any material possession. A gun or knife can outdo years of martial arts training in a fraction of a second if you are not careful. You want to be intelligent. If you don't have to fight, then don't. The fighting techniques trained in San Soo are only to be used as a last resort.
Kung-Fu San Soo, as we know it, was brought to the United States by the late Grandmaster Jimmy H. Woo in the mid 1930's. The art has been in Grandmaster Woo's family for 5 generations to him, 7 generations to his grandson Master James P, King It was our Grandmaster's great-great-great-grandfather, Leong Kick, a monk in a Qwan Yin monestary, who brought the art out and kept it alive within his family, teaching the art out of the two training texts taken from the monestary and passing them on from generation to generation until the present.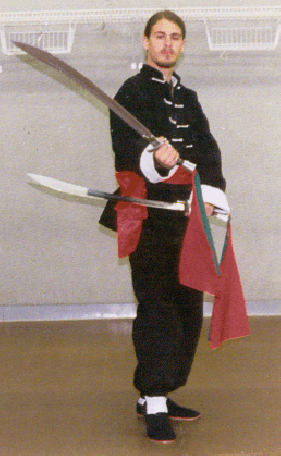 Jason D. Kalar is a 2nd generation Master in the USA from Grandmaster Jimmy H. Woo, and 7th generation from the Qwan Yin Monestary in China. He has trained under Master Larry S. Dusatko since the age of 5 years old and has over two decades of experience in the Art.
Master Jason D. Kalar is a talented exponent of this art. It is his goal to preserve San Soo the best way he has learnt how too. He currently teaches through the North Orange County Community College District in Southern California at Cypress college. He is also the author of the book Kung Fu San Soo Basics.