Welcome to the home page of Jacksonville Associated Windsurfers...JAWS
Jacksonville, Florida
Write us: [email protected]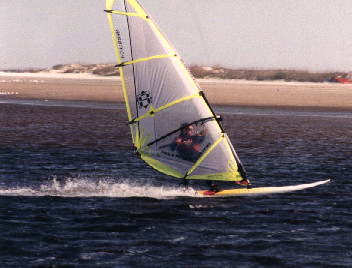 A little about JAWS... We're a loose knit organization of windsurfers in Northeast Florida. Our meetings are held on the second Tuesday of each month at Campechee Bay Restaurant on Atlantic Blvd (next to '57 Heaven). Meetings are open to the public, very informal, and start around 7:00 pm. We order dinner from the menu and discuss matters of interest to the windsurfing community.
JAWS boasts a full year calendar of events, ranging from speed trials to theme events (Jimmy Buffett Day, etc). We sponsor trips to exotic sites (Aruba, Bonaire, etc) as well as weekend trips within reasonable driving distance. Our prime sailing venue is "The Pond"...a tide pool formed by high tide at Huguenot Park at the Mayport North Jetty (off A1-A) where the St. Johns River meets the Atlantic. The general area lends itself to flat water, wave, and river sailing that will appeal to all levels of sailors. If we're not on the water, we usually hang out around our orange windsock...stop by and visit.
We publish a monthly newsletter, The JAWS Journal. Editor, Mike Janssen, makes it available in printed format as well as on this site. Click below to view this month's Journal.

Press here for the latest JAWS Journal
---
JAWS dues are $25 per year for your entire family (including the dog).
Mail dues to: Herb Gottlieb, 4273 Stacey Road, Jacksonville, Fl 32250
---
---
Members with contributions (pictures, stories, event notices, etc.) for the website are encouraged to notify Crump or Mike.