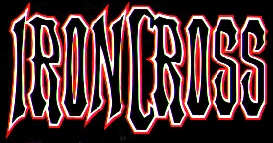 The interwiew with Ironcross bass player Mr. Buddy McSchulz AKA Pekka "Body" Nummela alias Body was conducted by Samuel Jylhä and Mika Penttinen in May 2006. The article was translated in english by Klaus Flaming.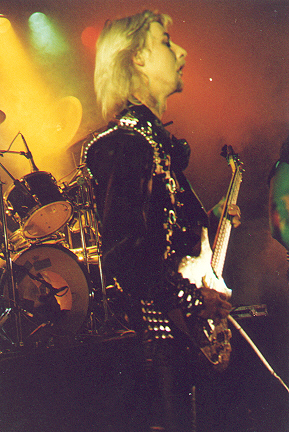 Buddy
Were you the founder member of Ironcross?
As a matter of fact we didn't call ourselves Ironcross at that time. Our name was Willow The Whisp or something like that... Please forgive me but I really can't remember this since it was such a long time ago, in 1976 we all were barely 16-17 years old...
What was the line-up back then like?
There was Jallu Suominen, Tero Ovaska, Kimmo Vanne, Esa "Gona" Leinonen and myself so basically it was almost the same line-up that later became Ironcross. Esa was playing drums back then and later the guitar player took over the bass.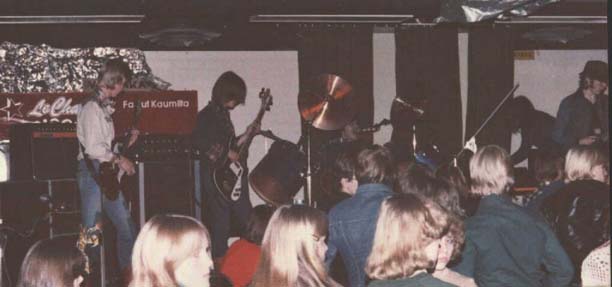 Live @ Le Chat
When did you play live in public for the first time? Was the band called already Ironcross at that event?
Yes, I believe so. Apart from Jallu, we played in a place called Le Chat Club located in Turku. A youth club where underaged could also come and see bands play. The year was 1976.
What was in your set list? Originals rather than covers?
Oh, mostly we had to lean on cover songs at that point. BÖC-Kansas-Aerosmith, Thin Lizzy etc. But we had already a couple of songs of our own, one was called Horror and Terror (laughs, starts to hum the melody line)... Esa had written that song and I helped him out adding a little touch of my own here and there.I think a tape featuring that song exists somewhere!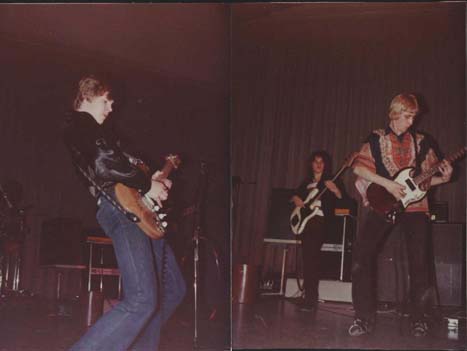 So Esa played drums and sang?
Yes, in the beginning he was a drummer
Ironcross had already played together for a few years before going into a studio to record songs later to be released on your debut album Bloodhounds. Were you able to do any pre-production for the material?
Nah, all we had was a poxy tape recorder in our rehearsing room. We were signed by a guy who got excited when seeing us play live in our hometown, he was the owner of TK-Records (Turun kasettituotanto/Turku Cassette Production Service). Their main business was to translate and add Finnish subtitles on imported porno videotapes and deliver music cassettes to be sold at gas stations all around Finland. Not exactly giving a chance for unknown bands to make records!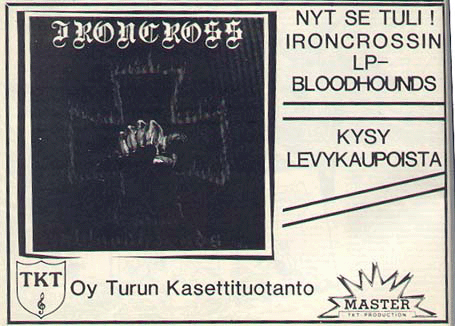 Ironcross debut album Bloodhounds was released in 1982. Anything particular let's say in five years before that, worth to mention here?
Well, we rehearsed a lot plus we had to do our time in National Defense - meaning all Finnish male persons are called up when they
reach their 19th birthday and you are obliged to serve in Finnish conscription army unless you are mentally or physically unable or choose to do the civil service instead, that only takes a lot more time. It means you have to live in a military base - back then whether 8 or 11 months, but usually every second weekend was off duty. Apart from Kimmo Vanne we were in at the same time, but after us others having been discharged he was still in and always late for the gigs if he was lucky enough to get a permission for a leave! Sometimes we had to start to play live without him hoping he would arrive later to join us!
How long did the sessions for Bloodhounds last?
We recorded that album in Turku, Studio 55 was it called. Built inside an old stone house. We finished the album in two weeks. Mixing took one day and there were no more than one or two takes for each song. It was somewhat a hard time for myself as I had just taken over the bass instead of the guitar I had played until that. Subconsciously I was all the time looking for the two missing strings on that
instrument..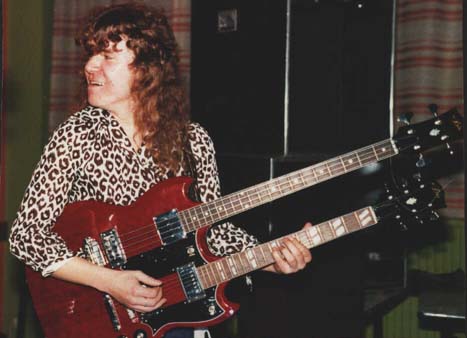 Jari "Mizz" Lundqvist
Prior to the release of Bloodhounds Ironcross released a 7 inch single Let's Get Down To Business b/ Harder Than Stone. Were these from the album sessions?
No, Jari "Mizz" Lundgren played guitar on those although he does not play on the album otherwise. Same versions were just
included on the album as we did not think it was necessary to re-record them, so those two songs were put into the album as they were. I think Kim Trapp helped us out playing the keyboards on Bloodhounds. He was at that time a member of Fabrics who released two albums in early 80's. Their music was, however, lighter pop/rock. But he was - as us others - living in Turku, we knew him so it was more like an obvious choice for us.
Strangely enough the songs released on that aforementioned single were put to finish the Bloodhounds album. Usually the single tracks were found in the beginning of both sides of an vinyl album.
Yeah...well we just did not want to do so, since the 7" was already familiar to local record buyers. In Turku it was at
that time the second most selling single barely behind a Swedish pop single by..hmm.. Freestyle I guess that band was called.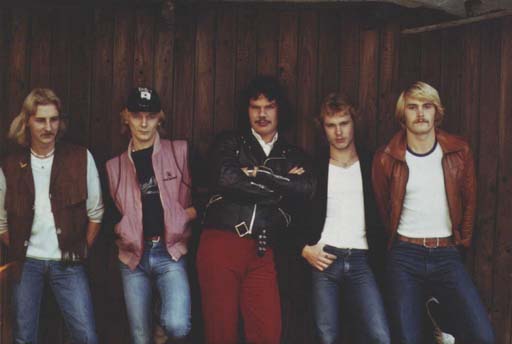 Left to rigt: Buddy, Esko Mänty-Sorvari, Esa "Gona" Leinonen, Kimmo Vanne & Kari "Case" Laihonen
Did you do a photo session for the first album?
Yes, and before you ask to see the photographs.. NO!,You don't want to see them! (laughs) The cover artist for Bloodhounds was a
friend of Kimmo Vanne, he was making his living by working at local Post Office just like Kimmo. You will find out more about postmen when we'll get deeper into Ironcross history.. (LOL)
"UUSI MUSA" (="New Muzik") 1983 compilation featured songs from more or less unknown bands in Finland at that
time - Ironcross appeared on the album with a song Dealer. Was that a leftover from Bloodhounds sessions?
No, by then there had been minor changes in the line-up. Kimmo Vanne had left Ironcross and his replacement Peter Bredbacka
wrote "Dealer" and naturally played on that track. We were asked to record something to Uusi Musa and we handed Dealer to them. Peter didn't stay for a long time in Ironcross, as he was more interested in prog music and wanted to play that way. Probably you can sense it while listening to "Dealer".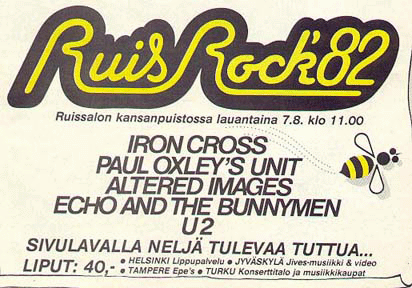 Ironcross opened the annual Turku Rock Festival Ruisrock in 1982. The headliner for the festival was
an upcoming, virtually unknown band at least in Finland called U2. Did you get to meet the guys backstage?
Yeah, well...The backstage area was so tiny it was impossible not to bump into other players. At that time it was a kind of a rule that a local band was to open the Ruisrock festival and that year the organizers decided to let people vote for it since there were so many relevant options to fill the slot. So there was a voting slip printed in a local newspaper and most likely we had the biggest number of loyal fans since we got the gig. Which actually was one of the few ones that covered all our expenses!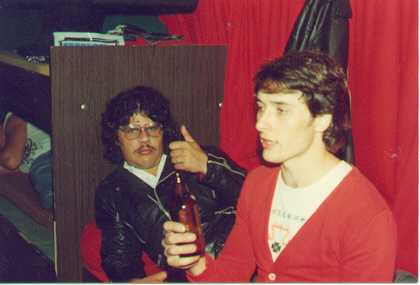 Gona & Steeler (Photo by Kaj "Brandy" Brander)
Ironcross' second album Steel Warrior was released on Kräk!, a subsidiary label of Finnlevy, a Finnish major record
company. How did you get signed by them as at that time a band was almost like forced to sing in Finnish to get a record deal, let alone the music majors were looking for, hard rock was not on the top of their want list...Apart from Bredbacka in and out, any other changes in the line-up?
Yes, Ari "Steeler" Suomi was our new guitarist, Case had become a permanent keyboard player and Esko Mänty-Sorvari sat behind the
drum kit as we had written a lot of songs using fast double kick drum parts in mind so it was obvious Esa could not sing and play drums in this manner simultaneously on stage at least. We had heard Esko playing in another local band Noitawaimo, he was a big Thin Lizzy fan as us others so what else would we had needed?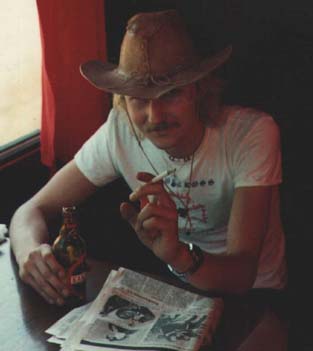 Body (Photo by Kaj "Brandy" Brander)
To be honest with you - Steel Warrior LP sounds quite weird. Any idea why?
You named it. The final mix in the control room listened through the studio monitors sounded just amazing. Maybe something
went wrong with the mastering - you see, high and low frequencies had to be filtered before printing the material on a vinyl disc. There is a C-cassette version of the album but most likely that has even more limitations to it. Even the 7 inch single Get Down'n Get Away was a disaster soundwise. We did not get much exposure with Steel Warrior - we were on the same label as multi-platinum-seller Dingo, who sang pop/rock in Finnish, so the promotion for Ironcross was as minimal as our recording budget. Worth to mention here - Kimmo Kuusniemi from Sarcofagus/Kimmo Kuusniemi Band fame did the artwork for Steel Warrior.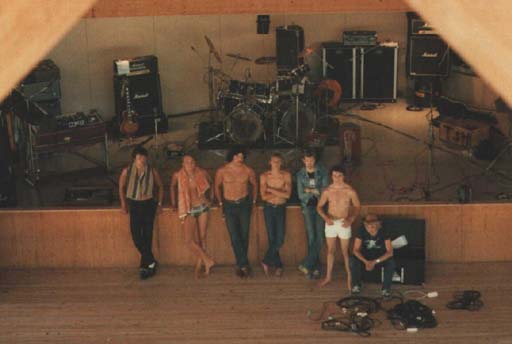 From left to right: Kai Leinonen, Case, Esa, Esko, Peter Bredbacka, Steeler and Body (Photo by Kaj "Brandy" Brander)
So in the first half of the 80's Ironcross released two albums, which did not turn out to be huge sellers. Were you however asked to play a lot of gigs at that time?
Not really. I don't think we had a booking agency or a manager before Too Hot To Rock. Our roadie Brandy
managed us to play some gigs in summer 1984 in local Turku area and Pohjanmaa (=Ostrobothnia province, famous for its diehard following of hard rock/heavy metal exclusively) but that was basically it.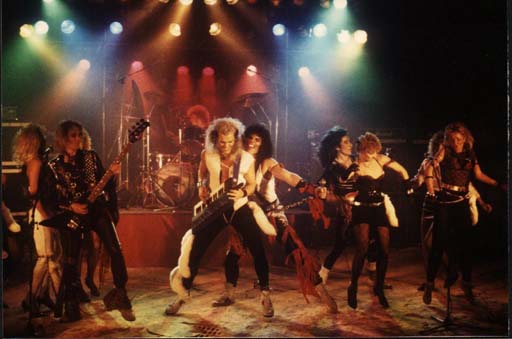 But as it's said, the third time says it all..The mighty EMI signed Ironcross despite the low sales figures of your two
first albums. A new image and a drummer was also presented.
Esko wanted to earn his living by playing drums so for obvious reasons Ironcross could not offer him a lot in that sense. As a
matter of fact, Capitol Records in USA had learned about Ironcross and as they were and still are a part of EMI worldwide organization, they tipped the German branch of EMI to keep an eye on us.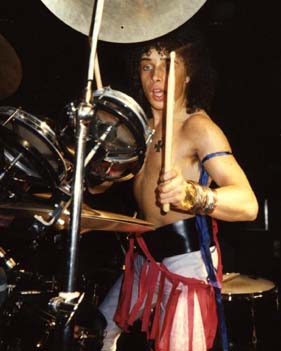 Jimmy Hammer
We changed our image and songwriting style. Jimmy Hammer had already joined Ironcross as our new drummer. Actually Too Hot To Rock -album was recorded twice. The first version we basically recorded on our own was far more punchier and furtherwise we shot three promo videos (Too Hot To Rock, Fight For The Strangers and Bloodhunger), this convinced German EMI who contacted the Finnish branch and told them to sign us immediately.
We spent the whole July of '86 in Takomo Studios in Helsinki - the end result being much more polished and less edgy than the aforementioned demo version we made in Piikkiö. The LP was ready to be released in autumn of '86 but EMI decided not to put it into the Christmas market as there would anyway be so many releases by already established bands/artists. Plus someone in the
record company insisted that there should be a huge launch party arranged at Cafe Metropol in Helsinki which was the hottest nightclub in the hot city at that time. And it was fully booked all through the end of the year! So Too Hot To Rock was released in January, which is one of the slowest months saleswise. Really crazy.

Too Hot To Rock was also released in some countries outside Finland. Do you know where and how was it received abroad?
I was never told anything about these things. I received some money, however..but I never considered quitting my day
job to jump around wearing pantyhose.. (Laughing hysterically out loud!!)
In 2002 Too Hot To Rock was re-released, now for the first time on CD, by the original record company EMI. How did you react
when you found this out?
Well, I can understand classic rock albums being reissued and re-released all the time but why release an album from 1987 of
which basically no-one was interested in the first place? Is it somehow hip today to dig out everything that was released almost two decades ago for nostalgic reasons or to give a chance for the younger people to hear what it was like? However after listening to the remastered CD I must admit it sounds much clearer than the old vinyl.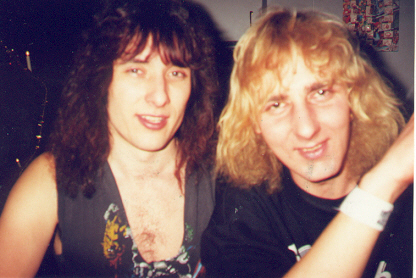 Steeler & Buddy (Photo by Kaj "Brandy" Brander)
Is there a chance for a Ironcross re-union?
Yeah...but what for? To play in front of a handful of enthusiasts and maybe a few more who would come to see us for
curiosity? When Ironcross ceased to exist I literally nailed my bass guitar on my living room wall and it has stayed there ever since. And I don't think Steeler has touched his guitar either for 15 years if not even more. And Esa seems to have found his spiritual happiness as a Jehovah's witness. Although Ironcross never sang about devil worshipping or occult themes, rather than just having a good time, only the pounding and pulsating rhythm of rock music could be considered evil if not by him then his comrades. I really don't know. Jimmy would probably vote for the reunion and Case as well now that he's back in Finland again but two out of five don't really make a genuine reunion don't you think?