THE THOAT OF


"...may move one straight and one diagonal, and may jump intervening pieces..."(Chapter II of the TEXT)

"...2 spaces, one straight and one diagonal in any direction."(APPENDIX)

Here, again, there are two versions of movement. In the TEXT, the THOAT is given the ability to JUMP but no such ability is denoted in the APPENDIX. Some would offer that "that which is not specifically denied is accepted".

Also, there is opinion as to the order of the orthogonal and diagonal moves. Since the order appears the same in both TEXT and APPENDIX, some would argue for STRICT adherence to this order. This gives the opponent the ability to easily block the non-JUMPing THOAT.

LOOSE interpretation would allow these moves to be made in either order. This increases the number of attack paths for the non-JUMPing THOAT.

The ability of JUMPing renders this movement argument moot.


********************
STRICT, LOOSE or JUMP INTERPRETATION(CHAINED THOAT, FREE THOAT or WILD THOAT):

No matter which interpretation is adhered to, the destination squares are the same.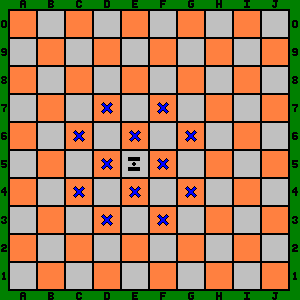 CHAINED THOAT, FREE THOAT or WILD THOAT
The only difference is the ability to block the non-JUMPing THOAT's movement. This varies between the STRICT and LOOSE interpretation. Whereas the STRICT interpretation offer the potential of four paths, the LOOSE interpretation has eight.


********************
BACK


This site is the product of L. Lynn Smith et al.