THE PANTHAN OF


"...may move one space in any direction except backward..."(Chapter II of the TEXT)

"...1 space, forward, side, or diagonal, but not backward."(APPENDIX)


********************
STRICT INTERPRETATION(CHAINED PANTHAN):

This interpretation does not allow any backward movement, including diagonally. Since there is no promotion of the PANTHAN, upon reaching the tenth rank on the board, it becomes highly ineffectual in the game.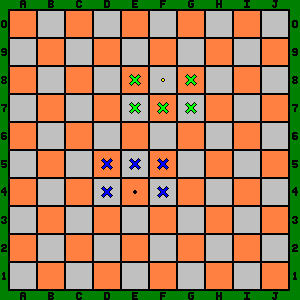 CHAINED PANTHAN

This version forces the player to carefully use the PANTHAN.


********************
LOOSE INTERPRETATION(FREE PANTHAN):

This interpretation allows for backward diagonal movement. Since ERB specifically notes the term "forward" as the forward orthogonal movement in the APPENDIX, it is taken that the term "backward" refers only to the backward orthogonal movement. This allows for greater freedom of movement of the PANTHAN without raising its power significantly. This also eliminates the problem of the tenth rank stranding.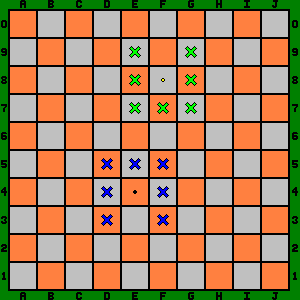 FREE PANTHAN

When the backward diagonal "retreat" movement is used, this opens the file for the opponent. This gives the game a more strategic flavor.


********************
BACK


This site is the product of L. Lynn Smith et al.