THE FLIER or ODWAR OF


"...There be no Fliers in Manator and no piece in their game of Jetan bearing that name. Instead they call him who stands next to the Chief or Princess, Odwar. The piece has the same moves and power that the Flier has in the game as played outside Manator...."(Chapter XVI of the TEXT)
This should end all argument as to the origin of the term 'Odwar'. This was used by ERB to distinguish citizens of Manator from the rest of Barsoom and to place a stigma upon the hero who was passing himself off as a Manatorian.
Some have denied the Odwar the ability to JUMP, no reference to this restriction could be found. But if both players agree to this restriction, no attempt will be made to prevent this. Remember that the game of Jetan is a game of wager and handicapping is an acceptable aspect of any wager.
"...three spaces in any direction, or combination, diagonally, and may jump intervening pieces..."(Chapter II of the TEXT)

"...3 spaces diagonal in any direction or combination; and may jump intervening pieces." (APPENDIX)

At least, both the TEXT and APPENDIX agree upon the direction and the JUMP ability of the FLIER. The following will discuss the STRICT and LOOSE interpretations of the amount of movement.


********************
STRICT INTERPRETATION(CHAINED FLIER or CHAINED ODWAR):

The FLIER must move the entire THREE squares.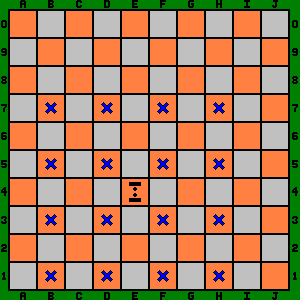 CHAINED FLIER or CHAINED ODWAR
This version offers the opponent the greatest ability to approach the FLIER but its JUMPing ability eliminates any chance of a block.


********************
LOOSE INTERPRETATION(FREE FLIER or FREE ODWAR):

The FLIER may move UP TO THREE squares.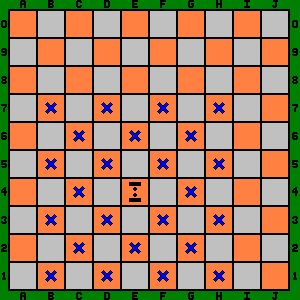 FREE FLIER or FREE ODWAR
This version increases the FLIER's ability to attack and reduces the opponent's approach.


********************
BACK


This site is the product of L. Lynn Smith et al.