Other Countries
Help to maintain and to develop the Indios.Info Project and receive CDs with old and rare digitalized books about brazilian Indians languages.
To each US$ 40 plus postage costs you will receive a CD, at your choice between the available ones.
By lack of space to make available these works in our site, this is the way I have find to hold on with the task of dissemination of the acummulated knowledge by five centuries about Brazilian Indians. As a searcher that at now never have used neither public nor private resources, this help will be very welcome. In the last years, thanks to the word wide web, I have been acquiring rare or not books about Brazilian Indians at book antiquarians of all over the world, as many of these books never had been edited at Brazil or translated to Portuguese, but the buying and postal costs are very expensive, especially the rare ones. Thus, one more time I count with the comprehension and the support of all.
Contact for more informations:

The available CDs are:
- CD1 - Glossaria Linguarum Brasiliensium, by Carl F. P. von Martius [1863]
- CD2 - Vocabulário na língua brasílica, by Anchieta(?) [1621]-[1952]
- CD3 - Dicionário Português-Brasiliano e Brasiliano-Português [1795]-[1934]
- CD4 - Vocabulário Português-Brasílico [séc.XVIII]-[1951] + Catalogo delle lingue conosciute, by Lorenzo Hervás y Panduro [1784] + Mithridates oder allgemeine Sprachenkunde (vol. about Meridional America), by J.C.Adelung [1813]
- CD5 - Nimuendaju - miscellany: Idiomas indígenas del Brasil [Argentina, 1932] + Documents sur quelques langues peu connues de l'Amazone, with Valle Bentes [1923] + Lingua serente [1929] + Zur Sprache der Maué-Indianer [1929]
- There are others in final stage of digitalization. Soon they will be available.
ADVICE
The authors or heirs are the titulars of the eventual copyrights of thesis, dissertations, periodic articles, traductions, etc. that you can be receiving between the contents of the above CDs. These works are only for personal or cientific/educational purposes.
The marketing of all sorts without previous approval by the eventual rights owners is forbidden.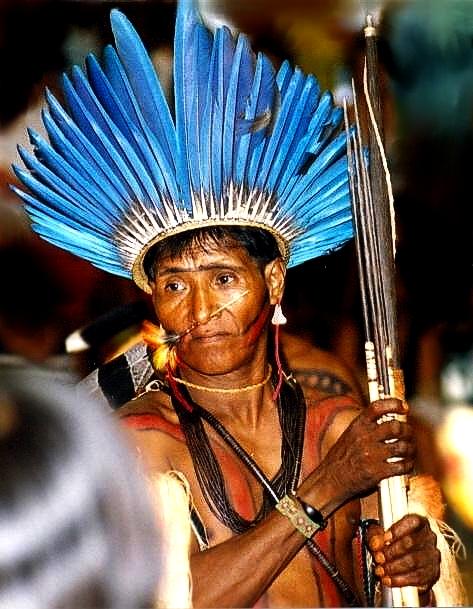 Nambiquara - Foto: Renato Nicolai