--II Back II--
Indian Poets Writing In Hindi
Ajneya, Muktibodh, Shamsher Bahadur Singh, Raghuvir Sahay, Kedarnath Singh, Chandrakant Deotale and others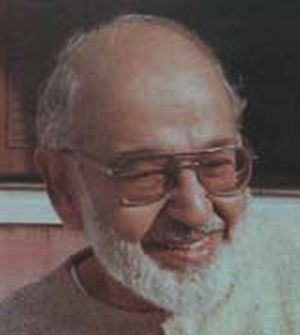 Ajneya / Agyeya (1911–1987) --- Sachchidananda Hirananda Vatsyayan Ajneya is a pioneer of modern trends in the realm of Indian poetry. In literature, Hindi moved from a phase of revivalist cultural nationalism in the 1910s to mainstream Gandhian nationalism in the 1920s and the early 1930s. Over the following two decades Hindi, while firmly rooted in native ground, opened up and responded to various international literary movements by going through phases of Romanticism (Chhayavad, represented by the poets Nirala, Mahadevi Varma etc.), Modernism (Prayogvad, represented by Ajneya and the Tar Saptak poets) and, later, Progressivism (Pragativad, represented by Muktibodh and others). Through these greatly speeded up and therefore sometimes apparently contrary stages of development, Hindi came abreast of contemporary literary trends and movements sweeping the world. Ajneya bought experimentalism (prayogvaad) in the Hindi literature. Tar Saptak was an influential literary publication-series, launched in 1943, associated with a spirit of experimentalism in Hindi poetry, which, in turn, shaped the New Poetry or Nayi Kavita. In the 1950s, Muktibodh was a significant poet, but not very well known. From 1950 to mid-1960s, it was Ajneya who presided over Hindi poetry. The most prominent exponent of the 'Nayi kavita' (New Poetry) movement in Hindi, he edited the 'Tar Saptaks'. Ajneya edited many literary journals and also launched his own Hindi weekly, Dinaman, thus establishing new standards in the field of Hindi journalism. Ajneya has to his credit sixteen volumes of poetry, three novels, travelogues and several volumes of short stories and essays. Amongst the most well-known of his poetry anthologies are Aangan Ke Paar Dvaar, Chakranta-Shila, Kitni Naavon Mein Kitni Baar, Hari Ghaas Par Kshan-bhar, Indradhanu Raunde Hue ye etc. His major prose works include Shekhar : Ek Jeevani. Agyeya was an extensive traveller, and in course of his travels held visiting positions at various institutions around the world. He received numerous honours such as the Sahitya Akademi award, Jnanpith award, Bharatbharati award and the international Golden Wreath award for poetry.

Shamsher Bahadur Singh (1911-93) --- Shamsher Bahadur Singh was born in Dehradun. He was associated with Kahani, Naya Sahitya, Maya, Naya Path and Manohar Kahaniyan, in editorial positions. He edited the Urdu - Hindi Kosh for Delhi University (1965-77). He headed the Premchand Srijan-Pith, Vikram University (1981-85). His poetry-collections include Kuchh Kavitayen, Kuchh Aur Kavitayen, Chuka Bhi Nahin Hun Main, Itne Pas Apne and Bat Bolegi. He received the Madhya Pradesh Sahitya Kala Parishad Tulsi Puraskar (1979) and the Sahitya Akademi award (1977) for his work Chuka Bhi Hun Nahin Main.

Gajanan Madhav Muktibodh (1917-64) ---- Gajanan Madhav Muktibodh's first book was published in 1964, when he was on his death-bed : Chand Ka Muh Teda Hai ( The Face of the Moon is Crooked). Bhuri Bhuri Khak Dhul is another work of poetry by Muktibodh. Kath Ka Sapna and Satah Se Uthta Admi are collections of short stories and Vipatra is his novel. Muktibodh Granthavali ( Complete Works) has been published in five volumes. Muktibodh was the forerunner as well as the culmination of the whole progressive movement in Hindi poetry.
Kunwar Narayan (b. 1927) --- Kunwar Narayan was born in Faizabad, Uttar Pradesh. He received a Master's degree in English literature from Lucknow University. He is a businessman by profession. He has served as Vice-chairman of the Uttar Pradesh Sangeet Natak Academy in 1976-79 and as a member of the editorial board of Naya Pratik ( The New Symbol), a monthly magazine edited by S. H. Vatsyayan, during 1975-78. Among his important works are Chakravyooh (Poetry), Teesra Saptak (Poetry), Parivesh Hum Tum (Poetry), Koi Doosra Naheen (Poetry), Atmajayee (Epic), Akaron Ke Aas-Paas (Short Stories) and Aaj Aur Aaj Se Pehley (Criticism). Among the honours he has received are Hindustani Academy Award, Prem Chand Award, Tulsi Award, Vyas Samman, Kumarn Asan Award and Sahitya Akademi Award (1995). Address : S-371,Greater Kailash, New Delhi 110 048.

Raghuvir Sahay (1929–1990) --- Raghuvir Sahay was born in Lucknow. His was a versatile personality in Hindi --- poet, translator, short-story writer and journalist. He was the editor of the weekly Dinaman. His books of poems include Log Bhool Gaye Hain (They Have Forgotten, 1982), which brought him the Sahitya Akademi Award (1984), Atmahatya Ke Viruddh, Hanso Hanso Jaldi Hanso and Seedhiyon Par Dhoop Hein.

Shrikant Verma (1931-86) --- Shrikant Verma was born in Bilaspur, Madhya Pradesh. He received an M.A. in Hindi from Nagpur University. He moved then to Delhi, where he worked in journalism and politics. In 1976 he became an elected member of the Rajya Sabha, the upper house of the Indian Parliament. During the late 1970s and early 1980s he was an official and spokesman of the Congress (I) Party. He published nearly twenty books in Hindi. His important collections of poetry are Jalsaghar ( The Pleasure Dome; 1973) and Magadh ( 1984 ). His honours include visits to the Iowa International Writing Program (1970-71 and 1978), and the Madhya Pradesh Government's Tulsi Puraskar in 1976.
Kedarnath Singh (b. 1934) --- Kedarnath Singh was born in Chakia in the Ballia District of Uttar Pradesh. He studied at the Benaras Hindu University where he received his Master's degree in 1956 and doctorate in 1964. He taught at various colleges in Benaras, Gorakhpur and Pandrauna, before moving to Jawaharlal Nehru University, New Delhi, as Professor of Hindi in 1978. He retired as the Head of Department in 1999 and was appointed Professor Emeritus by the University. He has published several books of poetry, works of prose, poetry translation and criticism. Among his works are Abhi Bilkul Abhi (Poetry), Zamin Pak Rahi Hai (Poetry), Yahan Se Dekho (Poetry), Akal Mein Saras (Poetry), Uttar Kabir aur Anya Kavitayen (Poetry), Kalpana Aur Chhayavaad (Critical Essays), Mere Samay Ke Shabd (Critical Essays), Adhunik Hindi Kavita Mein Bimb Vidhan (Research) and Pratinidhi Kavitaen ( Selected Poems). He has edited an anthology of Hindi poetry after 1960 for the Sahitya Akademi and has translated into Hindi the poetry of Brecht, Baudelaire and Rilke. In the cultural hub of Benaras, he was associated with the Progressive Writers' Movement. The honours and awards Kedarnath has received include Kumaran Asan Award (1980), Delhi Hindi Academy Samman, Nirala Puraskar, Vyas Samman and Sahitya Akademi Award (1989). Address : A 88/3 SFS Flats Saket, New Delhi - 110017.
Chandrakant Deotale (b. 1936) --- Chandrakant Deotale was born in Jaulkhera, Betul district, Uttar Pradesh. He taught literature in Government colleges of Madhya Pradesh. Among his publications are Haddiyon Men Chhipa Jvar, Deewaron Par Khoon Se, Roshni Ke Maidan Ki Taraf and Bhookhand Tap Raha Hai. Among the awards and honours he has received are Muktibodh Fellowship, Makhanlal Chaturvedi Puraskar and Shikhar Samman.

Dhumil (1936-75) --- Sudama Pandeya 'Dhumil' was born in a village of Varanasi district (Uttar Pradesh). He obtained a Diploma in 'Electrical Engineering' from ITI, Varanasi and worked as an Instructor in the same Institute. Sansad Se Sadak Tak and Kal Sunna Mujhe are two of his poetry collections. Kal Sunana Mujhe was honoured with Sahitya Akademi Award (1979).
Vinodkumar Shukla (1937) --- Vinod Kumar Shukla has more than twenty publications to his credit, including Laghbhag Jaihind (poetry), Vah Aadmi Naya Garam Coat Pahankar Chalagaya Vichar Ki Tarah (poetry), Nauker Ki Kameej (novel) and Perh Par Kamra (short stories). Vinod Kumar is the recipient of several awards including Shikhar Samman (1995), Muktibodh Fellowship, Raza Puraskar, Raghuvir Sahay Smriti Puraskar and the Sahitya Akademi Award (1999).

Ashok Vajpeyi (b. 1941) --- Ashok Vajpeyi was born in Durg. He acquired a Postgraduate degree from Delhi University. He was a civil servant by profession. He edited journals like Poorvagraha, Kavita Asia and Bahuvachan. He was the first Vice chancellor of Mahatma Gandhi International Hindi University. Among his works are Shahar Ab Bhi Sambhavna Hai (Poetry), Ek Patang Anant Mein (Poetry), Agar Itne Se (Poetry), Tatpurush (Poetry), Kahin Nahin Vahin (Poetry), Ghaas Mein Dubaka Akash (Poetry), Tinka Tinka (Poetry), Bahuri Akela (Poetry), Philhal (Critical Essay), Samay Se Bahar (critical essay) and Thodi Si Jagah (Selected Love Poems). The awards and honours received by him include Dayawati Modi Kavi Shikhar Samman and Sahitya Akademi Award (1994) for Kahin Nahin Wahin (Poetry). Address : A4,First Floor, New Friends Colony, Dr.C.V.Raman Marg, New Delhi 110065.
Leeladhar Jagoori (b. 1944) --- Leeladhar Jagoori was a teacher by profession. He has several publications to his credit including Shankha Mukhi Shikharon Par, Natak Jari Hai, Is Yatra Men, Raat Ab Bhi Maujud Hai, Bachi Hui Prithvi Par and Anubhav Ke Aakash Mein Chand. He received the Sahitya Akademi Award (1997) for Anubhav Ke Aakash Mein Chand (Poetry). Address : Jagoori Sadan, Joshiyara, Uttarkashi, Uttaranchl.

Mangalesh Dabral (b. 1948) --- Mangalesh Dabral was born in Kafalpani, Tehri Garhwal. He is a poet, a journalist and a translator. He works with Jansatta, the Hindi daily published by the Indian Express Group. Mangalesh has published several collections of poems including Pahar Par Lalten (1981), Ghar Ka Rasta (1988) and Ham Jo Dekhate Hain (1995). He has also published a travel Dairy, Ek Bar Iowa (1996) and a collection of articles, Lekhak Ki Roti (1998). Awards and honours received by him include Omprakash Smriti Samman (1982), Shrikant Verma Puraskar (1989), Shamsher Samman (1995), Pahal Samman (1996) and Sahitya Akademi award (2000) for Hum Jo Dekhte Hain (Poetry).. He has translated from English into Hindi works of Berlolt Brecht, Hans Magnus Enzensberger, Yannis Ritsos, Ernesto Cardenal, Pablo Neruda, Dora Gaben, Stanca Pencheva, Zbigniew Herbert etc. Travelled and gave poetry readings in Bulgaria, Czechoslovakia and Russia. Visited Iowa city as fellow of International Writing Programme at the University of Iowa. Address : 337 Nirman Apartments, Mayur Vihar I, Delhi 110 091.

Arun Kamal (b. 1954) --- Arun Kamal was born in Nasariganj, Rohtas (Bihar). He is a Professor in the Department of English, Science College, Patna University. He has several publications to his credit, including Apni Keval Dhar and Naye Ilake Mein. He is also the author of Kavita Aur Samay (Poetry and Time) – a collection of literary essays. He is the recipient of Bharat Bhusan Agrawal award and Soviet Land Nehru award. He received the Sahitya Akademi Award (1998) for his poetry collection, Naye Ilake Mein. Address : 4, 'Maitry' - Shanti Bhavan, R. Das Road, Patna - 800004. E-mail: [email protected]

Teji Grover (b. 1955) --- Teji Grover has published several collections of poetry including Lo Kaha Sanbari and one novel, Neela. Teji has translated a choice of Swedish poets into Hindi, working together with the Swedish writer Lars Andersson;The collection has been published by Vani Prakashan (2001) --- Barf ki Khusboo (The Fragrance of Snow). In 1989, she received the Bharat Bhushan Aggrawal Award for young Hindi poets. She lives in Hoshangabad.

Gagan Gill (b. 1959) --- Gagan Gill was born in New Delhi and received an M.A. in English from the University of Delhi. She works as a journalist in Hindi and Punjabi, and has been the literary editor of the Hindi Sunday Observer and the Hindi editor of the Telegraph. Her first work, Ek Din Lautegi Ladaki (The Girl Will Return One Day), appeared in 1989. Other publications of Gagan include Andhere me Buddha, Yah akanksha samay nahin and Thapak thapak dil thapak thapak.

Udayan Vajpeyi (b. 1960) ---Udayan Vajpeyi was born in Bhopal. He is a doctor by profession; teaches physiology. He is the author of several books.
Anamika (b. 1961) --- Anamika, who holds a doctoral degree in Donne criticism through the ages and did her post-doctoral research on the treatment of love and death in post-war American women poets, is a Lecturer in English at Satyawati College, Delhi. She has authored several collections of poems, novelettes and a collection of short stories. Her works include Samay Ke Shahar Mein,1989, Beejakshar, 1992, Anushtup, 1998, Kavita Mein Aurat, 2000 and Khurduri Hatheliyan, 2005. She has also done several translations, including works of Octavio Paz and Girish Karnad. The awards and honours she has received include Bharat Bhushan Award for Poetry (1996), the Girija Mathur Samman (1998), the Sahityakar Samman (1998), the Parampara Samman (2001) and the Sahityasetu Samman (2004).