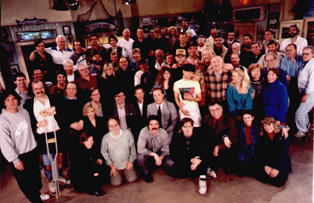 The cast and crew of NBC's "Down Home"
sitcom Stage 27 @ Paramount starring Judith Ivey,
Ray Baker, Gedde Wattanabe, Dakin Mathews,
Tim Baker, Eric Alan Kramer (3rd one from right
2nd row back Blonde w/poni tail)
Shortly thereafter she will spend the next two years on the
Paramount lot. Pretending to be working on "Down Home" for NBC.
Her daughter Nicole by now 4 years old begins spending hours
in the green room with grips and electricians
mowing over racing forms. Nanci puts up with it.
"Hey I needed the money. I mean I had to work. Situation
Comedies are grueling and I didn't really think I was being a
bad mother until Nicole started smoking a cigar and
telling the boys to "F- off!" Good ratings and a
stellar cast placed "Down Home"in the top ten more than once.
Having Ted Danson for a producer was no help
and "Down Home" is cancelled and replaced by
"Wings". For years she would hear the word "wings"
and vomit. She is forced to work in movie
studios on a variety of television series and
motion pictures just to put food on the table
and pay for her health club membership.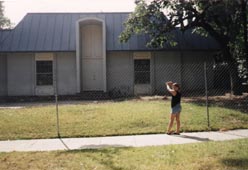 She looks for consolation from her friend Dean Martin,
41 years her senior, they meet working on "Half-Nelson"
starring a then unknown Joe Pesci.
During the craftservice strike she takes a job as
John Gotti's bodyguard in Los Angeles. Two weeks
later Mr. Gotti is sentenced to prison. She continues to work
as his bodyguard for two more years until finally
someone tells her that John Gotti is not in Los Angeles.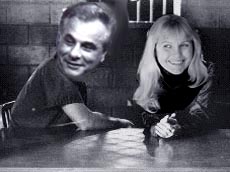 The irony is too much for her to bear.
After a brief stint as Donald Trumps bodyguard in
Los Angeles, it is discovered that Donald Trump is
not in Los Angeles either. This would prove to be a
severe blow for Nanci. She takes the news very hard
and starts drinking carrot juice. After
missing for 5 days her friend Kris Robinson locates
her in an alley behind Mrs. Gooches Health Food
in Hermosa Beach. She is holding a TV guide review of "Wings".

one day Nanci realizes she left her 5 year old daughter
with the grips and electricians on Stage 27. Concerned
her daughter is starting to look like Edward G. Robinson
without legs she frantically returns to Palm Springs to
resume a normal family life. She swears off anything that
has to do with wagering or gambling for good. "I want to
set an example for my daughter, and I give you 2 to 1 that
I can do it."
To pay the rent she turns to coaching other actors. Many
find they cannot work without her support. Confident and
feeling renewed, Nanci decides to resume her own acting career.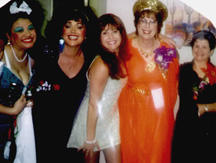 Two years later she lands the role of Viola in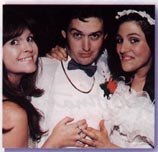 "Joey and Maria's Italian Comedy Wedding" formerly at Fantasy Springs Casino

Marty: Call Nanci!
Now. I can't make a movie unless she
is here to guide me. DeNiro: I know what youse mean.
It's not the same without her.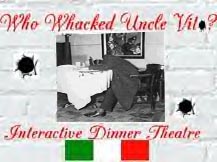 WHO WHACKED UNCLE VITO?