Scolex
Proglottid
-- Immature
-- Mature
-- Gravid
---
---
On the scolex of the parasite, there are four suckers, and two rings of hooks attached to a retractable restellum. They are used to help the worm lach itself to the wall of the intestine of the primary host.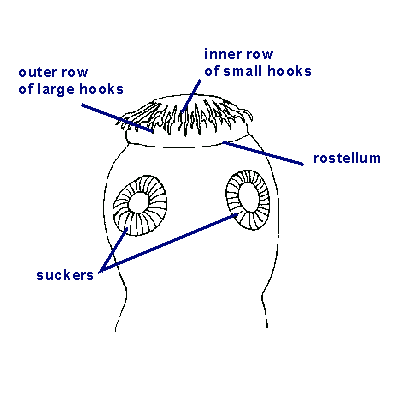 The strobila is made up of segments called proglotidds. It is possible for a tapeworm to have thousands of proglottids. The immature proglotidds are located at the anterior of the worm. They are short and wide, and do not contain differentiated organs. The mature proglottids contain a complete reproductive system (male and female organs) along with an excretory and nervous system. The gravid proglottids, at the posterior, contain the eggs which will infect the new host. The size of the proglotidds increases as they move closer to the posterior.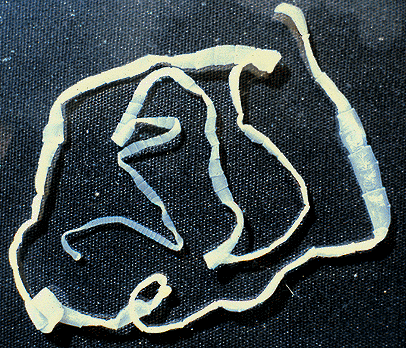 ---
Life Cycle

The gravid proglottids detach and are passed along with the dog's feces
The proglottids rupture releasing thousands of eggs.
The eggs are injested by the intermidiate host (e.g. rabbit).
An oncosphere hatches from each of the eggs and penetrate the intestinal wall.
The oncosphere then travels to the liver through the blood stream.
In the liver the cysticercus developes (2-4 weeks).
The cysticercus burrows out of the liver and attaches to the viscer in the peritoneal cavity
The definitive host eats the intermidiate host.
There, the cysticercus finds itself in the intestine of the the definitive host.
The cysticercus attaches itself to the intestinal wall and begins to develop proglottids.
---
Rabits
Digestive disturbances
Severe liver damage
Death
---
---
Bunamindine hydrochloride
Mebendazole
Fenbendazole
Niclosamide
Praziquantel
Epsiprantel
---
http://www.malteseonly.com/parasite.html
http://www.agric.gov.ab.ca/agdex/600/55-2.html
http://veterinary.ankara.edu.tr/~vatansev/Platyhelminths/Cestodes/Tpisifor.htm
http://cal.vet.upenn.edu/dxendopar/parasitepages/cestodes/t_pisiformis.html
http://www.dnr.state.mi.us/wildlife/Division/RoseLake/Publications/Disease_Manual/CYSTICER.html
http://biodidac.bio.uottawa.ca/Thumbnails/filedet.htm
http://bioweb.uwlax.edu/zoolab/Table_of_Contents/Lab-04/
http://www.science.lander.edu/rsfox/taenia.html
http://www.biosci.ohio-state.edu/~parasite/pisiformis.html
http://www.biology.ualberta.ca/courses.hp/zool352/
http://www.britanica.com/bcom/eb/article/0/
---
This page was constructed by Jennifer Han for Honors Biology, 04-24-00.
I take no credit for any of the images. If you would like credit please e-mail me:
[email protected]