I Loved My Daihatsu Charade Aura CX 1.0 (G100)
My father bought me a Daihatsu Charade Aura G100, a zippy easy driving and economical car I have ever had. The mechanical of this car is very simple. This lead me to further other Daihatsu car owners thus I joined Daihatsu Charade Club of Malaysia.
Since I was an automotive student back then, so it make sense if I search for every information I can get my hands on regarding my car. While surfing the internet, I found this wiring diagram. It's simple but I think it is quite useful when you have a car problem. Hope this piece of information would be useful for all you Daihatsu Charade car owners.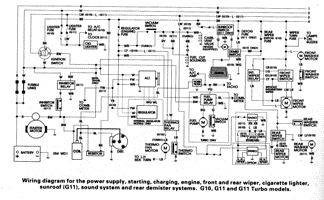 Wiring diagram for the power supply, starting, charging, engine, front and rear wiper, cigarette lighter, sunroof (G11), sound system and rear demister systems. G10, G11 and G11 Turbo models.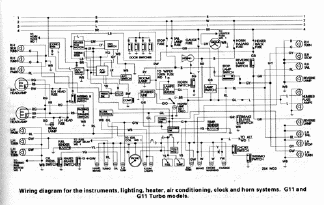 Wiring diagram for the instruments, lighting, heater, air conditioning, clock and horn systems. G11 and G11 Turbo models.