19. august: SALON FOT SURVIVAL = 1000 paintings, objects, foto'z, bicycles, + street FM rave dance all night with beamers, projections, + two weeks of press conferencing and convincing the municipality of the city of Amsterdam: WEETWEE has to stay till the next millenium and do more of total art for future degenerations. If Paradiso - pop tempel van Nederland (squatted in 60'ies) could survive for more than thirty years, OUR SQUAT STAYS F O R E V E R !!! So Patijn should say: y e s ! and we say: leave us alone! we do it for free!


(Here come more of july programme which we didn'tupdate yet) but down is june demo&much more of the confusing history of art in the Leidseplein squatted underheaven areaz...


On the meeting in Aseed-Europe in Amsterdam 3rd of june the activists of amongst others: Aseed, Milieudefensie, Groenfront! and WeetWee-group decided to organise a manifestation at the time of World bicycle conference and festival. This action is the first upcoming as a preparation for COP-6 UN climate congress in The Hague in november 2000. We hope you join the action with full power!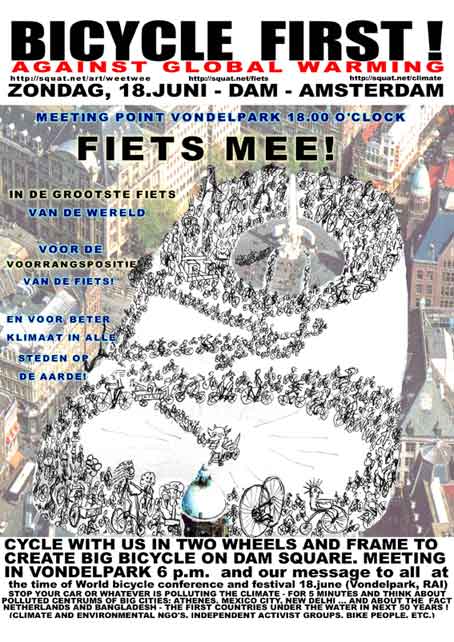 BR> TO CREATE THE BIGGEST BICYCLE IN HOLLAND



At the time of world bicycle conference (Velo Mondiale) in RAI-Amsterdam 18-23.june 2000 and world bicycle festival (ENFB) in Vondelpark 18.june.

We meet at Vondelpark 18.00 o'clock and bike to Dam square where we create two huge wheels cycling on our bikes. + a frame = cycling in a triangle. We are inviting everybody who likes safe cycling in the cities and activists of different NGO's and independent groups, busy with climate, environment, bicycle promotion, etc.

But what we want to say with this act to all planet is:

STOP YOUR CAR OR WHATEVER IS POLLUTING THE CLIMATE FOR 5 MINUTES and think about polluted centrums of the cities: Athenes, Mexico city, New Delhi, ... and the fact that Netherlands and Bangladesh are the first countries under the water in next 50 years. Also the law not only in Amsterdam but also in other countries should change in advantage of people on bikes. Bicycle first!

Come to Fietsfest 2000 in Vondelpark in sunday 18. june and than we go to cycle to Dam!!! Come with your own bike, bike creation, soundsystem, bakfiets, ligfiets, ... Mail us NOW to [email protected], [email protected]and [email protected]




WeetWee is organising on saturday the 17th of june from 3.00 till 8.00 p.m. an opening of exhibition of different self-made bicycle inventions and creations, bicycle installations, photo's of bicycle demonstrations, "bakfietsen" = typical Dutch transport tricycle, bicycle art and crap, bicycle music, bicycle soundsystems, bicycle dragon, dicyclet from ADM and much more!

After the demonstration sunday 18th june you can come to chill-out at WeetWee!

10th june: opening Björn Punk n Roll Expo with paintings, drawings and posters (5 artists), live music, dj's: Bone, Mappe, Ola!!!

---
Last news: Weetwee STAYS at least till the end of the summer hollidays (august). Saturday 3.june opening of expo: Mads colours in oblivien, Jos&co.-bed'n'breakfast, live muziek.


15th may: the last news about one week of tension in WeetWee.

Two hours before the demonstration they were four times calling from the police and city council - they cancelled all building projects and Ida van Brenk from city council responsible for evictions promised that we are not evicted till the end of the summer. After we called our lawyer and got an advice not to demonstrate but to go there with part of our plan - to deliver a painting as our contraversional act 2we decided to do so. We were coming with special bikes, a high bike dragon and in front of the city council they accepted our present a painting of Cees signed with weetwee and "price" 40.000 guilders. They said that on the meeting of city council they will decide where to hang it. (The yearly rent for our 100 square meters big gallery is 80.000 guilders). So, friday 19.may 17.00 p.m. Didgeridoo workshop and jam session with marvelous players from Amsterdam, Australia, etc.

Saturday 20.may 15-20.00 p.m Opening of the exhibition paintings, photo's +live music, Dj's, (Lucienne, Stephan, Saskia, RUMP, Marije, Monique, etc = OUTSTANDING ARTISTS OF INTERNATIONAL FAME! cOME ALONG BEFORE YOU GO TO adm-rADIO 100 PARTY!



OK, NOW ONE DAY BEFORE WE ARE IN TROUBLE PERSBERICHT

060;P> Hallo wij zijn WEE Õt WEE. De alternatieve, multifunctionele galerie en ontmoetingsruimte op de perfecte locatie, Weteringschans 2 (naast Paradiso). Wij bestaan net twee maanden en zijn reeds bedreigd in ons bestaan.

Wat is namelijk het geval?! De gemeente heeft besloten een ondergrondse fietsenstalling aan te leggen. Wij hebben op zich niets tegen fietsenstallingen en zijn zelfs een groot voorstander van de fiets! Wat ons echter wel steekt is het feit dat de aanleg plaats moet vinden in de zomermaanden. Op hetzelfde moment dat het EK 2000 plaats gaat vinden en het toeristen seizoen in vol bedrijf is.

Het zou toch veel mooier zijn als tijdens de zomer WEE Õt WEE kan doorgaan met haar grensverleggende activiteiten. Het bieden van ruimte aan beginnende kunstenaars om hun werk op een kosteloze zichtbare plaats aan de mens te brengen. Plus het organiseren van spectaculaire happenings en manifestaties waar iedereen zich thuis kan voelen.

De afgelopen twee maanden is er al ontzettend veel gebeurd. De ruimte is gekraakt op 12 maart na twee jaar nutteloos te hebben leeggestaan. Binnen ŽŽn week werd de opening gevierd. Hier kwamen meer dan honderd mensen op af. Sindsdien is er elke week iets nieuws te zien. Dit varieert van schilderijen, sculpturen, fotoÕs, kinderactiviteiten, audio en video presentaties, bijzondere fietsen, performances, design-kunst, uitvindingen, straatartiesten, eten, drinken en nog heel veel meer.

De buurt is ook een groot voorstander van de nieuwe invulling die WEE Õt WEE aan deze ruimte heeft gegeven. Horeca, winkeliers en buurtbewoners laten over het algemeen positieve geluiden horen. Daarom willen wij de hele zomer doorgaan met het organiseren van onze laagdrempelige activiteiten. Er zijn al fantastische plannen voor legio fantastische activiteiten, onder andere tijdens Velo Mondial (het wereld-fietscongres en festival van de ENFB). Vele kunstenaars en andere sympathisanten staan achter ons en zullen ons steunen in de strijd om het behoud van WEE Õt WEE. Deze steun zal onder meer resulteren in grandioze kunstzinnige uitspattingen op en rondom het Leidse- en Max Euwe Plein.

Daarom hebben wij een petitie gestart om de bouw in eerste instantie uit te stellen tot na de zomer. Iedereen die WEE Õt WEE een warm hart toedraagt kan zijn handtekening zetten. Tenslotte gaat het erom beginnende kunstenaars die nog niet gevestigd zijn, de mogelijkheid te bieden om op een zichtbare locatie hun werk ten toon te stellen. Veel kunstenaars beschikken niet over de financi'le middelen om in het commerci'le kunstbedrijf te kunnen meedraaien. WEE Õt WEE stelt zich echter op het standpunt dat kunst een entiteit zou moeten vormen die zich aan de kapitalistische logica onttrekt en zowel maatschappelijke gebeurtenissen reflecteert als uitdrukking geeft aan, volgens deze logica, "overbodige" schoonheid.

De ruimte naast Paradiso leent zich uitstekend voor bovengenoemd doel. Wij zullen dan ook alle middelen aangrijpen om deze vrijplaats te behouden en zullen zeker niet zonder slag of stoot deze toplocatie opgeven.

Met strijdbare groet de gebruikers, bewoners en bezoekers van WEE Õt WEE.
---
PETITIE
Hierbij vragen ondergetekenden uitstel van de werkzaamheden die binnenkort uitgevoerd gaan worden op Weteringschans 4, pal naast Paradiso. Er zal namelijk een ondergrondse fietsenstalling worden aangelegd. Dit betekent dat er tijdens de zomermaanden een grote bouwput zal liggen wat uiteraard de nodige overlast met zich mee zal brengen.
WAAROM UITSTEL?!
Alle buurtbewoners moeten met geopende ramen kunnen genieten van de zomer en het mooie uitzicht. Het Leidseplein en omgeving, als cultureel centrum van Amsterdam, zou tijdens het EK 2000 en het verdere toeristische seizoen, niet te lijden moeten hebben van bouwwerkzaamheden, maar juist meer moeten bieden. Daarom moet de multifunctionele galerie "Wee Õt Wee" zonder belemmering van een bouwput voor de deur door kunnen gaan met haar alternatieve activiteiten! WIJ WILLEN UITSTEL VAN DE BOUW TOT NA DE BOUWVAKANTIE!!
Voor meer informatie belt u naar: 06 273 237 20 of email: [email protected]
---
bUT AT FIRST: COME TO DEMONSTRATION AGAINST EVICTION OF WEETWEE IN jUNE AND FOR POSTPONING OF THE BUILDING OF UNDERGROUND BICYCLE STORAGE TILL THE END OF THE SUMMER: MONDAY 15.MAY 2.00 P.M. IN FRONT OF OUR GALLERY - wETERINGSCHANS 2 (NEXT TO pARADISO-LEIDSEPLEIN). wE NEED YOUR SUPPORT!
, namely last week (AFTER LONG TIME ASKING IN DIFF. INSTITUTIONA WITHOUT SUCCES)we have got an information in the municipality of the city, that they want to start building an underground bicycle garage next to our squatted gallery. And they want to begin monday 15. may with installation of transformers, telephone cells, water and electricity cables. So dig all around in front of our place. But they at first didn't give us proper information but only a copy of building permition which was accesible only to people who were complaining about project 5 years ago!!

The finnaly showed us for a minute a termin plan (they didn't want to make a copy but we got a copy of a drawing where we could see that our windows and place is totally baricaded with a fence!!! ???) and there was: They want to put in our place headquarters and tools of compamy which should dig a 50 meters long and 3 meters deep bicycle garage next to us. And the date: 15 of June !!! So it means that we should be evicted!!! In time of European football championships ? And the mayor of the city announced in all media that there is no evictions during the summer. Snicky plans - or no what (anyway there were in last time two squats evicted with normal police actions without riot police forces. So what can we expect - our gallery has very big glass windows - it is a real aquarium.

Well, when we mentioned that our lawyer said that all the information is public, the dominos were falling.

Tuesday night we wrote our press release with petition (it was sent by fax to all political parties and media) to postpone building of this underground garage, because it will totally polute the neighbourhood of Leidseplain with noise of machines, trucks, etc. and all cultural centrum next to Paradiso will suffer during the summer. And look ugly! We announced also that we are organising a demonstration from Weetwee to the city council at the day of the beginning of their activities 15.may.

In the meantime we collected a lot of signs of the people, neighbours, visitors and squatters and artists, musicians, ... We are flyering all the squat scene, to get support, etc.

Tomorrow we have in the (saturday, 13.may) afternoon next event - opening of the exhibition - paintings-RAV,Sandra,fotos-Orly,Veganfood-Koji,lamps_Kaori, Music-Son of a didge, but monday we expect you all to go together to the city council to bring our petition: WE WANT TO STAY TILL THE END OF THE SUMMER AND PROGRAM A VERY BIG LOT OF EVENTS AND ARTISTS FROM ALL CULTURAL BREEDING GROUNDS... FOR F R E E DURING THIS TIME. wE HAVE MAY PROGRAMME PACKED(A LOT OF SPECTACULAR FUN COMES UP) + IN JUNE BICYCLE WORLD CONFERENCE IN aMSTERDAM AND BIC. FESTIVAL (!!! LOTS OF IDEAS AND NICE PLANS.. AND MORE sORRY I'M TIERD NOW(i DIDN'T HAVE ENOUGH TIME IN LAST WEEK TO UPDATE OUR SITE. SO THIS IS JUST BRIEF LATE FRIDAY NIGHT BRAINSTORMING (SORRY) hERE IN ACADEMY oVERTOM 301 THE DISKETTE STATION DOESN'T WORK SO i COULD NOT PLACE HERE THE PETITION, PRESS RELEASE ETC. cOMES TOMORROW. pLEASE COME MONDAY BRING YOUR SIGNED PETITIONS WHICH WERE PUBLISHED ALSO IN gRACHTENKRANT...tHANKS, wEETWEE ART'N'TRASH JUNKS
---
mail to:

[email protected]