Bethesda Lodge is 150 years old
On August 27 Bethesda Lodge of Valparaíso, Chile, turned 150 years. Bethesda Lodge, is the oldest acting Masonic Lodge in Chile, and the oldest US Masonic Lodge overseas. The celebration took place on 11 October 2003 at the Masonic Temple of Wagner Street downtown Valparaíso, with an attendance of near one hundred Brethren from this city, Viña del Mar and Santiago. It is worth noting at the celebration the presence of the Grand Master of the Grand Lodge of Chile, Grand Wardens and Grand Delegate.
Some Views of the Event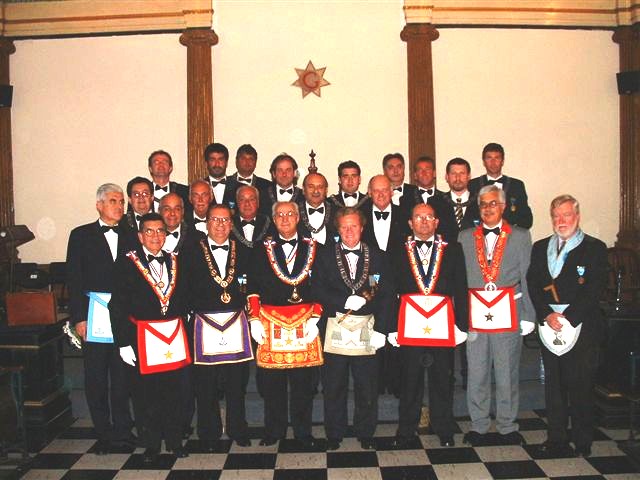 First Row (L to R): RW Emilio Morgado Grand SW G.L. Chile, RW Daniel Cerda, DDGM for Chile District G. L. Massachusetts, MW Jorge Carvajal, Grand Master Grand Lodge of Chile, Wor. John R. Enos, WM Bethesda Lodge, RW Julio Hernández Grand JW G.L. Chile, RW Gabriel Zamora DDGM G.L. Chile for Viña del Mar, Wor. Ronald Hoehmann, WM Lessing Lodge Nº 90.
Second Row (L to R): Wor. Jorge Cifuentes, WM Huelén Lodge; Bro. Rodrigo Oliver; Bro. Alonso Nuñez; Wor. John H. Murdoch; Wor. Enrique Cañas; Bro. Rubén Scheihing; Wor. William Buxton; Wor. Francisco Casas.
Third Row (L to R): Bro. Enrique Johow; Bro. Claudio Stuardo; Bro. Guillermo Delgado; Bro. Pablo Bilbao; Bro. John J. Enos Jr.; Bro. Thomas Gallardo; Bro. Thomas Jackson; Bro. Andrés Guarello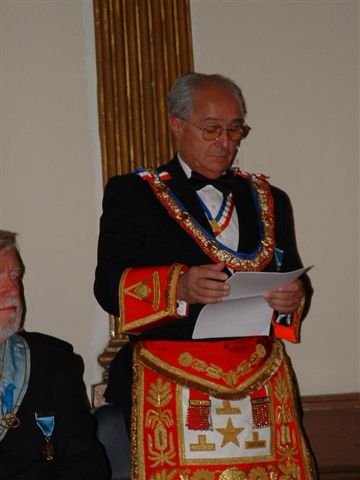 GM Jorge Carvajal of the Grand Lodge of Chile reading his greeting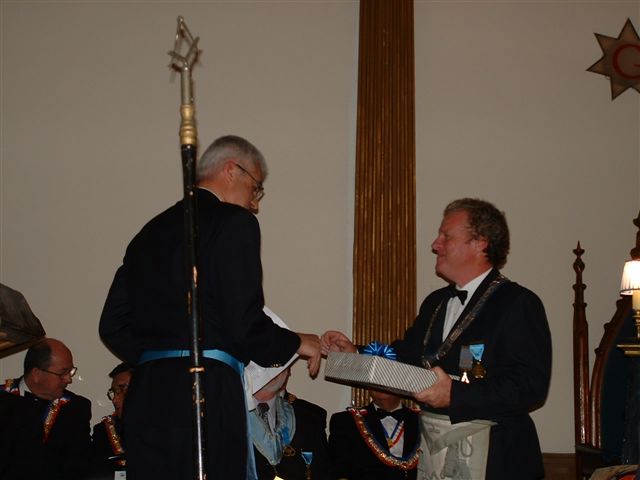 Wor. John Enos receives Huelén's present from Wor. J. Cifuentes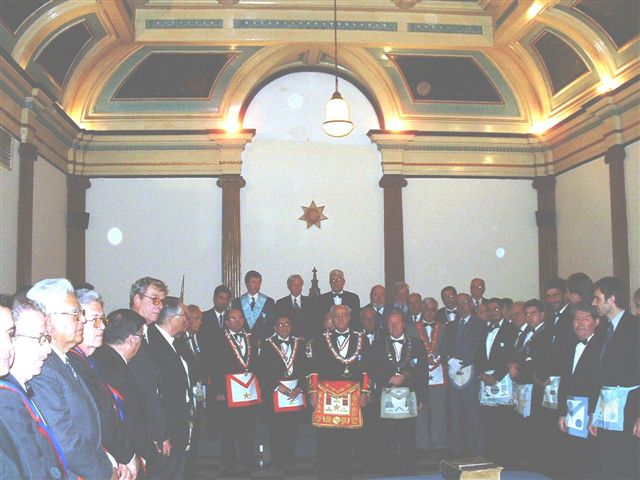 End of the communication
Speech pronounced by our WM on behalf of the Correspondent Lodges in Chile
Worshipful Master,
Gran Maestro de la Gran Logia de Chile,
DDGM of the Grand Lodge of Massachusetts,
Brethren,

It is an honor and a pleasure for me to greet Bethesda Lodge on their 150th Anniversary on behalf of the correspondent Lodges within the Chilean territory. The correspondent Lodges operate under Grand Lodges of foreign countries with which the Grand Lodge of Chile maintains fraternal relations. Three Grand Lodges are tonight here present: The Grand Lodge of Massachusetts, The Grand Lodge of England, and The Grand Lodge of Scotland. The Grand Lodge of Massachusetts represented through Huelen Lodge, Santiago and St. John's Lodge, Concepción (headed by their Master Wor. Claudio Roa) The Grand Lodge of England represented through Lodge of Harmony 1411 (headed by their Master Wor. Germán Buchheister). The Grand Lodge of Scotland represented through Britannia 1033 (headed by their Master Rt. Wor. Catone Nicoreanu).

The correspondent Lodges are indeed a minority within the country, and our presence has diminished dramatically during the past decades. Nevertheless we are still here to demonstrate that the Masonic energy abounds in our Lodges and our various rituals and insignia still serve to establish common ground and shared values across language and cultural differences, without leaving aside that Freemasonry advocates the individual's right to think for himself, pursue truth through science and the arts, and take responsibility for the welfare of society through quiet acts of charity.

Bethesda's 150th anniversary is a paradigm for the correspondent Lodges, because of their endeavors, which have been ceaseless during this century and a half, comprising remarkable fraternal actions, both within the Masonic and the profane world. This important anniversary makes us proud for the diligence of our Brethren from Bethesda, and also makes us happy for being here tonight, in this wonderful and cozy Temple, where fraternity and brotherly love reign as usual, with the different aprons that we see with enjoyment, demonstrating that Freemasonry is the same no matter what ritual is performed.

Brethren of Bethesda: happy 150th anniversary.