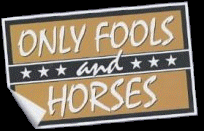 'Ere, these pages are for lack of education purposes 
                                 only. If you decide to five-finger discount any of these 
                                 pages for your own hooky sites, at least try an' give us 
                                 a mention, will yer?'

                                                                   Bonjour. Derek Trotter 
                                                                       President (T.I.T.)




Only Fools And Horses ™ & © The British Broadcasting Corporation (B.B.C). All Rights Reserved.

© 2002 This page owned and maintained by Maverick Scripts. Virginia. U.S.A.