ORIGINS OF THE HKBAC

Vice-President Paul Gianniotis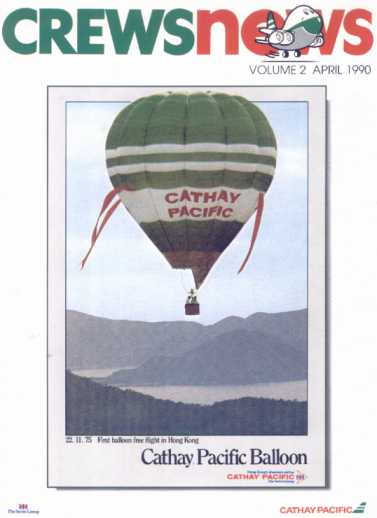 Legend has it that one of my forebears by the name of Icarus took to the skies and laid claim to being the first man to fly. That little gem of mythology however, was superceded just over 200 years ago when two French-men achieved man's first ever flight. On 21st November 1783, the two intrepid aeronauts were airborne in a Montgolfier hot air balloon for 26 minutes and travelled about 5 miles across Paris.
Gas balloons quickly followed, then airships and the whole advent of lighter than air flying machines lasted until the outbreak of World War II. It was not until 1961 that the hot air balloon made its reappearance in it's modern form in the United States, and today there are over 8,000 hot air balloons flying in thirty three countries around the world.
The origins of the H.K.B.A.C. began in 1974 when Captain Geoff Green ordered his own balloon from Cameron Balloons in Bristol, U.K. Just by pure coincidence it happened to be n the colours of Cathay Pacific, and for good measure he asked for the Cathay Pacific logo to be added!
The balloon made its inaugural tethered flight in Hong Kong at the then Cricket Club oval in Central, now presently Chater Gardens. "Cathay I" was registered as G-BCNS and over a period of 12 months, the company saw the advantages of the balloon as a pubIic relations vehicle and reimbursed Geoff with the purchase cost
This balloon saw the formation of the Cathay Balloon Group as it was then known, and was the forerunner of a grand total of four Cathay balloons over a period of 12 years, Geoff being the first President and Nev Edwards (now in Australia) the Secretary.
Cathay I was in great demand all over Hong Kong for promotional tethered flights, appearing at KGV school, the Ghurka Fete at Sek Kong, Victoria Park, and many other venues, delighting the crowds and receiving extensive media coverage for the company. However, a balloon in free flight can be the most exhilarating and rewarding experience and this was being thwarted by the C.A.D., which intimated that "that contraption would never free fly in Hong Kong". The C.A.D. did not reckon with Geoff Green's winning ways, and on 22nd November 1975 Cathay I made its first historic free flight from Sai Kung to Pik Uk. To commemorate this flight, the company printed several hundred posters, (see main picture). On board with Geoff was F/E Ron Taaffe (now with Qantas) and a bewildered representative of the C.A.D. (Knowing Green, the poor devil may have been hand-cuffed to the basket.) Cathay's Tokyo office saw the advantages of the balloon for promotional purposes and purchased their own in July 1975, becoming Cathay II, registered G-BDGJ. Training flights were conducted in Waterase north of Tokyo, and it was here that many of our club rnembers built up tleir hours to licence standard. It is here that I would like to mention some of of our early balloon crew members Gary Ogg, Dave Allen (F/E), Adrian Bayley, Mike Bradley, the late Martin Bridge, Nick Dunsford, Adam Takach and many other names that made up our membership, while Ron Taaffe who became our second licensed pilot, also carried Out C of A inspections on the balloons.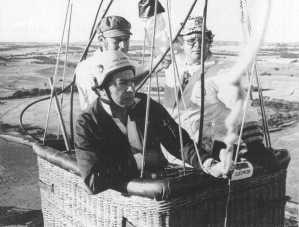 West Australia with Paul Gianniotis, Barry Bristow-Stagg and Adrian Clements
During this time, Swire Bottlers "got into the act" and ordered their own Coca Cola Balloon registered G-BEEN, followed in 1978 by Sprite, G-COOL. Our stable of balloons was starting to grow with another addition, promoting Shell products, registered G-SHEL, and it as about this me that the name Cathay Balloon Group was changed to HKBAC, the club Patron being Sir Denys Roberts, the then Chief Justice of Hong Kong.
In the meantime Cathay I was in great demand for promotional flights and was invited to attend various venues the region, making appearances in Brunei, Manila, Western Australia, South Australia, Singapore, Malaysia, Jakarta, and South Korea. In Malaysia, it was tethered on the roof of the Kuala Lumpur Hilton to promote the Mohammed Ali vs Joe Bugnor fight in June1975.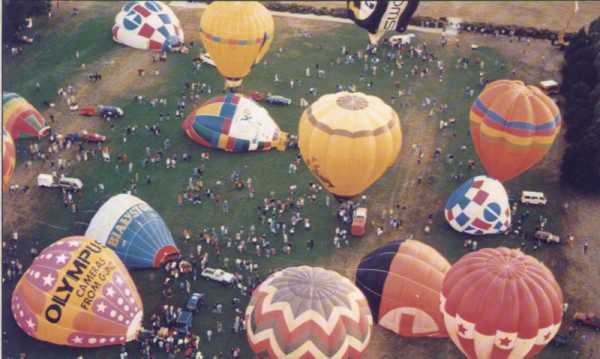 Preparing for launch in Canberra
Flying with the famous
Our Korean adventure was quite fascinating when the Cathay balloon stared in a film with Rolf Harris and Ruth Buzzi (of the TV 'Laugh-ln series"). This took place in July/August 1976 with initial location in Sydney then South Korea. The script began when an aborigine boy stowed away in "an aircraft" piloted by Rolf Harris, which landed n different countries, and finally in Korea, giving the young lad an opportunity to experience cultural exchanges with children his own age. The balloon added more romance to the story and so replaced the aircraft in the script, and we were soon in the film-making business.
The flying sequences around the Korean countryside were not easy and during one free flight, a South Korean army spotter plane became airborne to investigate a reported "mysterious green and white flying object that was sent from the North". The spotter plane circled the balloon and directed a convoy of military vehicles to the area. In the meantime, Geoff Green dressed as Rolf Harris, beard, glasses and all was confronted with thermic winds and had difficulty in finding a suitable landing place. We were soon on the chase, and finally found him becalmed over a rice paddy. With just a moments hesitation, Adam Takach waded in and pulled the hovering balloon to one side.
Whilst others in the group tried desperately to hold back the hundreds of onlookers who were by now tramping underfoot, vegetable plots and other crops. The origins of landing fees in aviation had now become apparent, as we dished out several thousand Korean Won in compensation to the farmer.The equipment was hurriedly packed up and hauled to the roadside, Only to find the Korean army waiting for us. Geoff Green's fake beard and glasses now added nicely to the spy theory, and he was promptly arrested and whisked away for interrogation shouting Don't shoot you fools, I'm British!! Who needs to save Geoff Green you may ask, so we left him to his fate, finding him sometime later at a roadside inn, still dressed as RoIf Harris drinking beer with the spotter plane pilot. Production of official documents had saved the day.
Special achievements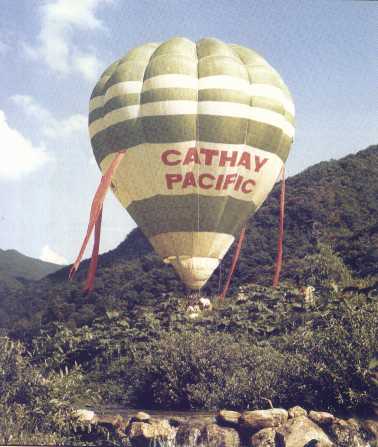 The club became involved in many special flights and events including the first flight of a balloon, and the first ever release of a hang glider from a balloon over Mt. Fuji. For this, the club needed a larger balloon and Cathay III was ordered by the company in 1976. This became the first and only balloon to be registered in Hong Kong VR-HHO), and its photo now hangs proudly in the Swire House Hall of Fame, with al the other CX aircraft from Betsy and the Catalina onwards.
Cathay I and Cathay III continued to be displayed locally and worldwide Cathay I was tethered in Hyde Park London, during the Queen's Silver Jubilee Celebrations in July 1977, and played host to HRH Princess Alexandra. It then took part in the World Balloon Championships at Castle Howard in York. Cathay Ill went to Seattle and was tethered next to VR-HKG, our first 747 on roll out at Boeing Field in late July 1979. Cathay II continued to be flown in Japan, but appeared briefly in Hong Kong, which allowed all three balloons to be photographed together for the first time at Sek Kong airfield.
Once the C.A.D. had softened its attitude to our free flight operations, we were given a permit to free fly in the Sai Kung area In the late seventies, a considerable amount of free flight did take place. Some pilots however, did not quite get it right, necessitating a helicopter retrieval from the hills; and could possibly be the subject of other interesting Stories in Crewsnews!
Early in 1981, saw the arrival of the club's first hot air airship, a Cameron D-38, sporting the logo of every new joiners favourite beer - San Miguel The registration was G-SMHK.
Records tumble
A hyperactive club never gathers moss, and from 1977 - 1980 we turned to record breaking and no fewer than seventeen national or world balloon records were set or broken by members of he HKBAC. Ron Taaffe had set Australian national records in the AX6 Class for Height, Distance and Duration. Geoff Green, the worlds Absolute Distance Record in the AX9 class, and myself the first world record for Australia in the AX4 Class for Distance. All world records were ratified by the Federation Aeronautique Internationale in Paris. The FAl is the world body governing all aviation records.
Appreciation
There were many club members who were involved in club activities, some even non-Cathay crew. For those people whose names I have omitted to mention I offer my apologies, and would add that their efforts were always greatly appreciated. For services to ballooning, Geoff Green was awarded the Royal Aero Club's bronze and silver medals by HRH Prince Charles, a fitting tribute to the person who pioneered our club from its humble beginings, and who was its President for the first ten years.
Postscript - circa 1990
The HKBAC is alive and well today. All three original Cathay balloons have been retired and for one brief period it looked as though the club's long association with the company through ballooning was going to pass into history, then Bingo Cathay IV was born, sporting the cornpany's new logo "Arrive in Better Shape" appropriately registered G-CXCX. Mike Bradley had become the second President and through his untiring efforts the club activities continued to go from strength to strength.
As has been chronicled in Cathay News over the last 5 years, Cathay IV has appeared in Rome, Frankfurt, Saga, Luxembourg, Bristol, San Francisco, Vancouver, Toronto, Canberra and China and will be heading for Leningrad in May. With "T' Block coming on line and with the possibility of Cathay V looming on the horizon for the start of the nineties, we will be bidding for our own Fleet Manager's office (Balloons) on the 10th Floor. How about it Paddy?