---
---
---
Flight season: late June to late September.

Population: common. Found near marshes and slow water areas of local rivers. Often forages in meadows a good distance from water.

Length: about 30 mm to 35 mm. Best separated by the hamules (males) or subgenital plates (females).
---
---
Tweed, Ontario, the Moira River, near the walking bridge and dam:
rock-bottomed river with fast flowing water, rapids and emergent rocks, but also quiet pools and backwaters. The shoreline vegetation is mostly trees with a few small clearings supporting tall grasses and wildflowers.
Male Cherry-faced Meadowhawk (Sympetrum internum) – both males and females of this species resemble the Ruby Meadowhawk. As a rule the face is greenish-brown rather than "cherry" (September 08, 2009).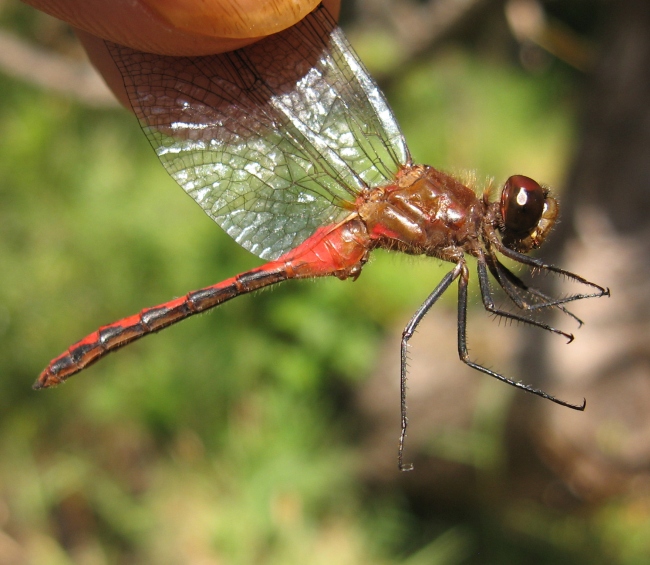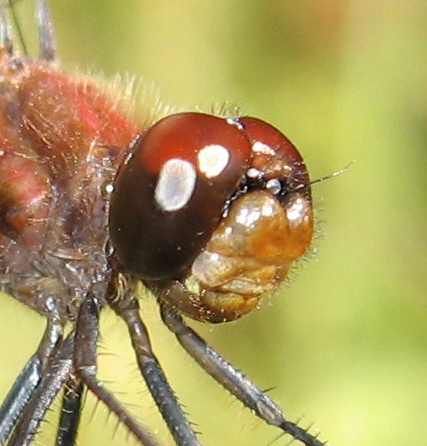 The immature males begin their adult lives patterned in orange and black and looking much like the young females (see Ruby Meadowhawk), later turning red with maturity.
---
---
East of Tweed, Ontario, near the intersection of Lajoie Rd. and the trans-Canada Trail:
a shady wooded area, with clearings both natural and created by the trail supporting grasses and wildflowers, the lagoon lies nearby to the northwest.
Female Cherry-faced Meadowhawk (Sympetrum internum) – subgenital plates are divergent at the tips (July 20, 2014).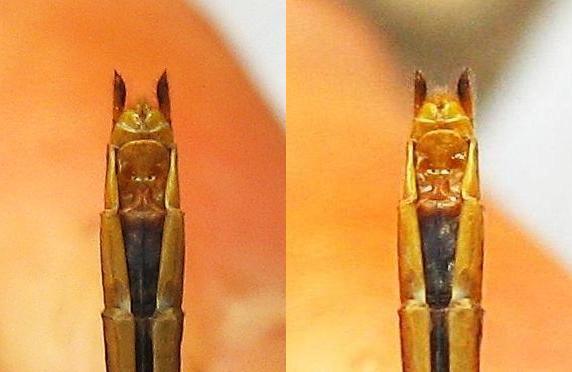 ---