NICKNAME:
Dixon




Current Rank

5


Last Rank

7

Last Challenge

Pete Walrath

Result

Loss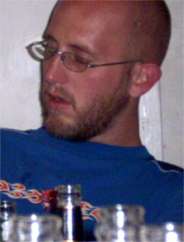 Bio:

Dixon is always ready to play. Can count on him to come through in a pinch for a well needed delivery. After all...he's a UPS man isn't he...

Has the ability to drink himself to oblivion. Must be good friends with Alex. Which isn't good for their games.

Dixon has a damn hard shot. Great angle shots off the boards.