The crash of a B17 near the Ghedi aerodrome

Testimony of Costante Belletti, former fighter pilot:

17th August 1943: I was on duty at the airport and, having carried out a night duty, I was about to enjoy a full-day rest. Rest that was established by the regulations and that I began in bed towards 8 AM to wake up at 3 PM. Well rested, I woke up without being very surprised in seeing that the dormitory, which I shared with a dozen of comrades, was completely empty. A wash under the fountain and out in the paths of the airport. To my great amazement there was no one around, not a noise that demostrated the life throbbing in every airfield, not an aircraft. I went to the nearest hangar, where usually, noise is a constant characteristic because there work many technicians employed in the maintenance of the aircraft. Here, too, deathly silence and human desert. Had maybe everyone escaped? And why? I was seized by such anxiety that it is difficult to explain with words. I felt in a state of agitation among dream and reality, dazed and without any reaction. Still today I relive that situation like in a thriller. To shake me and take me off that state of inertia there came a far airplane drone. Instantly, I drew my eyes towards the part of sky from where the sound came. Other turn of events that completed my state of agitation, grazing terror: that airplane is neither ours nor the Germans', it is no less than a Flying Fortress... If any "heroic" thinker believes that in that moment of tremendous solitude I was proud of the situation and I wanted to realise the manly purposes of Leopardian memory "...The arms, here the arms: I alone shall fight, I alone shall stand..." would be grossly wrong. I was anything but a winged sentinel of the Country at war; I felt mean and mortally inert: a small David without any sling in front of a heavily armed Goliath. The American four-engined bomber advanced slowly, while inadvertently, my brain noticed that the engines revoluted regularly, but not at full speed, that the airplane was too high to land and as much as low to make a proper bomb drop. My tension attenuated a wee bit when the Fortress flew over the northern part of the airfield and, after about a minute, crashed and burned on the hills near Brescia. Eventually I could see two colleagues: Ugo Conforti from Reggio Emilia and Dante Brini from Bologna (both still living) that, seen my pallor caused by such fright, with half-concealed boldness, quickly informed me of the fact. Brini spoke first: "All the airport personnel has gathered on the main square, waiting for the lorry that should carry the whole crew of the Flying Fortress. The crew, after a fight with German aircraft, seeing that the aircraft was heavily damaged and that it could not fly any longer, baled out near Montichiari". I "took off" immediately towards the square and I got there in the very moment when the Command was taking over the whole crew. I exchanged few but reassuring words with Piero Piccio and Amleto Mazzotti, the freshly nominated Pilot Officers (or 2nd Lt's) from the Caserta Academy (now both retired Generals). What a relief to findd myself among so many fellow airmen! I learned other particulars from our direct commander, the multi-decorated Captain Renzo Rovetta. A crewman was slightly wounded and soon received assistance from Flight Off. Luigi Messini (recently passed away) who, in the morning had flying activity and in the afternoon, having a medical degree, did health service both in the airfield and in the nearby town of Castenedolo. There are many people in Italy that consider the number 17 unlucky, but to me it brought no disgrace, it only restricted itself to giving me a great fright that I remember even after 58 years!!


CREW #14 A/C #42-3232 "FLAK HAPPY" MACR #676
| | | | | |
| --- | --- | --- | --- | --- |
| 1ST LT RONALD W. HOLLENBECK | P | POW | 17-AUG-43 | REGENSBURG |
| F/O JOHN L. WILLIAMS | CP | POW | 17-AUG-43 | REGENSBURG |
| 2ND LT HAROLD L. WEINTRAUB | NAV | POW | 17-AUG-43 | REGENSBURG |
| 2ND LT ZEAK M. BUCKNER, JR | BOM | POW | 17-AUG-43 | REGENSBURG |
| T/SGT RUSH S. MINTZ | TTE | POW | 17-AUG-43 | REGENSBURG |
| S/SGT ILLIAM A. ROUSE | WG | POW | 17-AUG-43 | REGENSBURG |
| T/SGT EMILE A. REIMHERR | ROG | POW | 17-AUG-43 | REGENSBURG |
| S/SGT JOHN Q. PACIOTTI | BTG | POW | 17-AUG-43 | REGENSBURG |
| S/SGT GLEN H, KEIRSEY | WG | POW | 17-AUG-43 | REGENSBURG |
| S/SGT THOMAS E. FLOUNDERS | TG | POW | 17-AUG-43 | REGENSBURG |
CRASHED NEAR GHEDI, ITALY, THE ENTIRE CREW BAILED OUT SUCCESSFULLY AND WERE TAKEN PRISONER BY GERMAN AND ITALIAN TROOPS.
On the Regensburg mission, this crew was flying as left wingman to Norm Scott and "Bucky" Cleven who led the low squadron. Bennie Demarco was flying as right wingman and gives this account:B 17 #232 was hit in Bomb Bay and jettisoned its bombs fifteen minutes before the target. The bombs fell in a wooded area. It stayed with formation until we circled at Verona to pick up stragglers where it continued on Route alone. No. 4 engine feathered as aircraft pulled away. It appeared that one of the crew was injured and was being worked on in nose of aircraft. It is thought that this aircraft may have landed in Sardinia.
Glen Keirsey was taken prisoner but eventually escaped and made is way back to England. On 22 June 1944 in a statement to Military Intelligence Service ETO Glen gave the following statement:
On August 17, 1943, at about 1300 hours near Ghedi, Italy and at approximately 3000 feet I bailed out. The ship had #3 and #4 engines shot out the former was wind milling. The entire crew bailed out safely and the plane crashed into a mountain. The enlisted men all escaped from Camp 54, but Reimherr, Mintz, Paciotte and Flounders were soon recaptured. Rouse was not recaptured until 27 February 1944.
A 1979 letter from Bill Rouse reads as follows:
August 17, 1943 (Regensburg),we were low squadron trail group. We made it over target, one engine out, badly shot up. We tried to go on to North Africa. We could not keep up with formation. All alone we tried for Switzerland. We were forced to bail out as we were unable to make Switzerland. We bailed out as soon as we cleared down to 3,500 feet over Milano, Italy. All of the crew were able to get out. We were picked up by German and Italian troops. I ended up in Camp 54 (POW) then escaped. I was picked up six months later and sent to Germany. I finally escaped in April 1945 and went back to England. I stayed in the Air Force for over 30 years and retired at Eglin A.F.B. Florida.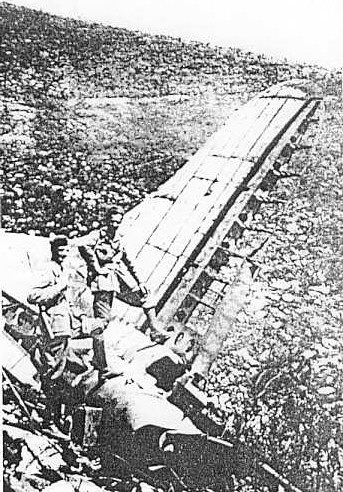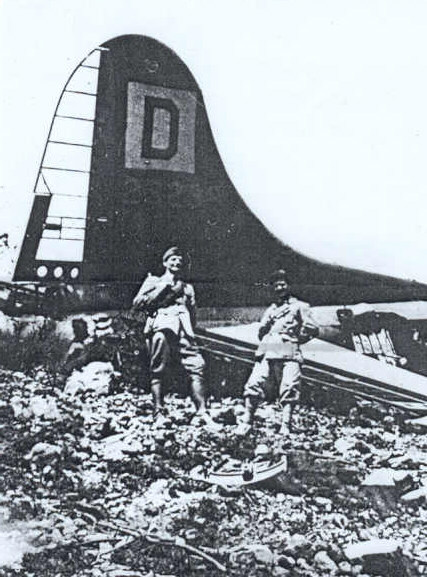 Many thanks to Costante Belletti and Lodovico Galli for giving me the material to build this page and to the Webmaster of the "100th BG.com" website for lending me the additional photos and info about the crew.

BACK TO INDEX