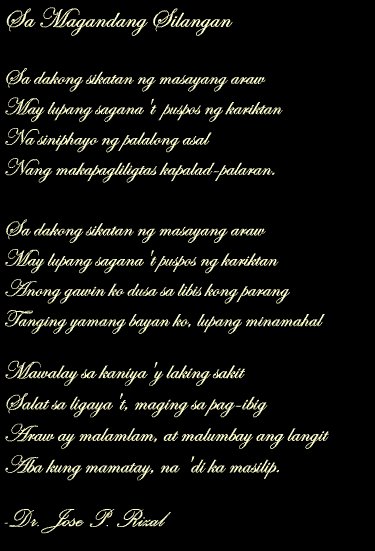 In the Beautiful East

Where the joyful sun rises
Lies a land abundant and full of beauty
That is oppressed by a proud character
From which we long to be free.


Where the joyful sun rises
Lies a land abundant and full of beauty
Whatever suffering I must endure
My only treasure is my country,
the land that I love.


To be parted from her is such pain
Wanting in joy and in love as well
The sun is dim, the sky is in sorrow
What a pity to die without seeing you.
Dr. Jose P. Rizal
Undated

SA MAGANDANG SILANGAN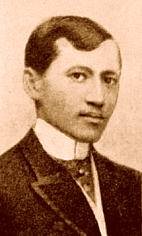 Sa Magandang Silangan - also known as Sa Dakong Sikatan- is another of Dr. Jose Rizal's poems, En El Bello Oriente, which was set to music. Dr. Rizal himself translated the poem into Filipino and these lyrics were later set to music in 1898 by Pedro Gatmaitan Santos.
The song speaks of a beautiful land in the East, so beloved by the lyricist that "the sun would grow dim and heavens would grieve" if he were to die without glimpsing her once more.

This Kundiman was said to be one of the favorites of Gen. Gregorio del Pilar, the "Boy General" of the Filipino revolutionary forces. It was part of the celebration following his freeing of the town of Bulacan, Bulacan on June 24, 1898. It was sung by young children, one of whom - Anita - was the youngest child of patriot journalist Gat. Marcelo H. del Pilar.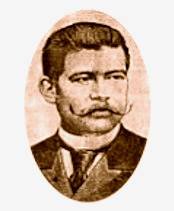 Marcelo H. del Pilar was one of the great reformist. He wrote articles in "La Solidaridad," the mouthpiece of the propagandists, as well as pamphlets which spoke out against the forces that stifled freedom and progress in the Philippines. He was master of the Tagalog language and, with it, he sounded the call for the Filipinos to act as a unified people.
In 1882, del Pilar founded the nationalist newspaper "Dyaryong Tagalog" in which he wrote extensively of patriotism and the sad state of the country. Having finished a law degree, he also campaigned against the abuses of the friars. But since there was no freedom of speech and of the press at that time, he was imprisoned for a month.
In 1878, he married his first cousin, Marciana - lovingly known as "Senyora Chanay" - by whom he has several children, with only Sofia and Anita, the youngest, surviving. On August 30, 1901, "Nyora Chanay, by then Marcelo's widow, sang Sa Magandang Silangan in her husband's memory on his birthday.

Music materials and informations researched and provided by Ian-James R. Andres KSA, 2004