Brand: Carabine Performance Longboard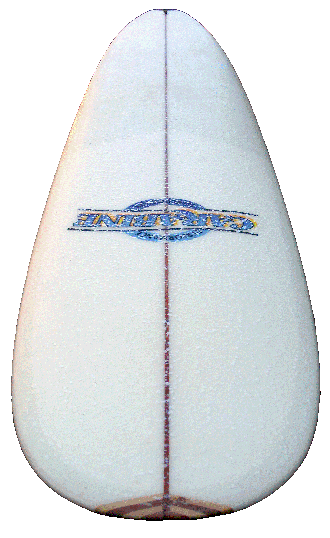 Dimensions: 9' 6" x 22 1/2" x 2 3/4" x 18" x 15 3/8"
Rails: Classic 50/50 soft rails (elliptical) glassed with Volan cloth.
Tail: Square complete with wooden tail block to match nose block.
Fin setup: Traditional single fin, currently using a Fluid Foil dolphin fin.
To put it simply, its a 1960's style single fin mal. Volan deck patch laps, ceder stringer complete with wooden nose and tail block.

Shaped by Terry Bishop (snake) and glassed by Mick Carabine. Micks glass work is spectacular! What can I say, you really need to see and feel the quality of his work to understand how beautiful his boards are. Unfortunately Mick Carabine does not have a website where examples of his boards can be found. If you like longboards and are passing through Wollongong, be sure to drop in to have a chat.
Carabine Surf Designs
36 Flinders Street
Wollongong
NSW 2500
Australia

Phil Way from Fluid Foils stated that there fins "are hand foiled from a panel of fibre glass. They are individually marked out and cut to shape then the foil of the fin is sanded into shape using a couple of different sanders and various types of sandpaper. This is all done by hand and eye so each fin is completely hand crafted to create a controlled flex and responsive fin to help lift the performance of your surfboard". For more information on available profiles and prices follow the link below to the Fluid Foils website:
Fluid Foils
42 Clarke Street
Ballina
NSW 2478
Australia
For more pictures of both the board and fin click HERE.