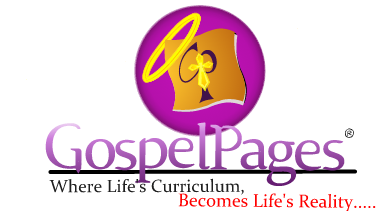 John 1:1-3(NKJV): In the beginning was the Word, and the Word was with God.
He was in the beginning with God.
All things were made through Him, and without Him nothing was made that was made.
Welcome to GospelPages!
Where Life's Curriculum (The Bible), becomes Life's Reality.
Frequently Asked Questions
1. What is GospelPages?
GospelPages is a platform in development which will allow people to grow spiritually through the Word of God using a digital platform designed with that idea at its core. The focal point of GospelPages is the life, death and resurrection of Jesus Christ. If you believe that Christ died for your sins and was resurrected, then this site is for you.

This site, inspired by the Holy Spirit, will allow its users to study God's Word, share life's experiences, grow spiritually in the faith, help users find faith and even help them begin their ministry and work for Christ.

GospelPages is a comprehensive platform helping users grow spiritually through interaction with the Word of GOD.

GospelPages hopes to teach, illuminate, and reveal the elements of the characteristics of God such as:

Omnipresence
Omniscience
Omnipotence
Veracity - Truth
Righteousness
Justice
Immutability
Sovereignty
Love
Eternal Life
and more.....

2. What is GospelPages' Mission Statement?
The mission of GospelPages is to get the Word of God merged into the everyday lives of today's society through the use of this new platform based on social networking.
GospelPages hopes to ignite a virtual and physical, worldwide revival among today's society which will encourage strong relationships between you, Jesus and your neighbor, thus making Life's CURRICULUM, YOUR Life's REALITY.

3. When will GospelPages be opened?
GospelPages is currently in development. The projected official launch date is Summer, 2024. This can change due to unforseen circumstances such as development hurdles as well as support. Stay tuned to this website for updates concerning the opening of this new mission.

4. Where can I find more information regarding this mission?
Currently, this is GospelPages' online home. New details concerning GospelPages' development, updates, and processes will be posted here. Check back frequently.