La Tienda
(Official Site)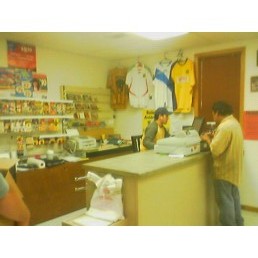 A customer buying some items at the store, which Marco (co-owner) is behind the counter

"Open House for ESL Classes-Upstairs at La Tienda"
" bienvenidos-welcome! Come by anytime for food, music, people, prizes, etc..
Host: Alexandria ABE-Morris Community- Ed-Morris Literacy Project
Type: Other - Ceremony
Time and PlaceDate: Monday, March 31, 20
08 Time: 10:00am - 6:00pm
Location: La Tienda (upstairs)
Street: 707 Atlantic Ave.
City/Town: Morris, MN
Contact InfoPhone: 3205856110/C#651.338.2929
Email: [email protected]

Did you know there are English as a Second Language opportunities in the top floor? It's sponsored by the Morris Literacy Project. This is just one of many we hope to list in our community's "unofficial" list of services we offer to the growing local Spanish-speaking community.
March 24th of 2008
(No Picture: Fatima (new) and Erendira-both from Mexico; work at Wheaton, MN in a nearby pig farm)
March 10th of 2008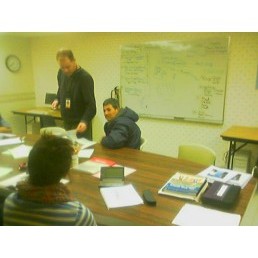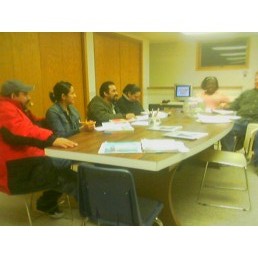 (l-r: Francisco, Erendira, Erick, and Eluth-all from Puebla, Mexico and work together at Wheaton, MN)

March 3rd of 2008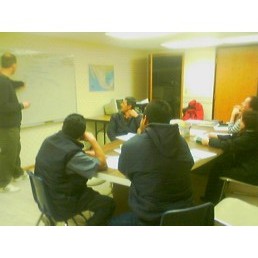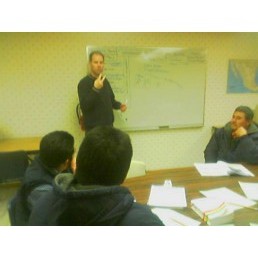 February 25th of 2008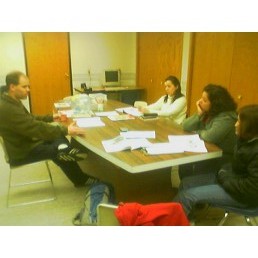 (l-r) Tatyana (Ukraine), Estella (Puebbla, Mexico)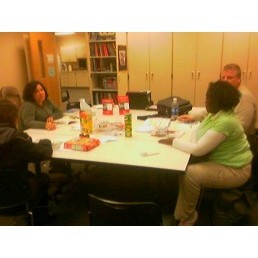 (l-r) Estella & ? (left side) and Rosa & Robert-not a student, but volunteer (right side)

Monday, October 15th of 2008
No Picture: Saundra and Marie Jesus Rodriguez-both fom Mexico live with their families in Hancock, MN
Yesterday (Monday, October 8th of 2007), we had our first official ESL classes on the top floor of La Tienda. It didn't go as smoothly as we hoped to as it was being the first class.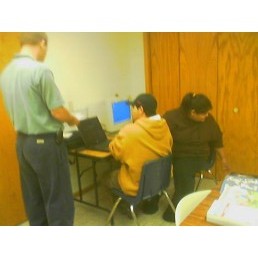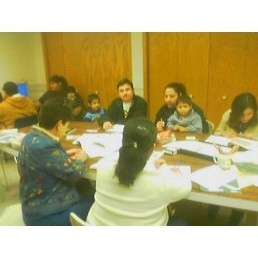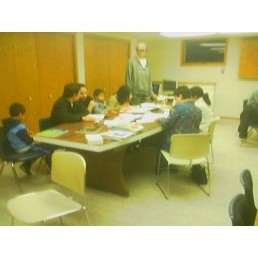 Articles

-Campus



" La Tienda has been open for business just over a year now. It's located at 707 Atlantic Ave, next door to the Bremer Bank on Main Street. In a nutshell, La Tienda is a grocery and services store geared towards the Hispanic community in Morris. I admit, I felt a little overwhelmed when I first entered the store, simply because there's so much to process. I don't know a tremendous amount of Spanish, therefore I had to strain my brain for all the knowledge available within. Which is a good thing.
And now, for the food. Let me list some of the many foodstuffs to be found. There's countless varieties of soda, juices such as guava and papaya, fresh produce like avocado, tomato, oranges, and carrots. There's whole chili peppers, garlic bulbs, tortillas, cheeses, tamales, tortilla chips, salsa, canned and fresh meats, milk, yogurt, pasta, lentils, garbanzo beans, candies and oh so much more. The products sold at La Tienda will probably be a different brand from those you're used to buying, but I suspect your purchase will be a delicious equivalent or variation.
For my ten dollar meal, I went very basic. I'm talking chips, salsa, and guacamole. You may say this is not a meal (you're right) but I love, love, love, chips and salsa and guacamole. Therefore I made an extremely thick salsa by combining fresh tomatoes, cilantro, and avocado with a good salsa they sold for two dollars. La Tienda sells many kinds of chips, and I opted for a giant bag of toasted tortilla chips. This bag is so large it might last me until graduation. To accompany my dinner, I went a little crazy and bought a beverage called Malta India. I thought this would taste like O'Doul's. However, if I had read through the ingredients, I would have anticipated the taste of fizzy molasses, which coursed through my disgusted throat. But, that's the joy of trying new things right? Some of it is very good, and some of it is very bad. I also bought a delicious little cup of flan for dessert. If you've never tried flan, please do. It's just like heaven, and not, as my friend Sheila Rosenkranz said in the eighth grade, like vomit in your mouth.
In addition to food, La Tienda offers movies and music in Spanish, clothing merchandise, 30 minute free computer use, original artworks, religious items, mailing, wire transfers, and check cashing. If you would like more information about La Tienda you can contact the manager, Nancy Huot, at 320-585-6110.
My meal came to a grand total of $10.04. The extra four cents was my fault because I wanted what I thought was fake beer. Anyway, La Tienda is the best. La mejor!"
-City

"Nancy Huot had some political capital with the Morris City Council and she didn�t waste time letting it be known she was willing to spend it.
Huot was officially presented the city�s Human Rights Award last month during a council meeting, honored for her work in bringing to fruition La Tienda, a grocery and services store geared to the area�s Hispanic community.
Huot graciously accepted the award, presented by the city�s Human Rights Commission. Then, when asked if she�d like to say anything, she noted that it would be nice for the city to consider helping develop a daycare for Hispanic children, and requested more comprehensive notification for Spanish speakers about things like snow emergencies.
If Huot keeps it up, she might win the award again.
Her ideas and ambition have not abated since she opened LaTienda in May 2007. Her goals are to better serve a growing Hispanic community, introduce West Central Minnesota to Hispanic culture, and also dispelling stereotypes that both cultures might harbor about the other.
The store is gaining in popularity as a place that the Hispanic community can find anything from familiar foods to airline tickets.
Huot also has started an online service for foods and merchandise, and Hispanics new to the area find the store a comfortable and welcoming source of information.
But LaTienda is growing into a cultural and educational destination, as well. Huot is working to develop a clothing inventory, and a spacious class and meeting room is ready for use in the store�s upper level. Community Education is planning to hold English and Spanish language classes there, and four desktop computers are hooked up for study, email or Internet use.
�It�s kind of the whole process,� Huot said. �The (Hispanic) population is growing, and the immigrant labor force will be growing. I think the trend of the future is that we�re going to have more diverse populations.�
Huot walked through the store, some shelves depleted by a spike in Christmas and New Years shopping.
The store offers retail items such as perishable and non-perishable food, clothing and other items specific to the Hispanic culture that can�t be found in Morris.
La Tienda also offers other services, such as help with mailing, wire transfers and check cashing. There are magazines and music selections.
When she approached the City Council earlier this year for a loan to help get the store running, she said that LaTienda was intended as an �outreach store, not just a retail store.�
Many in the minority community had to travel to larger cities, such as Willmar or St. Cloud, to find products with which they are familiar, she said.
Having LaTienda in Morris is helping bridge a cultural divide and keep consumer dollars at home.
The word has spread.
For example, Huot told the story of two Hispanic delivery men from New Jersey were in the area last fall, finding their way thanks to a Global Positioning System. But their GPS system failed, and they stopped at LaTienda for help.
The men, who spoke no English, couldn�t find a GPS system in town, but did locate one in Alexandria, with the help of LaTienda manager Marco Chapa. The men drove to Alexandria, then drove all the way back to Morris to get help programming it from LaTienda manager Marco Chapa before taking off again for the East Coast.
LaTienda�s Web site --
www.latiendamorris.com -- has been up just two weeks and already she�s received food orders from Florida, New York, Maryland and California. People from India, China, Japan, Australia, Columbia and Mexico have visited the site.
One man from Maryland said LaTienda was the only place he�s been able to locate a certain variety of tostadas. Huot hopes to eventually add links to employment and other services.
�I�m really hoping this will take off,� she said.
Stories about that level of comfort buoy Huot during those fleeting moments when the workload and slow progress gets her down.
Hopefully, she said, the community as a whole will realize that things it takes for granted can represent major obstacles for people who are out of their element. Simple things such as knowing snow removal rules, what to do during storms or how to license cars can be major difficulties.
The community also must learn patience and know that Hispanics are hard-working people who many times are disconnected from families.
�They would love to be able to speak English, it just takes time,� Huot said. �People just have to be patient. Most of the people who work here have families and they would love to have their families with them. It�s economics -- they can make here in a year what it takes maybe five years to make at their homes. Most of them are here to give their families a better life.�
The Human Rights Award came as a surprise to Huot, who was nominated by Patty Kill, last year�s winner. Kill also has made an impact by helping the area�s Hispanic community.
�This is new, and it�s new for everybody,� Huot said. �About 100 years ago, it was the same problems for people then that the Hispanic people are facing today. It�s just that we forget.�"

Related Sites:


...see more on Espanol Services
El Periódico de Tienda de Vecindario
(La Prensa de Tienda de Vecindario April (Newsletter))

*need/necesitas Microsoft Publisher 2007 (download trial)

Articles:



-Mexico
Ajusta Mario Marín su Gabinete Especial/Raúl Alvarado (exonline.com) (12:12 p.m.)
-Minnesota
St. Paul: Otra víctima de la explosión de la burbuja del mercado de vivienda, Publicado el 02-22-2008 (LaPrensademn)
*Minnesota-Wikipedia
-United States
Hasta 14 trabalenguas Hit Georgia; daños graves en el área metropolitana de Atlanta POSTED: 9:29 pm EDT March 14, 2008 FIJADO: 9:29 pm EDT 14 de marzo de 2008 UPDATED: 6:59 pm EDT March 18, 2008 UPDATED: 6:59 pm EDT 18 de marzo de 2008 (worthynews.com)
-Global
Team prepares for backpack distribution from Mission Network News
-Health

Consejos para familias y niños sanos, from family doctor
-Sports

América y Atlante cambiaron horario Sus partidos de la fecha 11 se movieron 18 de Marzo de 2008 (Univision)

-Music

marco anTONIO SOLIS-O ME VOY O TE VAZ

"CLIP DE M.A .S"
-Automotive

-Financial

*dollar sign from logo-search.com
-People


Advertisers:



600 Atlantic Ave
Morris, MN 56267
(320) 585-1111

532 Atlantic Ave
Morris, MN 56267
(320) 589-3454

300 E Highway 28
Morris, MN 56267
(320) 589-2223

205 South Highway 9
Morris, MN 56267
800-920-4622

714 Atlantic Ave
Morris, MN 56267
(320) 589-2323

400 East First Street
PO Box 660
Morris, MN 56267
320-589-1313
1-800-993-SCMC (7262)


Resources:

Need Directions?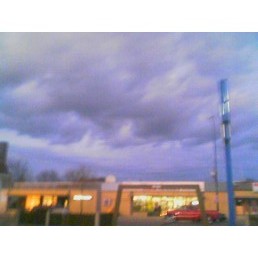 La Tienda is located across the street from Cullens Home Center along Atlantic Avenue and adjacent (north) to Bremer Bank
Thank you for visiting GoodnewsMorris! Please feel free to e-mail me (Sal) at

[email protected]

on any comments, suggestions (e.g. any new websites),complaints, or anytype of feedback to improve this website.
---
Return to Goodnews Morris: Needs-Ethnic Stores