Rajini: is all set to start the discussion for his next movie. Suresh Krishna would be the director. The heroine might be Aishwarya Rai!!. Again Ramya Krishnan or Soundarya still stand a chance. The story would be a mild humour and would be something which the women folks would like. Rajini aims at strengthening his image with the 'Thaaikulams'. Illayaraja might be a part of this soft project.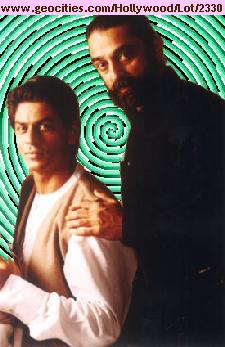 Kamal: HEY RAM is almost ready. There were a lot of problems with the Censor but Kamal anticipating this in advance had some parallel shots ready and hence there was no need for a re-shoot. This period film is directed by Kamal himself and has new face, Vasundra acting as his wife (Vasundra has a lovely voice and and has sung "Shakkalaka Baby" in MUTHALVAN). Rani Mukherjee is another heroine. The other casts include Shah Rukh Khan, Naseerudin Shah (acting as Gandhi), Hemamalini, etc. Music is by Illayaraja. Kamal has planned to release the movie on Feb 18, 2000. Meanwhile Kamal, has plans to do a quick movie (to be released on April 14) with K.S.Ravikumar as director. Rambha is trying hard to act in this movie
Sarathkumar: after SURYAVAMSAM, he hasn't given a proper hit. Even PAATALI (directed by K.S.Ravikumar) didn't work out. Every year Sarath does a film for Super Good Films(R B Choudry) and this year it is MAAYI. New director, Surya Prakash, directs the film. Roja is the heroine. Maybe this movie might do the trick for Sarath.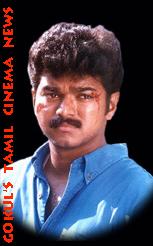 Vijay: After a series of flops(ENDRENDRUM KADHAL, NENJINILAE and MINSARA KANNA), he is very keen to give a super hit. FAZIL's new film, KANNUKKUL NILAVU with Shalini as heroine, released on Pongal day. The film is a murder mystery with revenge and ofcourse love. Illayaraja's songs are too good. The first reports about the movie is good but I have my own doubts about this film (It is very slow and the momentum builds up only after audience lose their interest). Vijay is also acting with Jyothika (Nagma's sister) in A M Rathnam's GUSHI. The film is directed by Surya (director of VAALI). The Kerala rights for this film is purchased by Kamal. The fight between Balachander and his father had made him lose the film to be produced by Kavithalaya (with Suresh Krishna as director). His next release would be UDHAYA (namma Simran is the heroine). He might also act in a film directed by veteran director, Mahendran

Ajeeth: while Vijay's market coming down, Ajeeth is having a good time with a series of hits this year (ANANDHA POONGATREY, VAALI, AMARKKALAM, NE VARUVAI ENA). His next release would be Rajeev Menon's KANDUKONDEN KANDUKONDEN. He has also agreed to do a film for Oscar Films, Ravichandran. The film has Aishwarya Rai as heroine and is directed by Ezhil (THULLATHA MANAMUM THULLUM). Ajeeth has also agreed to act in a film directed by Sasi ( The director of last year's hit SOLLAMALLEY). Meanwhile, the media is interested in knowing the status of Ajeeth's earlier announcement that his marriage with Shalini would be in January, 2000.
Prashanth: is having a very good time. The success of KAADHAL KAVITHAI, POO MAGAL OORVALAM and JODI have contributed a lot. His recent release HELLO (directed by Selvabharathy, the director of NINAITHEN VANTHAI)did not do well but Deva's song, "Salam Gulamu" was a big hit and that earned him personal gains. Again Chelva's ASAIYIL ORU KADITHAM (Kousalya is the heroine) failed at box office but earned the media's appreciation. His next release is GOOD LUCK. The film is directed by Manoj Bhatnakar (ENDRENDRUM KAATHAL). Riya Sen(TAJ MAHAL) is the heroine. Next in line is VINNODUM MUGILODDUM. Our hero has signed Urmila Mathondkar for a new film...ithellam romba over :-(. He is also acting in Charan's new film PARTHEN RASITHEN.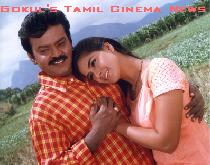 Vijayakanth: his wait for a hit is over. His Diwali release KANNUPADA POGUTHAIYA has made a big bounty in the B & C Centres. This film was produced by R B Choudry and directed by debutante, Bharathi Ganesh. S A Rajkumar's songs and 'Thalaivi' Simran's presence had doubly ensured it's success. His Pongal release, Vikraman's VAANATHAI POLA is another sure hit (Though there were many movies like this, I liked it a lot and I recommend you to watch it). VALLARASU (his own production) and SIMHASANAM (triple role with 5 heroines.....Vayiru Eriyudhu) are other movies in pipeline.
Parthiban: has announced that he wouldn't be directing any movie till 2001!!. His call sheet is completely full till late 2000. The success of NE VARUVAI ENA has given him another half a dozen films. His previous release, UNNARUGIL NAN IRUNTHAL, was also a hit. He is now acting with Murali in Siva Sakthi Pandiyan's VETRI KODI KATTU(Maalavika is the heroine). This film is being directed by Cheran. He has also signed, UNNAI KODU ENNAI THARUVEN. The film has a caption "Oru Poovum Puyalum Kai Korkkum"...Parthiban is Puyal and Suhasini(!) is Poo (?!!). He would also be acting in a movie to be produced by the producers of HELLO (Chereen Movie Makers) and another movie to be directed by Sabapathy( the director of BHARATHAN and V I P).
Satyaraj: his recent flops has made him accept more matured roles. VEERANADAI, THIRUVIZHA and PURATCHIKKARAN are some of the movies in which he is acting and he claims that all these movies have the right roles which would suit him.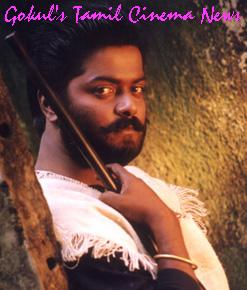 Murali: has atlast passed his degree?? He has decided not to act as a college student anymore. He is upset that both OOTY and VATTAKUDI IRANNIYAN (a period film, directed by Vincent Chelva) did not do well. He is now acting with Parthiban in VETRI KODI KATTU and another period film, KAMARAASU.
Prakashraj: started his own "Duet Productions" and started STALIN. The film is only half finished bcoz of lack of funds. Prakashraj is acting as a eunuch(Ali) in SURYA. The film is produced by Kavithalaya and is directed by Vasanth.
Prabhu: With no takers for MANAM VIRUMBUTHEY UNNAI(heroine: Meena), his only hope is R.B.Choudry's THIRUNELVELI. The film is directed by new director Bharathi Kannan. I saw this film last week.....I am sorry to comment but believe me Prabhu looks like a baby elephant. It is high time he works on reducing his weight. Meanwhile, Prabhu has signed to act with Mamooty in a new film.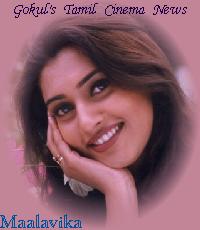 Malaavika: the heroine of UNNAI THEDI and ANANDHA POONGATREY, has earned a good reputation in the industry and is acting in 3-4 films including VETRI KODI KATTU (with Parthiban and Murali) and ULAGAI VILAI PESAVA(with Karthik).
Kushbu: has become busy again. She is willing to take up any role be it heroine, mother, sister or even dance for a song. She is now acting in PEN ONDRU KANDEN, PAARVAI (directed by Sunder C) and has signed in films to be directed by V.Shekar, P.Vasu, Kasturi Raja and a film for Super Good Films.
Sukanya: is acting as one of the heroines in Vijayakanth's SIMHASANAM.
Vinitha: has acted in VANATHAI POLA as the elder Vijayakanth's lover.
Vivek: is acting in serious role in Manirathnam's ALAIPAYUDHE.
Arun Pandiyan: has finally got bored of staying in home. He is acting as villain in Vikayakanth's VALLARASU. Director P.Vasu is also acting as a villain in the same movie (Was he also afraid to stay at home?).
Shankar: There is no director, I would appreciate half as much as I admire this one. Shankar is not only the most technically strong director but is also one who tries to understand the audience pulse during each scene in his movie. Again MUTHALVAN is a big hit. While getting ready to direct MUTHALVAN in hindi, Shanker is simultaneously working on the script for his sixth consecutive hit after GENTLEMAN, KATHALAN, INDIAN, JEANS and MUTHALVAN. His next film is again produced by him and is titled ANNIYAN. The usual Rehman and Vairamuthu are there along with cinematographer, K V Anand. Based on the previous Manirathnam and Shanker heroine theory, would it be Shalini? Industry sources say that when Shanker offered 15 lakhs to Sushmitha for her dance in MUTHALVAN, she accepted only a very very meager amount and told him that she would be happy to act in his next film. The Hero??...Talks are going on with.....Kamal!!!
Manirathnam: has completed ALAIPAYUTHEY. The film has new face, Madhavan as hero and Shalini as heroine. The film initially did not have any songs but later Mani decided to have songs. There are now 7 songs in this film. The film was delayed due to Rehman's BG score. Photography is by P C Sreeram. The film was all set to be released in Feb but now with HEY RAM's release also scheduled for the same time Mani is rethinking whether it is worth taking the risk.
R V Udayakumar: after a long gap is directing a film with Karthik as hero. The film is titled as ULAGAI VILAI PESAVA and Malavika is the heroine.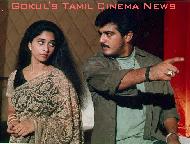 Charan: is preparing himself for a hat-trick. After two hits(KADHAL MANNAN and AMARKALAM), with Ajith as hero, he has planned to work with Prashanth in PARTHEN RASITHEN. The film is produced by Chereen Movie Makers and music is by Bharathwaj. He has also agreed to direct Ravichandran's (Oscar Films -KAADHALAKKU MARIYATHAI) next production and then a film for his Guru, K. Balachander's Kavithalaya Productions.
Bhakyaraj: Industries all time screenplay specialist is back after some rest. He is going to direct a film with Karthik as hero. Bhakyaraj is not acting in this film. Meanwhile he is directing a mega tele-serial.
Pandiyarajan: Following the footsteps of his Guru( Bhakyaraj), he is directing a film with Prabhudeva as hero. Pandiyarajan is not acting in this film
Vikraman: VANATHAI POLA released on Pongal day. The film is all set to join the list of his mega success films POOVE UNAKKAGA, SURYAVAMSAM and UNNIDATHIL ENNAI KODUTHEN. The film have created a lot of expectations amongst the distributors. The film has Vijayakanth, Prabhudeva, Ramesh Kanna, Roja and Vinitha. Music is by S.A.Rajkumar. Now that Rajini has pointed his finger at Suresh Krishna, Vikraman's next film would be for his parent company, Super Good Films.
Erajakumaran: I don't know why but this director spells his name like that. After giving a super hit (NEE VARUVAI YENA) for the indusries most succesful producer, R. B. Choudry, he is now directing a film for Roja Combines. The film is titled AANAVAM and has Sathyaraj in dual role. Kushbu and Roja are the heroines.
Sunder C: UNAKKAGA ELLAM UNAKKAGA's success has made him realize that the cause for his previous failures was lack of his USP, ie. humour. He is now directing KAATHAL SOLLA VANTHEN with Karthik, Raghuman and Isha Gopikar. Incidentally this happens to be the only film in Isha's hand.
Manivannan: inspite of being busy doing comedy roles, he is back to direction. AARUVATHU SINAM is the name of the movie. The name might be changed since it would be difficult for the masses to understand. Sathyaraj is the hero and Vindhya (SANGAMAM) is the heroine. He is acting as a "hanger"(one who hangs convicts in jail) in ADIMAIGAL.
Kathir: After the success of KADHALAR DHINAM, he is now confident enough to try a new subject. His previous movies (IDHAYAM, UZHAVAN, KAADHAL DESAM and KADHALAR DHINAM) were all love subjects. He is planning to also be the producer for his next film, BANGALORE. As usual, Rehman would be the music director.
Fazil: almost all his tamil films have been a hit except for KARPURA MULAI. His new movie with Vijay and Shalini has created a lot of expectations. Though the movie is not appreciated by Fazil's fans (that includes me), it has recieved tremendous support from the media. Illayaraja's songs are going to be amongst the hit songs in Y2K. "Nilavu Pattu", "Roja Poonthottam", "Iravu Pagalai".... have all proved that he is always Melody's Raja.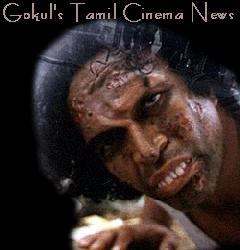 Nasser: is upset about the flop of MUGHAM. The film was directed by Gnyanashekaran (MOGHA MULL), with excellent photography by P C SREERAM and an unbeatable background score by Illayaraja. Nasser himself had done a very different role as a person with a horrible face. The film was too much an art film and hence could not pull even a minimum crowd. The film was screened in SUN TV within a month from its release date. Nasser has planned to direct a movie with Prashanth as hero. Music is by Illayaraja.
A R Rehman: his slow pace has put the industry in a fix. Except Shanker's MUDHALVAN, he was not able to complete the re-recording for any of the diwali releases. Thanx to Deva's team, Bharathiraja was able to get his TAJMAHAL ready. The other director's who are keen on Rehman's background score have postponed the release of their movies. The long list includes Manirathnam's ALAIPAYUDHEY, Rajeev Menon's KANDUKONDEN KANDUKONDEN, Vasanth's RHYTHM....
Bharathwaj: has scored the music for KAADHAL MANNAN, POOVELI, ROJAVANAM and AMARKKALAM. His "Ketten" song in AMARKKALAM has won a lot of aclaim (Vairamuthu had written around 170 lines out of which he had selected 89 lines for that song). This music director is now much sought in the film industry.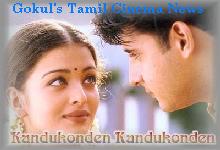 KANDUKKONDEN KANDUKKONDEN: After a long gap of 3 years, director cum cinematographer Rajeev Menon is ready to release his next film. Would this film turn out to be another hit like his MINASARA KANAVU? It has got all the ingredients for success....Ajeeth, Abbas, Aishwarya Rai and Tabu. The film is basically a love story taken in the Chettinad town of Karaikudi. A R Rehman has scored the music and most of them have a carnatic blend (!). One song involving Ajeeth and Tabu was shot in Egypt amongst the Pyramids. Produced by "Kalaipuli", Dhanu, the film was initially to be released for Diwali but now we have to wait till the February End.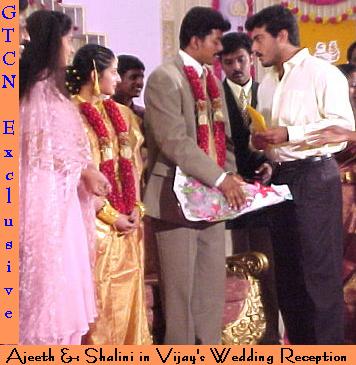 ---
This page was last modified on: February.06.2000
Please ask permission before using any image on this site.
Thank you.
© 2000 GOKUL SANTHANAM
THE COOLJILAX WORLD
---
Note: This page uses JavaScript and Frames, which are best viewed with
Netscape 4.0 or higher or Microsoft Explorer 4.0 or higher.
My maiden experiments with Flash can be enjoyed with Flash 4.0 from www.macromedia.com
Without Flash, u r missin something !!!