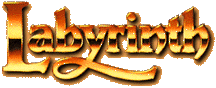 :
Other Creatures
Goblins

Ugly, smelly, foul-mouthed, undisciplined and generally repulsive. Goblins are the natural outcome of putting the most nasty, spoiled and rotten brats society has to offer (or wish away) in such an environment as Jareth's castle, (magic applied or not).
Fairies

Beautiful, delicate, childish, and extremely fast-breeding, fairies inhabit the bluebell gardens around the entrance to the Labyrinth
Lichen

A naturally occuring animal/plant simbiant found in the Labyrinth's outer stone ring. Extremely curious, but not unfriendly in nature. Goblins would probably recommend it as a great sandwich filling, (if it were in their nature to recommend things).
| | |
| --- | --- |
| Friendly Worms | |
| | |
| --- | --- |
| Fireys | |
Bog of Eternal Stench

While the Bog, strictly speaking, is not really a creature, it certainly does qualify as a presence, a presence that has been felt more thickly than those of many sword carrying wayfarers, trundling off into the shadows of pulpy fantasy fiction.
Page maintained by Monica J. Roxburgh
Labyrinth characters © Henson Associates, Inc. 1986
Labyrinth movie title and character names are trademarks of Henson Associates.