THE GENERAL FEDERATION OF WOMEN'S CLUBS (GFWC)
GFWC is one of the world's largest and oldest women's volunteer service organizations, working locally through thousands of clubs in the United States and globally in 20 countries. Using the motto "Unity in Diversity," GFWC has built an outstanding record of accomplishment. This includes promoting education, preserving natural resources, encouraging healthy lifestyles, working on behalf of the elderly and people with disabilities, advocating for issues of concern to women, children and families, and supporting participation in the arts. Clubs shape their local agendas to suit particular community needs.
---
The Barbara Jean Barker Memorial Scholarship for a Displaced Homemaker is a non-traditional scholarship offered by the General Federation of Women's Clubs of Vermont for a woman who has been primarily a housewife for the past 15-20 years and has lost her main means of support through death, divorce or separation of a spouse, or the long term illness or unemployment of a spouse.
These are women who usually need to be retrained for the world of work and for which traditional grants or scholarships are unavailable. The scholarships range from $500 to $2000.
With the exception of one year, one to three awards have been made each year since 1993. All recipients must be Vermont residents, and should have a definite goal in mind for their training.
For additional information, contact
Betty Haggerty
16 Taylor Street
Bellows Falls, VT 05101
802-463-4159
email: [email protected]
---
Vermont Clubs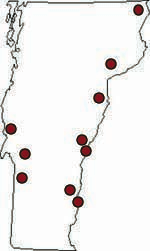 Bellows Falls
Canaan
Castleton
Hartford
Ludlow-Okemo Valley
Orwell
Poultney
St. Johnsbury
South Royalton
South Ryegate

President,
GFWC of Vermont
Deanna Beckman
1017 Crown Point Road
Plymouth, VT 05056
802-592-6017
[email protected]
GFWC established: 1890

GFWC of Vermont: organized at St. Johnsbury, March 26, 1896. Admitted to General Federation, December 2, 1896. Incorporated 1931.
Page updated:
August 25, 2008