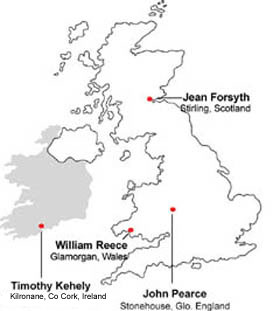 Map of UK
Vicki SMITH (nee McKEOWN)
Why I Do Genealogy!

I started to ask questions about my family after my father died in 1979.
Like everyone who has delved into family secrets, we wished we had listened more carefully to older family member's stories.
I was lucky to still have older family members alive who were happy to answer my questions - some were not interested at all, and you have to respect their wishes (even if that was very frustrating sometimes!)
Two 'lucky' incidents were instrumental in helping me 'find' the Pearces in NZ and the Kehelys in WA!
I received a photocopy from a 2nd cousin - Molly stated it was a copy of 'Grannie Pearce's Funeral Cortege'. I wanted to know more! In the photo there was also a building with 'Onehunga Dentist' painted on the side. So I rolled up the photo, addressed it to 'Historical Section, Onehunga Newspaper, Onehunga. NZ' and posted it. I soon received a letter from Bruce & Wilma Madgwick. They were involved in the local Historical Society so had much knowledge about the Pearce family which they shared with me. We also found out we had another ancestor in common, Ellen Kehely.
Visiting the Deakin library with a friend I was just browsing while she poured over shipping indexes. I found a book - Dictionary of Western Australia Biography - and as I sat down to check the book out, it 'opened' at the 'K' page and out jumped the surname KEHELY! Yes it was an entry for my ancestor Timothy arriving in Fremantle in 1841 from Ireland as a bonded servant.
I set out to find where my ancestors came from, how they were doing where they were, why they moved where they did and how they fared when they got there.

My Four Families are my main ancestors from my mother's side of the family.
John PEARCE left Stonehouse, Gloucester in England with the 58th Regiment and ended up in Onehunga, New Zealand via Sydney.
Timothy KEHELY arrived in Fremantle in 1841 as a bonded servant from Kilorane, Cork in Ireland. He ended up in Taranaki, New Zealand in 1863 after living in Perth, South Australia, Melbourne and Dunedin.
William REECE was pensioned off from the Royal Marines in 1840 because of injury and went to New Zealand from Wales as a Military Settler arriving in 1847 with his family.
Jean FORSYTH left Scotland in 1919 as a war bride to join her husband in Wellington, New Zealand.
Three came because of War, the other because life in Ireland was very hard.

An 'Unknown Author' sums up for me why we do what we do!

The Story Tellers.....We are the chosen.
My feelings are in each family there is one who seems called to find the ancestors. To put flesh on their bones and make them live again, to tell the family story and to feel that somehow they know and approve. To me, doing genealogy is not a cold gathering of facts but, instead, breathing life into all who have gone before. We are the story tellers of the tribe. All tribes have one. We have been called, as it were, by our genes. Those who have gone before cry out to us: Tell our story. So, we do.
In finding them, we somehow find ourselves. How many graves have I stood before now and cried? I have lost count. How many times have I told the ancestors, "You have a wonderful family, you would be proud of us?" How many times have I walked up to a grave and felt somehow there was love there for me? I cannot say.
It goes beyond just documenting facts. It goes to who am I and why do I do the things I do? It goes to seeing a cemetery about to be lost forever to weeds and indifference and saying I can't let this happen. The bones here are bones of my bone and flesh of my flesh. It goes to doing something about it. It goes to pride in what our ancestors were able to accomplish. How they contributed to what we are today. It goes to respecting their hardships and losses, their never giving in or giving up, their resoluteness to go on and build a life for their family.
It goes to deep pride that they fought to make and keep us a Nation. It goes to a deep and immense understanding that they were doing it for us. That we might be born who we are. That we might remember them. So we do. With love and caring and scribing each fact of their existence, because we are them and they are us. So, as a scribe called, I tell the story of my family. It is up to that one called in the next generation to answer the call and take their place in the long line of family storytellers.
That, is why I do my family genealogy, and that is what calls those young and old to step up and put flesh on the bones.