The  Lord's  Little  Flock 
in  Fort  Wayne,  Indiana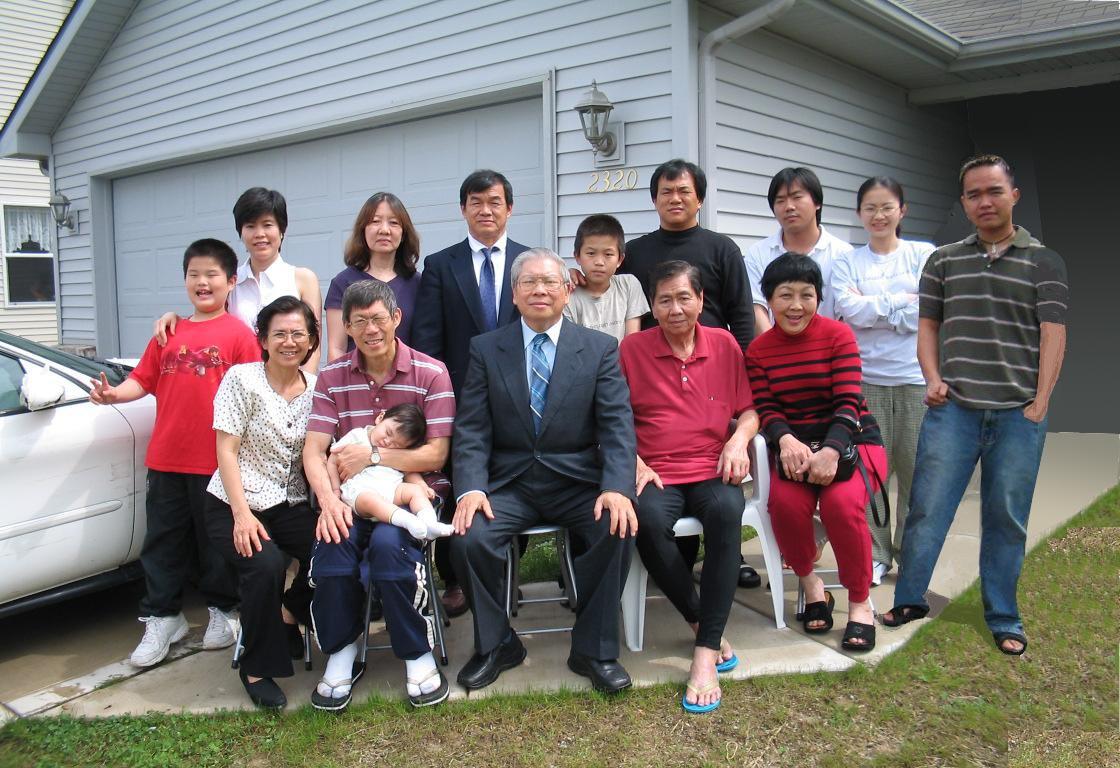 The first time I came to know our Indonesian brothers and sisters in the Lord Jesus Christ who are living in Fort Wayne, Indiana was at the Funeral Service that I conducted for Deacon Timon Soen in St. Louis, Missouri on March 7, 2003.  They sang "When the Roll is called up Yonder" beautifully in Bahasa Indonesia.  Since I grew up in Malaysia I was able to converse a little bit (not much) with them in their language.  We got to get to know one another better at the fellowship meal in Sister Ing Soen's home.  They invited me to visit them in Fort Wayne, Indiana.  I promised them I would after the A.W.C.F. Congress in Evansville, Indiana. 
I arrived in Fort Wayne, Indiana on May 9, 2003.  Brother Benny Husen and Sister Tjindrawaty Jong came to the airport and from there we drove to a Chinese restaurant for dinner.  I was pleasantly surprised that this small city has a Chinese buffet restaurant that is comparable to the ones in Houston, Texas. They have a good variety of dishes.  The place was crowded. 
After dinner they dropped by a truth-seeker just to say "Hello!"  We did not want to stay long but our host Lianiana Sjahfiedin insisted that we stayed a little bit longer.  She seemed very interested in listening to the testimonies of miracles, signs and wonders.  Her husband Ali Sjahfiedin came out to greet us and stayed to listen to the testimonies.  Her son also came and translated for me into Bahasa Indonesia.  The young man left early.  From the testimonies I began to preach the Lord Jesus Christ, His love, mercy and grace, repentance, remission of sins, baptism of water and the Holy Spirit.  At about before we left we all knelt down to pray.  We prayed for only a short while when I noticed that the Holy Spirit began to move Ali.  After the prayer both Ali and Lianiana told us they wanted to be baptized into the Lord Jesus Christ.  We were all so happy.
If this were an organized church or house of prayer in another locality the church council might hold a meeting to discuss the eligibility of the baptismal candidates.  Some churches and houses of prayer do not baptize anyone without questioning their faith in the denomination and also their motive for baptism.  I was brought up in a congregation where my father was the minister.  He had followed the practice of the Early Apostolic Church according to the New Testament in which persons who requested for baptism must believe in the Lord Jesus Christ, have repentance and confession of sins (Acts 8:36-28; 2:38).  I follow the apostolic pattern whenever possible and practicable.
Early on the Sabbath morning of May 10, 2003 Brother Benny Husen  found a baptismal site in Cedar Creek which is not too far from his home where the Sabbath services are held. Below you can see the photographs of the group and the baptism of Brother Ali.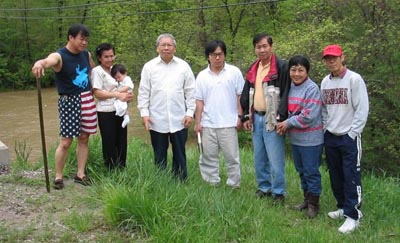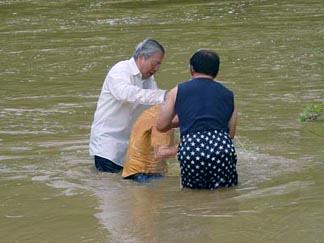 We all returned to Brother Benny Husen's home for Washing of Feet, Holy Communion and Teaching of the Apostles' Doctrine (Acts ; -21,28-29).
After the fellowship meal in which delicious Indonesian food was served we had open discussion.  There were two interesting questions.
Q1. If a church member resides in a location where there is no church of our denomination should he or she attend services of other denominations?
A1.  I have been asked this question many times and I have consistently given this same answer:  "Unless you can find a congregation that has the same beliefs as ours, preach the same true gospel, worships on the Seventh Day Sabbath in the Spirit my advice is not to do so.  What you have done by worshipping on the Sabbath day regularly in this place is commendable.
Q2. Jesus commanded His disciples to baptize in the Name of the Father and of the Son and of the Holy Spirit.  Why do we baptize in the Name of the Lord Jesus Christ?
A2.  I gave the summary of my answer in the web page below:
       http://www.geocities.com/baptism_pw/name.htm
Elder David and Sister Iva Klopfenstein knocked on the door at sharp the exact time they said they would come.  They have come from the Sabbath service in their home near Merriam which is about 10 miles from Brother Husen's home.  Their congregation of about fifty people is called "Messiah's House of Yahvah." Brother Jeff Tankersley introduced them to me.
We discussed subjects such as salvation and grace in relation to the Seventh Day Sabbath.  We share the same truth that we keep the Seventh Day Sabbath not because we want to be saved but because we are already saved and we want to obey God's commandment because we love Him. 
We also talked about the Great Tribulation.  Both of us hold the Post Tribulation position.  There are indications the Great Tribulation may have already begun after the 9-11 terrorist attack in America.  We talked until about and they left.  Here is something very unusual.  Elder Klopfenstein left his Bible in Brother Husen's home and came back at about   This time we discussed details on the Chinese Communists' persecution and how our Church in China overcame their difficulties.  This subject is described on our two web sites:  House Churches in China  and  Victorious Saints in China   The Klopfensteins stayed for the discussion until .
Between and Brother K.W. Husen, Sister Jindrawaty Jong and Sister Eifen Hidayat brought me to visit the Amish town of Grabill.  This is the first time that I have visited an Amish town.  We ate at the Grabill Inn that serves one of the best prime-rib steaks I have ever tasted.  Their desserts are also very delicious.  I was greatly impressed by the Amish lifestyle.  You can visit their website: à  The Amish Country, Indiana
On Sunday morning May 11, 2003 our brothers and sisters in Fort Wayne brought their families to the International House of Pancake to celebrate Mother's Day.  After the brunch we all went to the Fort Wayne Airport for my flight back to Houston, Texas.
<![if !supportEmptyParas]> <![endif]>
May God bless you
<![if !supportEmptyParas]> <![endif]>

<![if !supportEmptyParas]> <![endif]>
This article is presented by Paul Wong
to the ARK Forum on June 2, 2003
For comments please write first to: [email protected]
Paul Wong is a Christian minister and the President of ARK International.
His ministry also serves as an architectural service company in Houston.
The ARK Forum on the Internet is international and non-denominational.
<![if !supportEmptyParas]> <![endif]>
Write to:
ARK International
P.O. Box 19707, Houston,
Texas, 77224-9707, U.S.A.
Tel. No. (713) 467-1462
<![if !supportEmptyParas]> <![endif]>
<![if !supportEmptyParas]> <![endif]>
<![if !supportEmptyParas]> <![endif]>