In Memory of Lt. Commander Michael George Hoff
United States Navy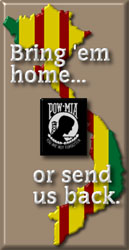 I am currently waiting to receive a photo of Lt. Commander Hoff. As soon as I get it, I will scan it and place it here.
Name: Michael George Hoff
Rank/Branch: O4/US Navy
Unit: Attack Squadron 86 "Sidewinders", USS CORAL SEA
Date of Birth: 11 September 1936 (Baker OR)
Home City of Record: Lagrande OR (resided in Orange Park FL)
Date of Loss: 07 January 1970
Country of Loss: Laos
Loss Coordinates: 164300N 1055100E (XD158627)
Status (in 1973): Missing In Action Category: 2
Aircraft: A7A
Casualty Reference Number: 1546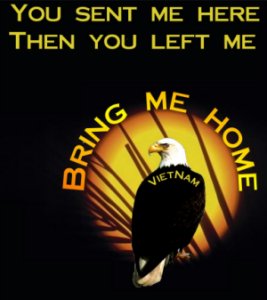 Synopsis: On January 7, 1970, Lt.Cdr. Michael Hoff was launched from the USS Coral Sea as the pilot of a Sidewinder A7A Corsair aircraft. His mission was to perform armed reconnaissance over the Ho Chi Minh Trail in Laos.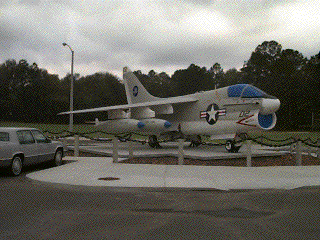 The weather in the area was clear and visibility was about 10 miles. Hoff's aircraft was completing a strafing run near the city of Sepone when Commander Hoff's aircraft was hit by rifle fire from from a small truck convoy. Hoff radioed that he had a fire warning light and was going to have to bail out. The flight leader could not see the aircraft at that time. The leader did sight the aircraft just as it impacted in an area which was flat with dense vegetation and high trees. The pilot of another aircraft reported sighting Hoff's aircraft below him, when it was approximately 2,000 feet above the ground. The aircraft at that time commenced a roll and, prior to reaching an inverted position, a flash was observed which was the ejection seat leaving the aircraft. Unfortunately, Commander Hoff's parachute failed to open and he impacted into a bamboo thicket. Immediately afterwards, the aircraft impacted and exploded about 100 yards from where Hoff impacted.

During ensuing search operations, aircraft reported that they received heavy enemy automatic weapons fire. Four aircraft were able to make repeated low passes in the crash area looking for a parachute or survivor, but the, results, obviously, were negative. Michael G. Hoff was promoted to the rank of Commander during the period he was maintained missing.
Lt. Commander Hoff's body was found by the Pathet Lao. They then proceeded to partially decapitate him and cut off his right arm. His flight suit was taken, name tag torn off, and washed. His personal property and identification (dog tags, pictures, etc...) were given to the North Vietnamese and are probably on display in a communist museum in Hanoi today.
Hof was listed as MIA until 1979, when all MIA's were then listed as KIA. He was categorized as KIA until President Reagan re-categorized them as MIA. This holds true today, so his official status is MIA, although his remains have been recovered and have been sent for DNA analysis, which may take up to 8 years. His family currently waits for his remains to be positively identified, then sent home.

Navigation
You are the
visitor to this site.