Baked Chicken Drumsticks Recipe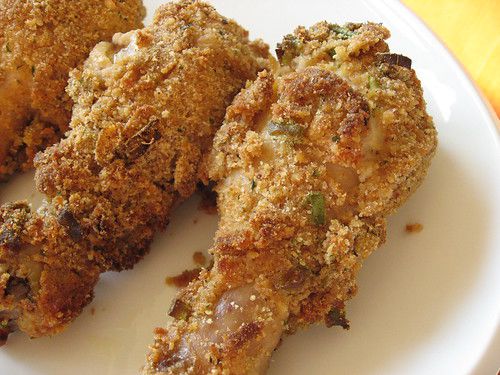 These baked chicken drumsticks tasted every bit as good as they look! One of the best things about this recipe is how cheap it is – drumsticks are one of the cheapest cuts of chicken. And it's dark meat, so the meat stays perfectly tender. Plus, this is a super quick meal – perfect for a busy weeknight. I served this with a cauliflower and chickepea curry and rice.
I adapted this recipe from Elise at Simply Recipes. I used less mayo and more mustard to lighten it up and added a couple of other things to the mayo/mustard mixture. The taste really comes through, and it's highly adaptable to your personal preferences.
Ingredients
2T mayonnaise

1/3 cup Dijon mustard

2 1/2 teaspoons Worcestershire sauce

1 clove garlic, finely grated with a microplane

1 T honey

3/4 cup dry breadcrumbs

1/2 cup finely chopped chives or green onion tops

Salt and pepper

6 large chicken drumsticks, about 1 1/3 lbs

Olive oil
Directions
Place rack on upper third of oven. Preheat oven to 425°F. Coat the bottom of a shallow roasting pan or baking sheet with a thin layer of olive oil. I used a roasting pan with a cooling rack; and sprayed the cooling rack with nonstick cooking spray. This keeps the chicken from the bottom of the pan and any fat can drip right down to the pan and away from the chicken.

Mix together the mayonnaise, mustard, Worcestershire sauce, garlic, and honey in a medium bowl. Mix together the breadcrumbs and minced chives or green onions in a separate medium bowl.

Sprinkle each drumstick with salt and pepper. One by one, dip each drumstick in the mayonnaise mixture, turning to coat. Then dip the drumstick in the breadcrumbs mixture, turning to coat. Place the drumsticks on the prepared roasting pan or on top of the cooling rack in the roasting pan.

4 Bake chicken for 20-25 minutes, until just cooked through, and juices run clear (not pink) when poked with a sharp knife. I left mine in the oven for 25 minutes and they were cooked perfectly, but it depends on the size of your drumsticks.

Serves 3-4.

RELATED POSTS: Chickpea and Cauliflower Curry Recipe