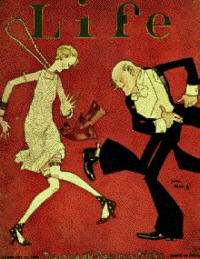 COVER BY JOHN HELD JR.
"They're all desperadoes, these kids, all of them with any life in their veins; the girls as well as the boys; maybe more than the boys."
--- from "Flaming Youth," by Warner Fabian
The flapper, whose antics were immortalized in the cartoons of John Held Jr., was the heroine of the Jazz Age. With short hair and a short skirt, with turned-down hose and powdered knees - the flapper must have seemed to her mother (the gentle Gibson girl of an earlier generation) like a rebel. No longer confined to home and tradition, the typical flapper was a young women who was often thought of as a little fast and maybe even a little brazen. Mostly, the flapper offended the older generation because she defied conventions of acceptable feminine behavior. The flapper was "modern." Traditionally, women's hair had always been worn long. The flapper wore it short, or bobbed. She used make-up (which she might well apply in public). And the flapper wore baggy dresses which often exposed her arms as well as her legs from the knees down. However, flappers did more than symbolize a revolution in fashion and mores - they embodied the modern spirit of the Jazz Age.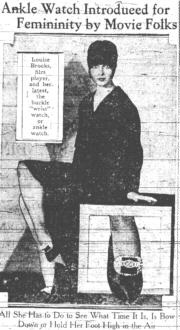 LOUISE BROOKS,
1920's ADVERTISEMENT
In her own way, the silent film star Louise Brooks was very much part of the Jazz Age. Her rise as a personality and as a film star was in keeping with the central phenomenom of the flapper era - the worship of youth. Brooks' exuberant social life echoed the flamboyant tenor of the times, while her social circle included the notable figures who helped define the era - such as the composer George Gershwin and the writers F. Scott Fitzgerald, Robert Benchley, H.L. Mencken and Anita Loos. Prior to her career in Hollywood, Brooks briefly appeared in such New York stage productions as the George White Scandals and Zeigfield Follies. Her tenure on stage (and later in the movies) brought her into contact with the wealthy, the artistic and the socially glamourous figures of the 1920's.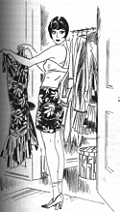 DIXIE DUGAN
She was painted by Vargas, photographed by Edward Steichen, and served as the inspiration for John H. Striebel's long running flapper-inspired cartoon, "Dixie Dugan." During the 1920's, Brooks was also a model, and appeared occassionally in fashion ads. Her sleak looks and signature bob helped define the flapper look.
As an actress, Brooks' first on-screen role as a flapper was in the 1926 film A Social Celebrity. Brooks would also play flapper-like characters in Love 'Em & Leave 'Em (1926) and Rolled Stockings (1927). However, to the public at large, actresses like Colleen Moore, Joan Crawford (star of the popular 1928 film Our Dancing Daughters) and Clara Bow (the so-called "It" girl) would symbolize the "actress as flapper."
For a sense of what the fuss over flappers was all about - especially when it comes to clothes, check out these amusing magazine articles (with added illustrations) from the 1920's:
Along with popular and now mostly forgotten authors of the time - such as Elinor Glyn (author of It) and Percy Marks (author of The Plastic Age), the one writer most identified with the roaring 20's is F. Scott Fitzgerald (1896 - 1940). A handsome and gregarious man, Fitzgerald became famous with the publication of his first novel This Side of Paradise (1920). The author was among the first writers to draw attention to the new post-World War I sophistication, particularly such phenomena as petting parties and youthful love affairs. Fitzgerald's books were such a success that he became a kind of king to American youth; his queen was his beautiful, witty (and emotionally unstable) wife Zelda.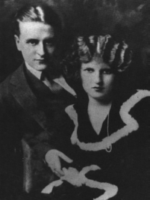 SCOTT & ZELDA
This royal celebrity couple became nearly as well known for their mapcap antics as for his writing. One famous incident involved them splashing in a public fountain. They also rode on the hoods of taxis, disrupted plays by laughing at the sad parts and weeping over jokes, and entertained lavishly (during Prohibition) at drunken parties. To foot the bill for their extravagant lifestyle, Fitzgerald wrote dozens of short stories for the leading magazines of the day. Both his stories and his novels record - and partly served to create - the period.
Fitzgerald's novels include The Beautiful and the Damned (1922) and The Great Gatsby (1925). His best known short story is certainly "Bernice Bobs Her Hair," which is included in Flappers and Philosophers (1920). Other story collections include Tales of the Jazz Age (1922) and All the Sad Young Men (1926). Over the last few years, Scribners has reissued Fitzgerald's books with smart looking period covers. Also recently issued is The Jazz Age (New Directions, 1996), which gathers Fitzgerald's reportage on the period. There are many biographies of F. Scott and Zelda Fitzgerald. For further information, be sure and visit these other links.
THE FLAPPER
by Dorothy Parker
The Playful flapper here we see,
The fairest of the fair.
She's not what Grandma used to be, --
You might say, au contraire.
Her girlish ways may make a stir,
Her manners cause a scene,
But there is no more harm in her
Than in a submarine.

She nightly knocks for many a goal
The usual dancing men.
Her speed is great, but her control
Is something else again.
All spotlights focus on her pranks.
All tongues her prowess herald.
For which she well may render thanks
To God and Scott Fitzgerald.

Her golden rule is plain enough -
Just get them young and treat them
rough.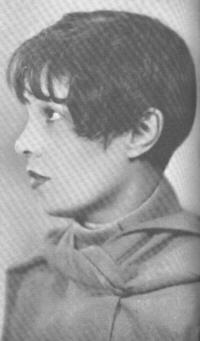 ANITA LOOS
Besides the well known and often quotable Dorothy Parker (1893 - 1967), one other writer whose novels, movie scripts and other writings capture the spirit of the times is Anita Loos (1893 - 1981). While still a schoolgirl, Loos made a resolution never to be bored. Years later, to offset the tedium of a traintrip, she began sketching a story about a gold-haired girl named Lorelei Lee. The sketch grew into the book Gentlemen Prefer Blondes (1925), which became such a bestseller it was even serialized in Chinese. Two of Loos' Jazz Age classics, Gentlemen Prefer Blondes and the sequel But Gentlemen Marry Brunettes (1928) have been reissued by Penguin. Amusing period pieces, these two short novels are written as the "diaries" of a flapper who travels to Europe, meets "everyone" and returns to America to marry a millionaire. Later, Loos also authored a number of volumes of autobiographical essays and memoirs such as A Girl Like I (1966), Kiss Hollywood Goodbye (1974) and others. Long out-of-print, each contains a handful of references to Louise Brooks and other personalities of the roaring '20's.
Further information on the youth culture of the period can be found in Paula S. Fass' The Beautiful and the Damned: American Youth in the 1920's (Oxford, 1977).
Another good source on the broader social history of the period is Elizabeth Stevenson's Babbits & Bohemians: The American 1920's (Macmillian, 1967), as well as Frederick Lewis Allen's well known and often reprinted Only Yesterday (Harper, 1931).One recent book which takes a look at the Jazz Age is Ann Douglas' fascinating Terrible Honesty (Farrar Straus Giroux, 1995). Subtitled "Mongrel Manhattan in the 1920's," this book contains a handful of references to Louise Brooks.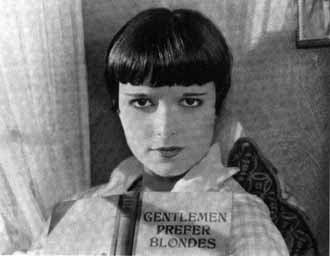 LOUISE BROOKS
The cartoon at the top of this page is by John Held, Jr (1889 - 1958). More than any other illustrator, Held's comic art captures the style and exuberant tenor of the time. If F. Scott Fitzgerald wrote the dialogue for the era - its been said - John Held Jr. drew its portrait. (Follow this link to an image of two Fitzgerald books with Held dustjackets.) And like Fitzgerald, Held depicted with irony the superficial glitter of an age he nevertheless loved. Held's work - which often depicted flappers and their collegiate male admirers - frequently appeared in such publications as Life, Vanity Fair, and The Smart Set. One book on the artist is Shelley Armitage's illustrated biographical study, John Held, Jr.: Illustrator of the Jazz Age (Syracuse University Press, 1987). Devotees of the era's comic art will also enjoy the two volume paperback set Cartoons of the Roaring Twenties (Fantagraphics Books, 1992). Each volume of this set contains hundreds of illustrations.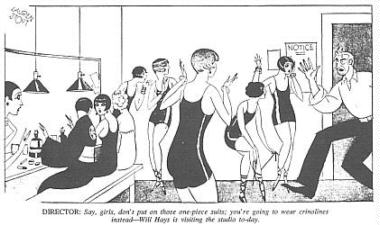 1920'S CARTOON BY LAUREN STOUT
---
RELATED LINKS