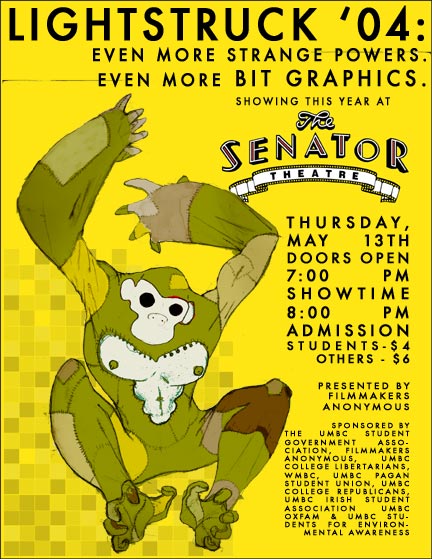 ...STRANGE POWER YOU DO NOT UNDERSTAND...
Filmmakers Anonymous proudly presents Lightstruck 2004, UMBC's annual juried Film / Video showcase.
L I G H T S T R U C K 2 0 0 4
Thursday, May 13th, at Baltimore's historic Senator Theatre.
Doors open at 7pm, the show starts at 8pm.
Live Music, Food, etc.
Tickets are $6, $4/students, available at the door.
SUBMISSION INFO:
UMBC students may submit films for Lightstruck in the UMBC Visual Arts Production Center ("The Cage," Fine Arts 220) until May 12th at 4:30pm. Submissions must be on MiniDV, VHS, or DVD and should be cued. Please head your films with bars and tone followed by 5 seconds of black. Entry forms are in the VAPC. Films to be included in the program will be selected by the Filmmakers Anonymous Executive Board.
For more info contact Dan Stack: [email protected]