There is a certain look to a winning football team. They have confidence, swagger, and they stand out to their audience. Programs such as Ohio State, Notre Dame, Southern California, Florida, and even hated-rivals Penn State possess it. Winning programs abound in this college football nation embrace the history, tradition, and pageantry that comes with their successes over their years of existence. With that, they maintain the look and identity that they've become so renowned for… something as simple as their logo and uniforms help to instill that sense of pride into their players and fans. It's what they've become. That is one major element that is missing from this Pitt Panthers program: the true embracing of the rich tradition and identity that is Pitt Football… and it all starts with the logo that we've all come to remember from those proud days, the Pitt Script.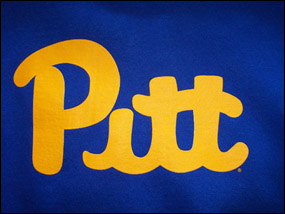 The tradition of Pitt football spans generations and the pride of the program can be felt again today with new coach and Panther-great Dave Wannstedt taking over the helm. The excitement is back in the air for the Pitt Panthers, for a program that is set to make a return to the college football elite. However, there is something missing… the sense of true Pitt football identity.

| | |
| --- | --- |
| | |
| circa November 1976 | circa January 1977 |
The University of Pittsburgh enjoys a proud football tradition. From the early days of the program winning 8 National Championships in a span of 27 years, to the improbable 1976 National Championship team, and the dominant teams of the 1980s, Pitt has enjoyed a long and proud football tradition spanning over 100 years. The Panthers have an astounding list of college and NFL greats in both the coaching and player categories. Coaches Pop Warner, Jock Sutherland, Johnny Majors and Jackie Sherrill. All-Americans Mike Ditka, Tony Dorsett, Matt Cavanaugh, Hugh Green, Mark May, Dan Marino, Sal Sunseri, Jimbo Covert, Bill Fralic, Craig Heyward, Jerry Olsavsky, and Mark Stepnoski.
With Pitt football once again on the rise, it's time that the University of Pittsburgh athletic department fully embraced the true and known identity that is this wonderful program. Simply providing one "throwback" game and offering some "throwback" merchandise isn't enough. The current logo, uniforms, and colors are not what the football program has come to be known as. The new colors were used by Notre Dame and Navy (along with several MAC schools) long before Pitt ever adopted them. Ever since the athletic department changed the face of the program in 1997, Pitt has never been the same (and, for 7 years, were not even referred to as "Pitt" anymore). The time to demand change is now. The renowned Pitt Script logo, uniforms, and colors are what so many have come to identify our Panthers with, and our athletic department has again failed to harness this concept. If that isn't enough of a reason to change, look to the comments and sentiments of the Pitt Panthers after the throwback script game against Youngstown State in 2005:
"I wish we could go back to the old uniforms… It gets back to the down-and-dirty days of Pitt and what Pitt's really about."
– Quarterback Tyler Palko
"I say keep them. We looked like Pitt today. [The uniforms] gave us a little bit of swagger."

– Tight End Darrell Strong
"Don't know if it's [up to] our athletic director or our Chancellor, but we could be the Buffalo Bills of college football. The Bills didn't want to take off their throwback uniforms. That's what our guys were saying in [the locker room]. They want to wear 'em."

- Head Coach Dave Wannstedt
The players want them back, and it's our responsibility as Pitt fans to echo that mentality and bring this cause to the door of athletic director Jeff Long.