Now is the time to make ourselves known to the Pitt athletic department. Unless we speak up and take a stance, the powers that be will never deviate from their concept of the Pitt Script supporters being merely a "vocal minority." It's time to make the voices of the masses heard. At this juncture, there are very simple steps that you can take to help further progress this cause:
| | |
| --- | --- |
| | Spread the word to your friends and fellow fans about this cause and this website… If you have a website or a MySpace of your own, please consider linking to us. More information can be found in the Links section. Gathering a solid support group must include exposure to the fanbase. |
| | Purchase Pitt Script merchandise from the Panthers' Official Team Store. Wear your script gear proudly, especially to the football games. |
| | Make your voice heard by the athletic department and the University Chancellor via letters and phone calls (e-mails can also be written, but are less effective). The addresses of athletic director Jeff Long and Chancellor Mark Nordenberg can be found at the bottom of this page. |
| | Donate to this website and help to finance our cause. Your donation goes entirely toward covering the costs for maintaining this website and to aid the Pitt Script cause. |
We will continue to update this section as our movement progresses. At this time, in our current state of raising awareness of our cause, the steps listed above are the best courses of action.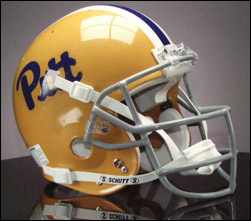 A Pittsburgh Panthers helmet from the 1980s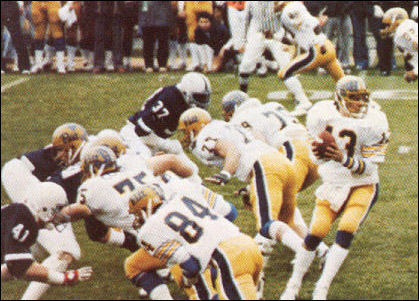 Quarterback Dan Marino leads the Panthers against Penn State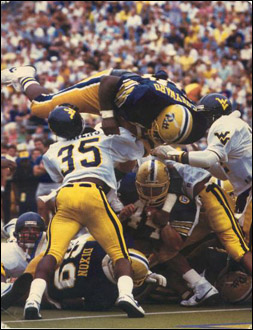 Running Back Craig "Ironhead" Heyward and the
Panthers in the Backyard Brawl with West Virginia
University of Pittsburgh Athletic Department
Jeff Long, Athletic Director
3113 Petersen Events Center
Pittsburgh, PA 15260

University of Pittsburgh Office of the Chancellor
Mark Nordenberg, Chancellor
Cathedral of Learning
Pittsburgh, PA 15260