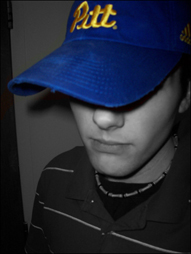 FansForScript.com was founded by two full-time students at the University of Pittsburgh in October of 2006. They, like most fans of the University's athletic teams, couldn't understand why the athletics department had done away with the script Pitt logo that so many people had come to associate the Panthers with during their glory years and beyond.
Not only the fans, but the alumni, players, coaches, members of the local media, and even the people in charge of the team's laundry have commented on "how nice it would be to have the old uniforms back" ever since the change. Tired of taking a passive approach to the issue, the founders created a place on the Internet where the script still remains.
They are just like any true Pitt fans. They attend all the home football and basketball games that they possibly can, bleed Blue and Gold, and have an undying sense of animosity for that football team 134 miles to the east in Green Acres. They're filled with nothing but pride for their University and would prefer that the unique and magnificent tradition that has developed over the years not be cast aside.
If you like what we're about, please mail a letter to the Athletic Director or Chancellor Mark Nordenberg, donate a buck or two, or tell someone about us. Thank you and remember, the script lives if you want it to.
Sincerely,
FansForScript.com