We knew absolutely nothing about homeschooling, until the Lord brought Donna who has homeschooled her her 3 children for several years now, into our lives. You can read more about this on "Our Testimony" page.



I began obtaining information from her... what curriculum they used, how many hours they schooled, how to start, what to do first, etc. and then discussing it with my husband. I spent many hours of my free time on the internet, researching everything I could about homeschooling and our state laws regarding homeschooling. I obtained free forms from the internet and from there I began putting together the system we would use to keep records on the children according to our state laws.


Making the final decision to homeschool is the hardest step in getting started, but before taking your child(ren) out of public school, you will need to be prepared in many areas.



One of the biggest helps was the internet for a vast source of information. I began with a search engine, and typing in "Homeschool" and acquiring information that way. The
MOST
important information to obtain is
your State Laws about homeschooling
. If you don't know what your state laws are we have a "State Laws" page and there you can select your state and be taken to a website listing your state laws. The link is "Homeschool Laws" on the chalkboard below


The following are some things you should know when beginning the transition to homeschooling.



1)
Know what you're getting into
....
When you undertake schooling your children, it does not mean leisurely, relaxed days at home. You should be aware that there are constant interuptions that threaten your time and concentration, days when your children surely will not cooperate with anything you want to happen.



Organization
.... This is one of the most important things to have.
a. You must have a plan on how the homeschool day is going to be scheduled, especially if you work outside the home and have to schedule around that.

b. You must decide on what forms you will need to use for student logs and records according to your state laws, get them printed out and figure out a system for keeping them organized.

c. Select a curriculum (we use Alpha Omega) or create your own. There are many curriculum companies out there and information to help you create your own if this is what you choose to do.

d. Once you've chosen the curriculum you are going to use, create an outline for the year, and then break it down into months, weeks, and days. You will need to do this so you will ensure that you meet the hours required for all subjects at the end of the year according to your state laws.

e. Placement Test your child(ren). Most curriculum companies have placement testing you can order so you will be able to determine what grade level your child(ren) should be placed in for that subject. Most of the curriculums are considered to be more advanced than the public school system, and in many many cases children have had to go back 2 or more grade levels in order to be able to do the work effeciently. This causes problems for the child a lot of times because they do not want to be "set back", but in order to complete the work, this needs to be done. The child can always progress back up to his or her grade level or above if they work hard enough.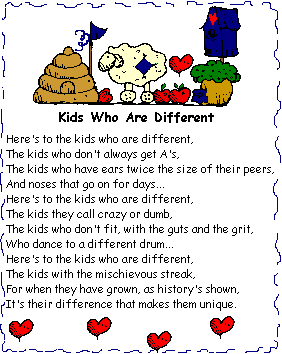 With homeschooling you can fit the schedule to meet the needs of the family, and the individual child(ren). You can do several subjects a day or you can do only one subject a day if you choose to, you just need to have a lesson plan completed in advance.



Alpha Omega has "work text" books, no hard back text books. Everything is contained in workbooks. There are 10 work texts in each subject. Each workbook has 3-5 sections (the number of pages in each section varies). At the end of each section is a "self test" the student takes and the grades are recorded. When the final section of the workbook if completed, then they take a final test over the entire work text they just finished. This test is found in the center of each workbook. These grades are recorded also. The 10 work text come in a box which I save and put the finished books back into the box. When we are totally finished with that subject, I put the childs hour log sheet, lesson planner for that subject, and the students daily log record sheet into the box and save everything.



To save & print the forms we use for our daily records, please click the "Record Keeping" link on the chalkboard below.



For further information on Alpha Omega or to view other homeschool curriculum, please click the "Homeschool Links" on the chalkboard below.




Family Schoolhouse | Web Gallery | Index | My Page


Please contact the webmaster if you encounter any problems with this site.
Copyright © 1998-2007, Tammy's Touch Original Web Creations. All Rights Reserved.