September 22nd - SIX FLAGS HOMESCHOOL DAY just got better thanks to JOY FM!!!! Buy your tickets in advance(before September 1st) for the September 23rd homeschool days and get 1 free child for every adult ticket purchased at only $23.00 per adult!!! Lots of fun events planned for the day,,,,,,Check it out at: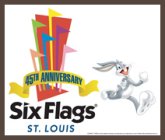 October 6th & 7th - Silver Dollar City Homeschool Weekend!
Branson, Missouri. The Exclusive 2-Day Homeschool Rate for this weekend is: Adults (12+) $37.62 Children (4-11) $26.87 You can obtain information and download ticket order form by clicking below.


Our homeschooling family will be there this year, and we hope to see you there too!